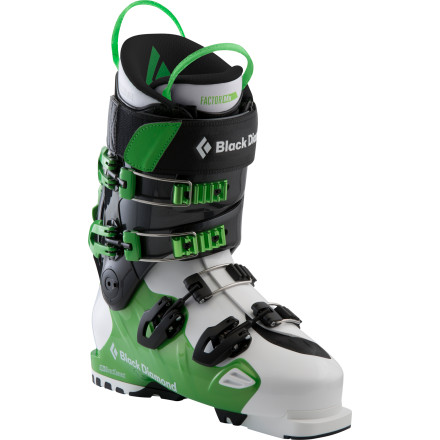 Description
Sick lines know no bounds.
It's not just the hippies. Freeride skiers with their hair ablaze love the freshies, too, so Black Diamond brings you the brand-new Factor Mx 130 Men's Alpine Touring Boot, a hard-driving freeride boot that's light and nimble enough for climbing yet stiff and strong for bombing downhills. It features a ski/walk mode that gives you the freedom to carry an efficient stride when skinning or bootpacking, but it delivers a burly 130 flex and lateral stiffness for the gnarliest, high-speed descents. Because the ski boot is the most personal of ski gear, the Factor Mx offers you two customization features: a heat-moldable Power liner and interchangeable sole blocks. The liner hugs your every foot curve for maximum energy efficiency and comfort, and you can swap from DIN-compatible sole blocks for a day at the resort to AT/Tech-compatible for a dawn-patrol powder mission. The Triax Pro frame and overlap construction mean smooth yet rigid forward flex for high performance on the descent and ascent. Capable in-resort, hucking meat and stomping it, yet equipped for backcountry excursions for those sick lines calling your name, the Factor gives you that added climbing convenience without compromise.

Triax Pro Frame shell
Overlap shell construction
130 flex
100mm, V-shaped last
FMx Power Liner
Plastic liner tongue
Two-way stretch toe box
Four micro-adjustable buckles
Ski/walk mode with 40 degree range of motion
Interchangeable alpine and AT tech sole blocks
I'm looking at picking these guys up as a first pair of boots to break out of the rental thing. I'm about to graduate from a college in the south, but I'm an intermediate skier (A-Basin blacks) with a respectable amount of class 3+ mountaineering experience from spending the last few summers in central Colorado who plans on getting Avy1 certified in the next year and getting into backcountry skiing. When I move up for good I'll be skiing a lot so I'll (hopefully) improve, but my question is: is 130 too stiff of a flex for someone in my situation? I'm 5'8" and 145-160 labs. I love everything I've seen and read about this boot but I don't understand flex ratings enough to confidently determine that I'm not going to make a mistake and buy boots that are too stiff and ruin my skiing or impair my ability to improve.
Hey Fisher



I think a 130 flex boot might not be the best choice for your needs. 130 is the stiffest and most aggressive flex out there and meant for super aggressive skiers. Something in the 100-120 range would be better and more forgiving as you delve into the world of backcountry skiing. Check out the Scarpa Maestrale line-up (RS, 1.0, and GT) and the Freedom Alpine. Feel free to shoot me any additional questions on AT boots directly and I would be glad to help you break down the differences.
Good Design, but Poor Implimentation
Gender:

Male

Familiarity:

I've put it through the wringer
After 5 days of only resort skiing this boot was on the verge failure. Having said that, if BD had put better quality controls in place, the boot would have been great for me. Im writing this review with the idea in mind that BD will make revision to the production line.


First, the good. The boot length fit true to size. I have a wider toe box and this boot worked well for me. The heal is a bit narrow compared to most boots, but I have a narrower heal so I thought this was a good thing. The liner is significantly improved from last years (as compared in another reviewers comments). The fit was really nice. Included with the boot are din and rockered tech soles which is a great free add-on from BD. The walk mode had a really good range of motion and it would have worked well for hiking. Initially my only real complaint was that the boot made the ski feel a little less playful. Overall, from a design point of view, id say it was 9 out of 10.


Now, the reason I returned these boots. My purpose of getting these boots was so that I could do some backcountry skiing (I'd still likely do about 70% resort skiing). Some of my skiing is in no-fall terrain. These considerations requires my equipment to be burly. After 5 day of mostly moderate intensity skiing I noticed that the ankle canting position had changed from the day before (it was neutral at the end of the previous day). I used a allen wrench to tighten the screw and the screw would spin without catching. I backed the screw out and inspected it (see photo). Essentially the screw had been mostly stripped (to what a machinist would describe as the minor diameter). I have some machining skills, and I have seen quite a bit of destroyed threads, but this was particularly bad. The screw more closely resembled a nail at this point. After 5 days of skiing, this was a problem.


I was in Summit county CO when this problem occurred. I was scheduled to take an AIARE I Hut trip that started the next day. I called a bunch of ski shops within a reasonable driving range, and not one shop had the parts to fix this. These ski shops recommended others that I called, again without success. One shop did say that could modify a Scarpa part to fit the boot, but it would most certainly require modifying the shell of my boot. Since I could not get this fixed (without voiding the warranty), I ended up opting not to using these boots for my AIARE class. I had to barrow a friends boots for that class.


I own a lot of BD climbing gear, so I was still considering just trying to warranty the part when I got home after the Hut trip. However, 2 days later I was in a snow pit with another person in the class that had last years version of this boot, and he was just standing in the pit minding his own business when one of his buckles just broke off. Coincidence, maybe, ... but that solidified my position on returning the boots. Doing a little bit more reading online, and it sounds like BD's AT boots have some durability issues outside of the ones that I experienced.


Bottom line. In concept, this boot could be great. Before that can happen, Black Diamond needs to seriously work on durability issues. While all equipment is subject to failure, and the occasional defect, I simply do not trust my life to this product. BD needs to treat this like a serious piece of out-door equipment. If it fails, you could die. The risk of failure this might not be a huge problem for people who are only skiing groomers, but it is a paramount concern when skiing glades, side country and the backcountry.
Poor fit, too many compromises
Familiarity:

I've put it through the wringer
Picked up a pair of boots that I was excited to use mainly inbounds, but with the occasional out-the-gates tour and occasional longer tour.



Boots are so-so inbounds in terms of performance, but very uncomfortable. The heel is way too narrow for my foot and has packed out very little since I got the boots nearly a year ago now. In terms of AT performance, the stiffness required to make these perform in downhill mode turns these into terrible touring boots for anything beyond the 10 minute bootpack. Multiple separate days have left me with blisters galore, purple toes, and very unhappy feet. When shifted into walk mode, the narrow heel box and stiff construction pushes my toes into the front of the boot. The only way I could imagine these working if if they were grossly oversized, but this would leave one swimming in the boot when heading downhill.
Stiffy for the resort
Familiarity:

I've used it once or twice and have initial impressions
I have only skied these in the resort, so...



Initial impressions are these could be the ultimate one boot quiver that ski in bounds as awesome sauce as the best of them. At least that was the mantra in my brain when skiing in these at Solitude.



Wearing these, I feel like I am in alpine boots. While the original Factors left some unimpressed with its stiffness in a resort setting, I was driving my skis through moguls and tearing up the corduroy as if my Head racing boots were on my feet.



I am also amazed at how much range of motion the boots have in walk mode considering the 130 flex. While I did not actually tour in the boots, I would say they felt very similar to my Quadrants.



I don't hesitate to ski these in bounds, and look forward to getting them out on the skin track.
Ed Showing Off At Alta In His Factors
Early Season At Alta, UT
Still a work in progress.
Familiarity:

I've put it through the wringer
As a preface, I've skied in both prior generation BD Factors (my first gen was warranted and replaced by BD). I bought these because I heard they toured better and skied better. Now after 20 days, I feel ready to write a review. Skis: K2 Sidestashes, K2 Waybacks, Rossi GS race skis. Weigh #175, size 28 boot.



The good: The fit around the midfoot and heel hold is improved. The boots feel more responsive and precise on the snow. The touring range is greatly improved. The soles are easier to swap out because all of the bolts are on the outside, unlike last year's model.



The bad: These boots leak terribly through the overlap. This was an issue with prior gen boots that BD tried to fix with a new black rubber toe dam on the Mx. The problem is that the rubber piece stops between the 1st and 2nd buckles which creates a gap in the overlap even when buckled tight. When you buy these boots make sure you buy a new roll of duct tape too.



While my calves fit fine in prior generations of Factors, I was unable to get the MX tight enough. I drilled out another set of holes to tighten up the buckle ladder. I also cut off ½ an inch of upper cuff material. While not a deal breaker for me, just know that you may need to modify the upper cuff if you have skinny calves.



The stock liner is improved but is still shit compared to an Intuition. The Boa tightener is gone and there is a rubbery sheet of fabric over the forefoot that is supposed to combat the leakage issue. Unfortunately, a large portion of the liner is open cell foam that soaks up water like a sponge and is not moldable.



The shell weighs the same as last year's Factor. All weight savings is from the liner.



Impression: Factor MX is still a work in progress. Leaky boots are no fun on week-long hut trips. You either need big calves or you will probably need to mod the shell. The stock liner still sucks. Wait and see if BD nails it with the 4th generation Factor. Until then look elsewhere.


Almost perfect
Familiarity:

I've put it through the wringer
I was a bit skeptical to get another iteration of the BD Factor boot after breaking 4 ski walk mode pieces, which were a chore to repair in the backcountry. Ended up getting these on holiday sale through BD and was pleasantly surprised.



These are a much warmer boot than their predecessors, however almost too warm. The boots make my feet sweat more than any other I have owned, which can be problematic on multi-day excursions. Its also a shame that BD decided to axe the half sizes. I prefer a performance fit and will have to purchase an intuition liner to bring the boot down to a true 25.



These are lighter and more comfortable than the 2010 factor as well. No issues with the walk mode thus far, though I have had a few more issues with buckle icing in extreme cold than I did with the original.



Kudos to BD for re-engineering a boot and addressing many of the problems the field users were experiencing.
what is the difference between the MX and...
what is the difference between the MX and the MX 130?
null,



Unless I am mistaken there is only two Black Diamond MX boots. The BD Factor MX 130 is the men's version, and the BD Shiva MX 110 is the women's model. The number in the name refers to the flex for that model.
Happy To A Factor of 130
Familiarity:

I've used it once or twice and have initial impressions
Just purchased these from Pro Ski & Guiding in North Bend, WA after doing considerable AT boot research. My goal was to find a boot that would work well for touring but not compromise performance following a chairlift ride to the top. As idealistic as I thought my wishes were, this boot actually succeeds at the downhill part. In fact, it's an improvement over my prior downhill boot (Technica ICON ~10+ yrs. old). Skied on them for the first time yesterday and, so far, there's plenty of stiffness (and it's a smooth flex at 30 degrees F), they're evenly snug everywhere on my average size/shape feet, they're noticeably lighter, and they may end up improving my skiing by offering adjustability in my forward lean angle. Being more upright than my traditional downhill boots actually required noticeably less effort (skied on a K2 Sidestash with tip rocker). I'll have to report back on the touring side of things, but walking around the lodge and home seems quite comfortable. 5 stars so far!
Unanswered Question
What is the BSL of the 25.5?
What is the BSL of the 25.5?


Black Diamond Factor Mx 130
Do the Factor MXs only come in .5 sizes?
Do the Factor MXs only come in .5 sizes?
They will indeed only come in .5 Mondo sizes. The shells are full whole sizes and the liners are .5 sizes.