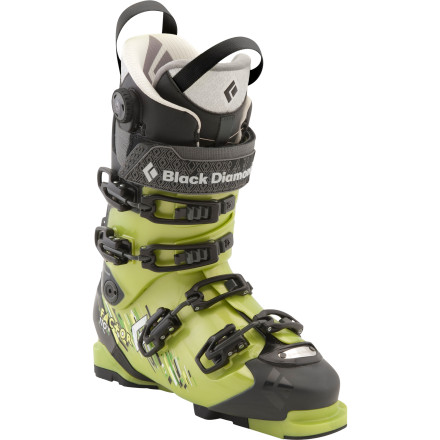 Freeride skiers looking for the legendary performance of Black Diamond's Factor platform but with a slightly softer flex, prepare to get giddy; the Factor 110 Alpine Touring Boot is officially here. Part of Black Diamond's Freeride Power Series, this boot is designed to provide plenty of response and all-day comfort both in bounds and out.
Triax Pro frame tech features a stiff forward flex for smooth fore/aft power transfer and impressive lateral stiffness
102-Millimeter-last designed to maximize comfort and performance in the toe box while providing plenty of snugness near the heel
A flex-rating of 110 strikes the right balance between energy transfer, precise control, and overall comfort
Medium-stiff Power Fit Light liner with Strobel base reduces weight for touring efficiency, is thermformable, and includes a Boa closure system for a precise fit and on-the-go adjustability
Rubber outsole provides grip in cold conditions for touring versatility
Includes Black Diamond's interchangeable alpine DIN-compatible sole blocks (AT-lugged blocks sold separately)
Great Comfortable Boot
Familiarity:

I've put it through the wringer
Been in them for one season and love them. After they break in they feel like a sock. They tend to be a bit cold but a decent warm sock takes care of that. Couldn't recommend this boot more, responsive on the downhill and comfy on the uphill
Great boots... but beware
Familiarity:

I've put it through the wringer
I skied a season on these last year, and love them (I had them heat moulded which has really helped with pinching).

Fair warning: changing out the sole blocks is not nearly as easy as you might think. The fit between the boot and the block is very tight and it's not a quick thing you can do in the parking lot... it's bloody frustrating and a drag if you decide you want to tour instead of ski in the resort at the last minute. Not the best feature of these boots.

Also, I'm a woman, and found these to be way more comfortable than the women's version... the heel cup is wider and doesn't pinch as badly.
Wondering about durability in these boots...
Wondering about durability in these boots in regard to hard charging rather than the uphill trek. How confident do you feel dropping rocks and maching through frozen spring corn on these? 185lbs 6'4" skiing 195 AK JJ's.
Best Answer
Definitely thermo mold them. Actually take them to a good boot fitter in your area and get a footbed made also. the total package is expensive, but 100% worth it. The foot bed stops your arch from falling over and will help with the width.
Roger that; thank you much! I skied the season on these and my old Superfeet and loved that setup. What a great boot!
Anyone else find the boot to fit a little...
Anyone else find the boot to fit a little small/narrow? It seems a bit tight in the forefoot, but perhaps a thermo-mold would solve the issue, or perhaps a size up?
Best Answer
Hey Kyler,

These boots are an average to slightly wider last width at 102mm. I would suggest trying a themo-mold, and keep in mind that as you ski in them they will pack out a bit which could help the fit as well.
How big of a difference is this boots...
How big of a difference is this boots stiffness gonna effect me from the Factor 130? Like if I get the 110 will I be wishing for more control or will the 130 just be a bit tighter on my foot?

*EDIT* I'm 6'1" 155 lbs. Skiing on Mr.Pollards Opus
Best Answer
Depending on your height/weight you may really enjoy the change to a less stiff boot. I moved a way from racing stiff boots a few years ago and I'm very happy. Not as much leg fatigue and more lively/forgiving. The control aspect should only be noticeable if you are straight lining the front side of the mountain. You'll be happy you made the move.
Great boot
Gender:

Male

Familiarity:

I've put it through the wringer
Awesome boot. Nice and stiff with the 110 flex on the downhill. But great on the uphill when you undo the buckles.
Would these work for a rippin chick...
Would these work for a rippin chick skier(145lbs) wiht a wide foot???
Yea, they would be awesome for a rippin' lady or a lighter weight man.
>>>>>>>P.S. Also check out the BD shiva its the same boot but a different graphic.
27 yo. male 125lbs. I'm looking to replace...
27 yo. male 125lbs. I'm looking to replace my Icon x boot. Will be used for Ski patrol, free ride and light touring. I'm an aggressive skier and value performance over comfort, but don't want to compramise eithere aspect.
I would say this will work out for you. I eventually chose the Method, but I liked this one as well and would probably be better with added stiffness for a more aggressive skiier.
stiff flex is higher over-rated! it's like the old day's of who can ride the longest ski! if you want have fun hit the bumps,actually articulate your your turns!!! ignore "gotta go stiff bro" mantra. if your gonna run gates and go 70mph+ YES get a stiff boot. otherwise 100-110 is perfect!
I ske with lange banshee from ~17 years...
I ske with lange banshee from ~17 years ago. Love them but need an update. I am an aggressive skier but i weigh 140 lbs and never raced so not lookijg for 130 flex. is the 110 factor a good boot for me?
On paper it is a good boot but nothing can tell you better than getting it on your foot and checking it out! If you are skiing 17 year old boots the technology has changed drastically so make sure to try things on.
Pat4545937...what did you end up doing? I'm in a similar situation, old school aggressive Lange skier, now looking for a AT book for my Fritschi bindings.