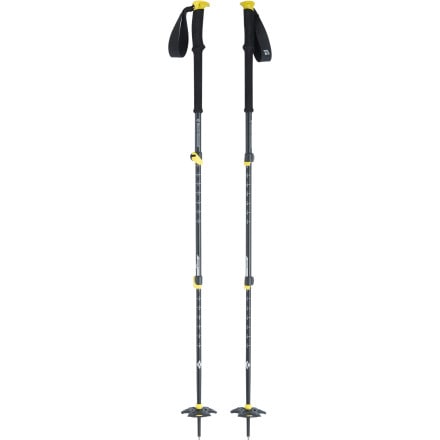 Colors

Detail Images

Community Images
Description
A do-it-all four-season pole.
Black Diamond's Expedition 3 Ski Pole is designed to do it all, from skiing to hiking to backcountry sword fighting. It's made of tough aluminum and has dual FlickLock adjustability, giving it a useable range of up to 78cm so you can hit the snow or the trails with confidence. It comes complete with small-diameter trekking baskets and 100mm powder baskets, an extended foam grip for easy use on switchbacks and steep terrain, and an aggressive hook on the handle for flipping A/T binding risers and boot buckles.

Aluminum shaft
Dual FlickLock adjustability
Trekking and power baskets included
Extended foam grip with aggressive hooking point
Adjustable webbing strap
Share your thoughts
What do you think of the
Black Diamond
Expedition 3 Ski Pole
? Share a...
I am looking into this poles:

- trail pro and trail (difference is in locking mechanism)
- new expedition 3 poles

I will be using poles 4-season, summer hiking, winter skiing and ski touring. Which poles do you recommend?

I do not see any advantage picking expedition 3 over trail or trail pro poles. They are all alu 18/16/14 and weight is quite similar. Handles are same design except tail which is possible to exchange on trail / trail pro but not on expedition 3.

Thanks for help!
Responded on
So in my opinion, ski touring is more of a technical sport than hiking and for that reason going with the Expedition over the Trail would be for the ski specific features. Powder baskets, easy adjustments with gloves on (flick locks on Trail series are difficult with thick gloves) and the straps are wider and adjustable. Depending on how you flip your heel risers, the handle of BD winter poles has a tab that hooks wires better.
I don't mind using my touring poles hiking but not vice verse.
Hope that helps!!
Responded on
Trail and trail pro have included winter baskets and they feature option to exchange bottom tips.
So i do not see any adventages having expedition 3 with less features. Also tour pro having alu locking mechanism.

What do you think?
Posted on
BD Adjustable Poles - Greatest Sticks
I've been using Black Diamond adjustable poles for all my adventures in the mountains. From hiking, mountaineering and backcountry skiing, they've never let me down. The locks work flawlessly and baskets never pull fall off if properly mounted. I've hammered and banged the pair I currently have on the scree and rocks while scrambling and have yet to make a dent or bend in them. My only problem has been friends don't want to return them after loaning them out, so I now have a couple pairs on hand, one for me and one that I'll most likely end up giving out on the next adventure. Can't wait to give the BD 3 a try later this year and will post a review soon. Meanwhile grab up a pair and enjoy a lifetime of backcountry.

Scooter
I like the idea of making this a more 4-season oriented pole, but does anyone know why BD didn't the use the lower profile flintlock pro like the previous expedition?
Responded on
Can't say for certain. From my experience with the last 3 generations of BD poles, the last was probably the most difficult to use with gloves on. Granted it was much strong than the previous all plastic. Perhaps due to negative feedback. I do really like the new ones. Too soon to tell just yet but the lock seems like it will preform great.