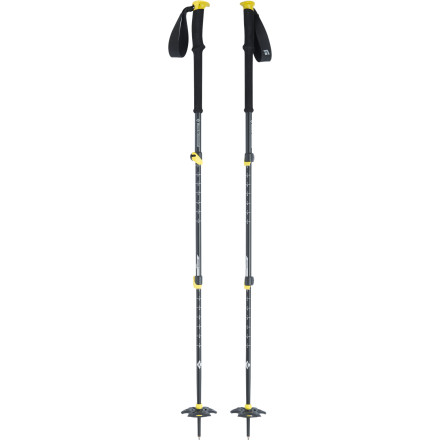 Colors

Detail Images

Community Images
Description
A do-it-all four-season pole.
Black Diamond's Expedition 3 Ski Pole is designed to do it all, from skiing to hiking to backcountry sword fighting. It's made of tough aluminum and has dual FlickLock adjustability, giving it a useable range of up to 78cm so you can hit the snow or the trails with confidence. It comes complete with small-diameter trekking baskets and 100mm powder baskets, an extended foam grip for easy use on switchbacks and steep terrain, and an aggressive hook on the handle for flipping A/T binding risers and boot buckles.

Aluminum shaft
Dual FlickLock adjustability
Trekking and power baskets included
Extended foam grip with aggressive hooking point
Adjustable webbing strap
Solid ski pole that has the ability to hike with as well. The most sturdy adjustable ski pole I have ever had.
How much do these poles weigh with the snow baskets on?
Best Answer
Hey Simon,



The weight per pair of these BD Expedition 3 poles in the 120 cm length is 520 g (18 oz), that is with the trekking or powder baskets on. Feel free to shoot me any additional questions directly on Black Diamond Poles.



Kyle

Expert Gearhead

klivingston@backcountry.com


Great poles
Familiarity:

I've put it through the wringer
Have used them on expeditions as well as touring at resorts and regular resort skiing. Great in all uses. Flip locks seem to be holding up after several seasons of use. Lightweight and collapse down for easy packing without being bulky and yet still sturdy/durable in demanding use. Pole surface has scraped a bit from telescoping/collapsing over the 2 years of use, but I didn't buy them to look pretty. Handle notch for binding adjustment works ok, but can sometimes slip out when trying to disengage the binding to get back into touring mode and has slightly chewed up the handle, but very minor - works flawlessly for on the go riser adjustment. Great product, would definitely recommend and buy again.
Nice ski/hike poles
Familiarity:

I've used it several times
I've been using these this spring and summer and am very happy with them! I like the softer foam areas on the grip which extend down the pole and are great for using while doing traverses on skis. I was a little worries about the plastic flip locks on the poles but they seem to be pretty burly and my fears have subsided. My last set of BD poles have lasted over 5 years and are in fact still in service so i would imagine I'll have these for years to come.
Packable Robust Poles
Familiarity:

I've put it through the wringer
My traverse poles work great, however I found I wanted something more packable on the mountaineering and climbing oriented ski days. The first thing I noticed was the straps. These straps are a great improvement over previous seasons and very easy to get hands through with ski gloves. The long foam grip on the pole upper allows for choking up or down on steep skintracks, a huge plus for me. There's even little details like a slightly extended top of the pole for easy heel riser adjustments. As expected, the 3 piece pole makes these poles packable enough to fit in my bag without having to worry about a rubber Z-Pole section breaking.
Climb and ski pole standard
Gender:

Male

Familiarity:

I've put it through the wringer
For climbing only these are a bit heavy. But if you want a pole to ski with too these are great. Really strong. The FlickLocks never slip. Easy to use with or without gloves. Double adjustment is great because they collapse down to a nice tidy length for climbing and packing. Lost my first pair and bought them again.
Perfect pole for a splitboarder
Familiarity:

I've used it several times
After having a terrible failure of my K2 collapsible poles, I purchased these in frustration, hoping for a better result. The best part of these poles is that they collapse at two locations, which allows them to be smaller than a backpack and strap on nicely while riding. The collapse system is much better than the tent pole like button system I have seen before quite a bit. These joints are not only sturdy and ice resistant, but easy to adjust. They're also relatively light without compromising strength or stability. The hand grips are also really comfortable. I haven't put these poles through the wringer yet, but I'm definitely a fan so far.
Fully featured, never a problem.
Familiarity:

I've used it several times
Nicely featured poles. I bought them for the beak on the hand grip and the extended grip for touring. Both features turned out to be handy and effective. The beak could be slightly more pronounced for more positive heel lifter adjustment, but it was fine really. I don't think anyone really uses the adjustable length feature much. Set and forget for most of us. But I did shorten them for travel and for one occasion boot packing up a steep slope, so the adjustability is definitely worth it.
excellent but a little hefty
Familiarity:

I've used it several times
Just bought and used for first time in Chamonix this Spring... They are excellent overall, but, in hindsight, should have gone with a lighter pole, and don't really need the double adjustment.
Pleasant Experience
Familiarity:

I've used it once or twice and have initial impressions
I got these for splitboarding in the Sierra. They were strong and light and did the trick. It was a little difficult to raise the risers on my Karakoram Prime SL's. But with a little more practice I think I'll be good. Overall, these are durable, light weight and reliable product.
Will these be back in stock?
Best Answer
Hey Reid Pitman,



Unfortunately we are not restocking these poles.
Hey Everybody watch me whack my Pole!!
Familiarity:

I've put it through the wringer
I've had the older version of these poles for years and love them. I've used them for everything from guiding up clients on Mt. Shasta to skiing in Australia. The compact design makes them very convenient for traveling as well as stowing on a pack when it's time to switch from poles to ice tools/axes. I really like what BD did with the new Flick Lock in terms of making it smaller, lighter, and more durable with metal wires instead of the ABS plastic on the older generations. The other great features include replaceable baskets, replaceable sections of the shaft(s), and durable rubber grips with wrist straps. Another fine product from Black Diamond.
Unanswered Question
Does anyone know if the tips are replaceable? I have a pair and I shredded the threads for the powder basket...
I am looking into this poles:



- trail pro and trail (difference is in locking mechanism)

- new expedition 3 poles



I will be using poles 4-season, summer hiking, winter skiing and ski touring. Which poles do you recommend?



I do not see any advantage picking expedition 3 over trail or trail pro poles. They are all alu 18/16/14 and weight is quite similar. Handles are same design except tail which is possible to exchange on trail / trail pro but not on expedition 3.



Thanks for help!
So in my opinion, ski touring is more of a technical sport than hiking and for that reason going with the Expedition over the Trail would be for the ski specific features. Powder baskets, easy adjustments with gloves on (flick locks on Trail series are difficult with thick gloves) and the straps are wider and adjustable. Depending on how you flip your heel risers, the handle of BD winter poles has a tab that hooks wires better.

I don't mind using my touring poles hiking but not vice verse.

Hope that helps!!
Trail and trail pro have included winter baskets and they feature option to exchange bottom tips.

So i do not see any adventages having expedition 3 with less features. Also tour pro having alu locking mechanism.



What do you think?
BD Adjustable Poles - Greatest Sticks
I've been using Black Diamond adjustable poles for all my adventures in the mountains. From hiking, mountaineering and backcountry skiing, they've never let me down. The locks work flawlessly and baskets never pull fall off if properly mounted. I've hammered and banged the pair I currently have on the scree and rocks while scrambling and have yet to make a dent or bend in them. My only problem has been friends don't want to return them after loaning them out, so I now have a couple pairs on hand, one for me and one that I'll most likely end up giving out on the next adventure. Can't wait to give the BD 3 a try later this year and will post a review soon. Meanwhile grab up a pair and enjoy a lifetime of backcountry.



Scooter
I like the idea of making this a more 4-season oriented pole, but does anyone know why BD didn't the use the lower profile flintlock pro like the previous expedition?
Can't say for certain. From my experience with the last 3 generations of BD poles, the last was probably the most difficult to use with gloves on. Granted it was much strong than the previous all plastic. Perhaps due to negative feedback. I do really like the new ones. Too soon to tell just yet but the lock seems like it will preform great.