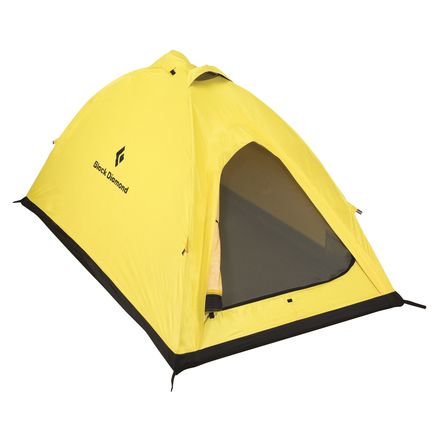 Community Images
Description
A bomber two-person, single-wall offering from the masters at Black Diamond.
Super light, super strong and built with waterproof breathable Todd-Tex fabric, Black Diamond Eldorado is a two-person, single-wall shelter designed for mountaineers and climbers. Able to be pitched on ledges that are no larger than your couch, this is the ideal tent to have at altitude. Its weight is relatively light given its burly construction, yet it rolls up small enough to fit into the side pocket of many internal-frame packs.
Freestanding single-wall design saves weight by eliminating the need for separated canopy and fly; ideal for four-season climbing and mountaineering applications
Waterproof breathable Todd-Tex fabric sheds wet weather and breathes exceptionally well to help reduce condensation
Two zippered vents at the peak, a hooded vent over the door, and one at the bottom help you position the tent to minimize condensation buildup
Taped seams prevent dripping water or morning dew from sneaking in through the fabric joints
Two poles crisscross inside the single-wall canopy, eliminating the need to thread sleeves and providing superior strength against the elements
Optional vestibule provides a covered entry and room for everyone's gear (vestibule sold separately)
Multiple stakeout loops provide secure anchoring in windy locations
Four internal mesh pockets help keep your kit organized at night
Optional footprint sold separately
Tent designed to be a more spacious version of Black Diamond's I-Tent (five inches longer and three inches wider)
this tent is starting to get some great use out of it and so far i have nothing but amazing things to say. Great shelter, waterproof, great protection against all weather conditions.
Is this tent ok for a Denali summit...
Is this tent ok for a Denali summit attempt?
Yes it would but buy the new North Face Assault 2 2015 model tent instead. It is a competitor and is much better and only $448 and comes with a vestible. The BD Eldorado is getting old and needs a major update, ie the material and vents are 15 year old tech and there are many better single skin tuff alpine tents now. The high price is also a killer for $700 you dont even get a vestible, the new 2015 NF Assault 2 comes with a vestible and has better vents, is made of lighter but as strong material and is only $448 here at Backcountry.com so its a no brainer.
Stellar.
Familiarity:

I've put it through the wringer
Used this tent for years, never regretted it. I've been through rain, snow, even hail and it's kept me dry through it all, and has never collapsed on me. The internal structure is a bit frustrating at times when trying to put it up in extreme circumstances, but no complaints other than that.
Bomb proof shelter
Familiarity:

I've used it several times
I've owned this tent for several years and love certain aspects of it. It's great for a lightweight option for mountaineering and does well in four seasons. I seam sealed mine and never had any issues with water accumulating from rain. Condensation has been minimal, as long as you set it up facing into the wind and leave the door slightly cracked to allow air to flow.



I've found that it insulates better than double walled tents and that properly staked and guy lined out it will stand up to some hellacious winds without flinching. The bathtub floor is very durable and also water sealed.



The only real negative I have is that the internal pole setup can be difficult and potentially dangerous to the tent. So follow the manufacturers recommendation and definitely practice setting this tent up a few times before taking it out to the backcountry. Internal pole set up for this tent is not for everyone, so that has to be considered if you're interested in purchasing it.
How would this do in the Cascades? I'm...
How would this do in the Cascades? I'm looking to purchase my first 4 season tent. I'm a little worried about getting a single wall, even though I'll only be using it on snow climbs, due to the unpredictable rain we tend to get here.
Best Answer
That's kind of a tough one. Universes colliding kind of. I've been so royally screwed by torrential rains in the Cascades more than once because my tents leaked like a sieve, even though they shouldn't have... they just took more than they could handle. Same with the Olympics. You probably know the drill. I want a double-wall for mixed conditions like that. Single-wall tents always need more maintenance and sealing, so forget that. The biggest question is the extra weight to me...like double + sometimes. For about the same price range, why not look at the MHW Trango2, or maybe either the TNF Mountain25 or the VE25? Classic mountaineering tents that go to insane places with weird weather and review almost perfectly? Also, if you're not in too many situations where big snow loads and insane winds are part of most days, a solid, nylon 3-season without much mesh and good ventilation might do the trick and get the weight back down. Hope this helps.
Phil,



Thanks for the info, man! That helps a ton! I am looking at those models in the double walled category. I think I'll have to suck it up and carry the extra weight. I'd rather do that than be soaked. I may consider getting a light single wall solely for winter climbing while using the double for spring/fall. My 3 season big Agnes does well in the summer, just don't trust it enough for getting caught in a big PNW storm.
No problem at all, Brandon. If you have real wintery mixed shoulder season conditions, the double-wall 4-season might be the best way to go, but if it's too warm, you'll incinerate. How much money do you want to spend? You gotta check this out...you'll know exactly what you want for winter climbing: http://www.hilleberg.com/home/products/all-tents.php
Good morning! When I looked at your site...
Good morning!

When I looked at your site three days ago, this Bibler/BD tent was 20% off. Have I missed the opportunity? Did I mis read the ad?

I wonder if it will go on sale again ...
Hi David,

Backcountry.com has several semi-annual sales, holiday sales, and "we just want to hook you up" sales throughout the year. With that said, these sales can come and go within a day's notice so stay tuned to the Backcountry.com notices and be ready to grab that item when it goes on sale. You can also call or LiveChat with a customer service gearhead who may be able to help explain the process further.



At the time of this answer, the tent is on sale for 20% off!
Want to get the optional vestibu for this...
Want to get the optional vestibu for this tent. Is it being sold?
Check out Black diamond's website. they will have it
Kean,

Backcountry.com also sells the optional vestibule for the Black Diamond Eldorado tent. Check it out: http://www.backcountry.com/black-diamond-eldorado-tent-vestibule
Love Hate relationship with this tent...
This is a great tent as far as the todtex materials its made out of.. very comfortable and very light.. with that said.. the really tiny metal zippers make it difficult to open with gloves on and this tent is a real pain in the a#@ setting up.. the inside pole design really sucks... tried setting this tent up at 12,000 ft with 60mph winds.. the pole design had the tent flapping wildly in the wind, which is no surprise with the conditions, but when the pole finally popped out of the snap in the corner while i was setting it up, it shot right through the floor and tore a nice little hole.. huge dissapointment.. prob would not have a problem like this with an external pole setup.. the snaps that hold the poles in place on the inside are cheap to say the least and shattered while closing at temps of -20F.. I guess you can say that i might of pushed the limits of this tent but this gear def. failed me when i needed it the most..
This is the SAME tent as the Bibler I just a little longer, one of the top choices for cold weather. There's no fly to hassle with and the strength weight ratio is awesome. I'm just not a fan of bright tent colors, I prefer more covert ones for my nocturnal proclivities.
So this is pretty much the same as the...
So this is pretty much the same as the I-Tent but a bit longer, and much like the First light but more durable/weatherproof and a but heavier. Am I reading this right? longevity and durability are important to me.I like to camp mostly in winter, with some mountaineering mixed in when I can. Sound like EL-D is the way to go. Thoughts? Corrections?
Yes same DNA as the Bibler just made for people taller than 5'9" just as bulletproof.
Best Answer
If you don't mind spending the money and want 0 doubt get a Hilleberg Jannu. Tops.
So, I've got a bit of a predicament. I...
So, I've got a bit of a predicament.

I will be camping in an extremely humid area, but also extremely cold in winter. An island off the Paraná river in Argentina.

I'm looking at this tent and I read it doesn't do well in humid environments?

Thoughts/suggestions would be appreciated.

Thanks
I highly recommend a double-wall tent for this environment.

What temperatures will you expect in the winter? Will you be expecting any snow or high winds? Will you be backpacking with this tent, or just site camping?
Temperatures will range in the 30s, 20s and single digits (fahrenheit), below zero not likely.

I will be carrying the tent in a kayak, it cannot be very heavy.

Thanks for the suggestion. If the primary wall is exposed to the cold however, I'm gonna have a problem.
Yeah,, scratch that Eureka. This is a tough one,, I'm trying to picture what I would want to take in the same situation. Two other possibilities would be the GoLite Shangri-La 2 or 3, each with their nest. I suppose you are trying to keep it under 6lbs?

Big Agnes String Ridge 2
Trail weight: 5lbs
4-season
http://www.bigagnes.com/Products/Detail/Tent/StringRidge2

In my opinion, here is a great 4-season tent for under 6lbs. No mesh on the tent body, which will hold in more warmth in winter. It's built solid so if you see any high winds or winter storms you be protected. In hot/humid summer days, you can use the mesh part of the doors, or keep them slightly open to minimize condensation.
Well, I'm slowly coming to grips with the fact that the tent itself is not meant to keep me warm, but mainly protected from the wind and the rain... especially if I'm trying to keep it light. So, I will choose the best double-wall tent I can find.

Thanks again
How does this tent due in terms of...
How does this tent due in terms of condensation?
Hey Garrett, there is a great review below by JONC1215 that informs a lot about this tents condensation.
Hi, im a very frequent traveller. I travel...
Hi,

im a very frequent traveller. I travel for long periods of up to an beyond a year at a time. Im planning on going back to Nepal this season and want to climb Island Peak. Will this ten be suitable?

check out some of my photography http://www.andrewmclagan.com
oh also... im Australian can you post this internationally?
Best Answer
Generally, most things can be shipped internationally, but check with the live chat feature to be sure. As for the tent, it'll do just fine on Island Peak. Might be a little small if you'll be sharing with another person. Further consideration is that a single wall tent of this nature does not do well in warmer climates or more humid/damp/moist climates. If you want a single all around tent, I'd check out the Ahwahnee Tent, by Black Diamond as well. Of course, it will not be as strong for use in the mountains, but with two doors, it'll breath/vent better and you'll have less of a problem with condensation.
What is the best choice this or MSR Fury...
What is the best choice this or MSR Fury tent for winter time?
Best Answer
Well, the MSR gives you about 15 sq feet more room, including the vestibule, so if you're with two people, and you want to keep more of your stuff out of the wind, or want to cook in your vestibule, the Fury is the better tent. The fury also has 12 guy out points, and is as stable as they come. If you're going to be in some gnarly mountain storms, the Fury is by far the better choice, and it's cheaper, but if weight is an issue, or you're by yourself, this is the better choice. For overall value, go with the fury, as a two man mountaineering tent that's just over six pounds is still incredible, you get more space, a vestibule, and a bigger peak hight. Do keep in mind that the footprint of the Fury is almost twice as big as the Eldorado, as the BD is designed with climbers in mind.
I was just wondering if the Elderado tent...
I was just wondering if the Elderado tent needs to be seam sealed once I receive the tent? Can anyone help me out? Much Thanks!
The inside of the tent is factory seam sealed but the manufacturer recommends sealing the outside. This is why they include a tube of seam sealer with each Eldorado tent.
Best Answer
Black Diamond's reasoning is it's better to seal all exterior penetration points on their single-wall design tent than to allow in the slightest amount of moisture, even to the point of being redundant.
Hi, I am looking for a 4-season-tent. I...
Hi, I am looking for a 4-season-tent. I am thinking about ElDorado VS fritzroy. What are the mainly differences in terms of breathbility, materials...
What is the best choice? Could anyone helps me? Thanks
Hi.
I have a used (good condition) Eldorado for sale. Full satisfaction.
I now use an I tent and going solo so do not need the larger tent.
Breathbility is same for both. Only difference is space larger in Fritzroy.
Bob
San Diego CA
Bob, u still have the Eldorado for sale???
Great tent, just learn to use it correctly!
A few months ago a friend and I ventured into the White Mountains of New Hampshire for a multi-day backpacking and snowshoeing trip. I consider myself an experienced backpacker, but most of my experience comes from trekking in the spring, summer, and fall. So I decided to brush up on winter survival skills before the trip. I read a few guidebooks and spoke with experienced winter adventurers at my school's mountaineering club. The more I learned about the harsh winds and subzero temperatures of the White Mountains, the more I became convinced: I needed a new tent. Enter the Eldorado—a well-known and well-tested mountaineering tent from the Black Diamond Equipment, Ltd. Overall, I liked the tent. It was light, strong, and simple to setup. Despite my praises I have one caveat: the tent walls collect a lot of condensation at sub-zero temperatures. I'll discuss this problem in more detail below.

The Eldorado uses no rainfly because of its single-wall design. Its walls are made from a windproof and waterproof material, called ToddTex. ToddTex weighs only slightly more than traditional tent material, so removing the rainfly leaves the tent several pounds lighter than rival mountaineering tents. This design offers other benefits as well. Setup time is minimal with no rainfly. I set it up in two minutes on my first try (not counting the time to stake and guy out the tent). The instruction manual says setup should take less than two minutes—with some practice. Black Diamond also constructed ToddTex to breath like the popular Gore-Tex material: the tent walls absorb and transport water vapor to the outside, minimizing condensation buildup on the inside.

The ToddTex material unfortunately failed to live up to its reputation during our trip. Nightly temperatures fell between ten and fifteen degrees below zero, and in this range the tent's inside walls collected water vapor from our breath. The vapor froze, and throughout the night it fell like snowflakes onto our sleeping bags. We awoke in the morning to find the outside of our sleeping bags wet to the touch. Wet sleeping bags do not work well.

Given the Eldorado's stellar reputation, recommendations, and otherwise impressive design, I suspected (and hoped) that someone had already solved the condensation problem. When I arrived home I put Google to work. Several online backpacking forums explained that no four-season tent, including the Eldorado, will effectively transport moisture when the temperature falls far below zero. Proper ventilation, however, will evacuate water vapor and prevent buildup inside the tent. The tent must face the wind, with the door slightly unzipped, allowing a light breeze to carry moisture out before it freezes.

This solution seemed strange to me, however, because I understood the tent was meant for four season use; so why wouldn't the ToddTex material function in the cold of winter? Also, my friend and I read the instruction manual beforehand and thought we had set up the tent to achieve proper ventilation. It's possible we missed something, of course. I haven't had a chance to experiment with proper ventilation in subzero temperatures since this trip. If anyone has any experiences with this problem, or any other ideas or solutions, please let me know.