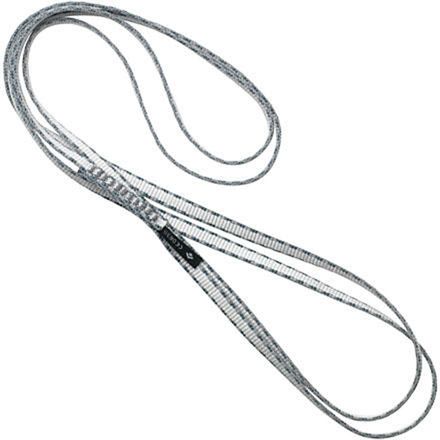 Colors

Community Images
Description
The Black Diamond Dynex 10mm Sewn Runner—low on weight, low on bulk.
Black Diamond's Dynex 10mm Sewn Runners weigh 30% less than nylon runners to save weight on your rack for both summer and winter climbing. In addition to a low weight, Dynex runners also have less bulk, so they don't take up as much space on your rack, in your pack, and over your shoulder. They also absorb less water than nylon and don't freeze—obvious benefits for ice and alpine climbing. You need runners for just about every climb, so get some ultralight ones from Black Diamond.
Great slings for all types of uses.
Familiarity:

I've used it several times
I bought several of each size of these for the start up of my first trad set up. I went with my climbing friends suggestion on the dynex verses the nylon. So far they have been lightweight, durable, solid, and very useful. Great for carrying cams, setting up anchors , and extending gear placements. No complaints thus far, excited to keep using and see how long they will last before needing to be replaced.
Great Runners.
Familiarity:

I've put it through the wringer
I prefer the Dynex opposed to the Nylon. Seems easier to get knots out. I must say I am pretty impressed overall with Black Diamonds products.
Perfect Sling
Familiarity:

I've used it several times
This is the perfect light weight sling for carrying lots draws or cams. Because of the length it has proven to be very useful in many circumstances.
Great secondary anchor
Familiarity:

I've put it through the wringer
The 240cm length is great for building an anchor when your cordelette is back at the belay. Fold it over until it's at the 30mm size, clip it, give it a bunch of twists, and clip it again. Throw it on a back gear loop and forget about.
Gets the job done
Familiarity:

I've put it through the wringer
Perfect for alpine draws and extending gear placements. However, when it comes to using it to protect a horn or other natural pro, I prefer a more durable and burly nylon sling. Also, for alpine draws and extending gear placements, I think Mammut makes a better version of this sling.
Strong, Lightweight, Bomber,
I use the 60cm for everything!
In alpine draw form, it hangs easy on the gear loops while making it a quick clip for fixed gear or passive pro.
When racked over the shoulder with a single biner, it's mad fast to extend gear or bolts, decreasing rope drag and walking protection.
Good slings, many uses
Gender:

Male

Familiarity:

I've put it through the wringer
Pros: Strong, low weight, durable, reasonable price, low bulk, available in several convenient lengths.

Cons: Super static material (not always a con). Should be inspected and replaced more frequently than nylon slings, thus in general shorter lifetime. More expensive than nylon.

I have a good deal of 120cm slings and a couple 240cm slings. Very handy on multipitch trad routes for extending pieces.

A single 240cm sling, a long 6mm prusik, a few lockers, and a HMS locker make for a great relatively compact SHTF package. You can do a great deal with these assuming you have the know how, a guide plate (ATC-Guide, Reverso), knife, tape, etc helps a great deal too...
Rap extension sling with 2 further extended arms for anchor bolts
Ascending/Decending
Knot passing on rap / knot passing on lower
Rescue spider (short) use for multipitch raps with a medical casualty who can't unweight an anchor and is too heavy for you to lift
Sacrificial material for rap anchors
Basic progress capture hauling systems
Etc...
Excited to use!
Familiarity:

I gave it as a gift but have feedback to share
These are part of my husbands first climbing set up, and we are expecting great things! He did lots of research on each piece of gear, and these should come in handy.
Strong and Lightweight
Familiarity:

I've put it through the wringer
I picked these runners up to build a couple of alpine draws and couldn't be happier. They're light weight, and do the job. Highly recommend them.
These are a really solid slings, perfect for setting up anchors, extending quick draws, carrying gear, saving the world ... or anything else you may need to do.



They're cheap, strong, and durable. Not sure what else to say.
BD Dynex Runners
Familiarity:

I've put it through the wringer
These 10mm(.4") Black Diamond Dynex Runners are my favorite and most grabbed sling on my rack. I'd say their most impressive feature is being so lightweight! I used to buy 3/4" or 1/2" nylon webbing and tie water knots in them. Getting them sized right and even was a challenge. So I bought these several months ago and here's some of their specs.

-Very strong runners at 22kN.

-Extremely lightweight, a huge deal on multi-pitches. My favorite length is the 60cm(24" shoulder slings) that weighs only 0.7oz.

-Won't freeze in alpine conditions. I have not tested that, only read, but they do dry way faster then all other slings I own.

-Dynex is highly abrasion resistant. I'm pleased with the longevity they've shown while getting rubbed and cut against sharp rock.

-Great for minimizing rope drag, keeping protection from walking, and building anchors.

-Was OutDoorGearLab.com 2013 Top Pick.

My most used runner/sling on my rack. I do own a few 30cm, they have their place for sure, but I find myself grabbing the 60cm way more.

All in all, a great sling that I will continue to buy and recommend the BD Dynex Runner for all styles of climbing.
Perfect sling!
Familiarity:

I've put it through the wringer
I use these slings for number of different things, I know I can always trust BD's quality gear! These 60's are the perfect length for my anchor cleaning setup, light and thin reduces weight and is way less annoying than thick nylon in my way!
Freaking Love these slings!!
Familiarity:

I've put it through the wringer
The BEST slings for going light in the mountains (second only to CAMP and Mammut's 8 mm lines), strong, light, and easily to use these suckers are bomber for trad and alpine climbing. Rack em' over the shoulder or as an alpine draw and they do not disappoint. Just amazing gear form BD.
Routes wander, will your rope drag?
Gender:

Male

Familiarity:

I've put it through the wringer
Little things are more frustrating to a trad leader than bad rope drag impeding vertical progress. This can be avoided by equipping your alpine draws with these runners. Most of mine are 60 cm runners, but I do have longer ones for certain situations. If you are new to trad, leave the quick draws at the sport crag. These not only cut down on rope drag but also help your protection from shifting or walking. These are a must for those intent on adventure.
You need this.
Familiarity:

I've put it through the wringer
Everyone needs a few of this in their rack. Great for clipping around chandelier ice, building anchors, and holding stuff. If you're building a rack, just get em.