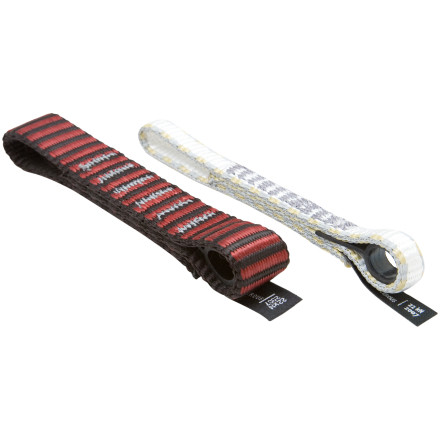 Colors

Detail Images

Community Images
Description
Count on the trusted Black Diamond Dogbones for your hardest sends.
Build your quickdraws with the Black Diamond Dogbones for easy-clipping performance when it matters most. Dogbones use rubber inserts to keep carabiners correctly oriented. Don't blow the redpoint because of a rotated biner and botched clip. Dogbones are available in 12cm and 20cm lengths in both Dynex and nylon.
Not a huge deal, but i bought ten and the colors of the draws didn't all match, slight color and design variations. When I mentioned it to the Backcountry rep he was unapologetic and brushed my off my concern. Odd that the extra ten seconds for the person filling the order to match the colors seems to be too much effort for these guys. When I mentioned they should state in the product description that they come in assorted colors, he didn't even respond. Not the kind of customer service one hopes for.
It's a Dogbone
Familiarity:

I've put it through the wringer
Great little dogbone. I bought it for my keys which it works great for. But also has some nice features for climbing. The rubber Loop on the inside helps your carabiner from spinning around so you don't have to mess with it while your hanging on the rock.
the whole skinny or thick dogbone is really personal preference. i got a buddy that says he saw one of these skinny ones get shredded on a route, but i've had mine since 2007 and only recently started think about retiring them. i had the rubber insert on one of my 15 draws break. this isn't a safety issue, but allows the chance that the biner may be flipped around.



again, the choice is really presonal preference. but i like the skinny doggbones and have had almost no issues with durability.
, ☃bcs_badge_alumni_label☃
Skinny love
Familiarity:

I've put it through the wringer
My entire sport rack is compiled of the 12cm/14mm dogbones. They're lightweight and thin, yet I have never worried about them holding up to weekly use. They are a non-fussy dogbone and paired with a neutrino, petzl ange s, or a wild country helios and you'll be sporting an ultralight rack to crush with. These work really well for long trad routes as again, they're don't get in the way, but when you need them, you're glad you have them.
Good dogbone
Gender:

Male

Familiarity:

I've put it through the wringer
I use 12cm and 18cm 14mm width BD Dogbones to make a custom quickdraw set.



These dogbones are light, comfortable and feel bomber. The bolt-end loop is wide enough so there's no need to unclip the bolt-end binner to link two or more draws.



The only drawback is that rubber insert on the rope end can be easily damaged. Not a World-class problem, but I would prefer Metolius JIG like design.
These are so useful when replacing old dog bones and reusing the biners that are still in good condition. With a cheap way to get some new biners for your old ones, you can't beat these.
I went with the 18cm/14mm size and they're perfect. I like my draws a bit longer to cut the drag and I've never felt really comfortable with the 10mm dynex. Nice rubber grommet keeps the rope end from rotating. I paired these with some DMM Alpha carabiners to make my favorite new draws.
I like the shorties and the rubebr. Use them on sport climbs and i nthe alpine all winter.
what width and length would be good for...
what width and length would be good for sport climbing , I was thinking about 14mm/15cm but im not sure if 14mm/12cm would be better (short QD for sport climbing and alpine on 60cm sling for mountains) what Do You think?
I use the short ones for sport.
i know this is old, but a good convo. it depends on where you're climbing. a blocky wall that has lots of roofs would be a great place for long draws, but they would be annoying on a vertical wall that doens't have wandering routes. i've seen most people get mostly shorted draws with a few longer ones for anchors or special circumstances.
If you are building your own quickdraws, replacing old dogbones, or making a longer quickdraw, these are the dogbones for you. They are really thin and will stay out of the way. The Dynex means they are solid and strong.
nice and lightweight. Kind of short for trad but good for sport climbing.
nice and lightweight. Kind of short for trad but good for sport climbing.
Replace your wornout dogbones
Safety first.
Bought two 20cm to have a few slightly longer draws. I end up using these two on almost every route (all sport, but sometimes the extra length helps smooth out the rope line). I'll probably buy more when I need more gear.
I just picked up a few of these and love them. Super light weight and a name you can trust. I found on the larger size you can take a small rubber band and slide on tight before you but your carabiner on and it will hold it in place pretty well. The loop on the opposite side of the gasket is a larger loop so it adds some security to the carabiner from flipping over.
BD always makes high quality stuff. I love hte rubber gasket that holds the 'biner in place.
These are, or course being from BD, top quality gear. Light, strong and everything you want from a sling...

That being said they ARE the skinny 10mm ones...The BC Chat guy said they were the thick ones cause the picture showed both...I will say this; BC offered to return the items and when i told them i was going on a trip and needed them they said "go on the trip and then send em back for a refund..." so that was awesome...I ended up keeping them even though BC offered to cover shipping both ways and a return a USED item...

Great Customer Service on the back end even if the order accuracy left a bit to be desired.