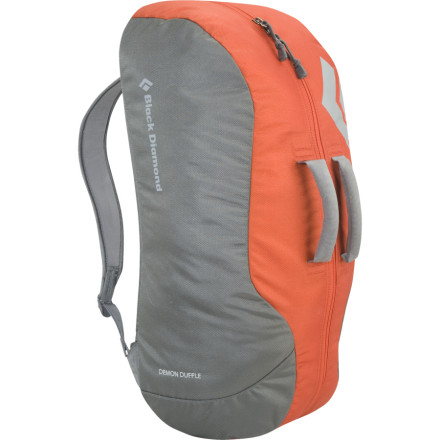 Detail Images

Community Images
For short approaches and casual days at the sport crag, leave the alpine pack in the closet, and load up the Black Diamond Demon Duffel. This deluxe duffel pack features a full-length zipper that gives you full access to your draws, rope, snacks, and other climbing essentials.
Wide-opening design gives you easy access to all your gear
Padded shoulder straps to get you from the car to the crag; shoulder straps tuck out of the way when not needed
Framesheet and padded back panel support your gear on the hike in
Duffel-style handles for easy transport from route to route
An internal zip pocket stashes your keys and wallet for the day
Unanswered Question
Dimension 24"x10.5"x12" when fully expanded
Not Great for Lots of Gear
Familiarity:

I've used it several times
The Demon Duffle is simply one large sack with shoulder straps. It would be so much easier to carry my gear in a pack with some divided areas. Also, the straps weren't padded enough to provide comfort on when we hiked an hour at a time.
And it holds my lunch too?
Familiarity:

I've put it through the wringer
Bought this for climbing summer 2013 and it did not disappoint.



This was a recommendation from a friend and knowing that Black Diamond produces some of the best gear out there I had to jump at it.



It holds on a regular basis: 20 quick draws, 70m rope, harness, shoes, daisy chain, 5 or 6 locking carabiners.



Sometimes I can squeeze an extra pair of shoes and another harness, or my lunch !!



Conclusion: If you want to organize your craghopping, this is your baby. (the pic can hold all of this gear - with many more than the draws pictured!)
Good crag bag!
Familiarity:

I've put it through the wringer
I love how simple this bag is, perfect for throwing all your crag gear in for a day out! You can fit a water bottle, snacks, rope, harness, shoes, and draws with no problem! (Just be sure to take your snack bars out of the pack while climbing, squirrels tore through this pack to get a cliff bar) There is a small pocket on the inside of this pack for keys.



I think this bag would be great for travel too. You can always carry duffel style, great feature for this pack! The price of this pack is very nice too, I think the durablity of the pack is great. Once the pack has a good amount of weight, like trad gear.. the pack starts to get a little un-comfortable on your shoulders.
Nearly Perfect
Familiarity:

I've used it once or twice and have initial impressions
A great bag for jamming all of your gear into, and getting it to the crag. The storage volume is enormous, and since there is only one storage area, none of it is limited or sectioned off for certain items, which means anything can fit into it. I can fit my rope harness, shoes, draws, water bottle, and snacks in this sucker with room to spare. Opening the bag the length of the outer shell makes it super easy to get at anything in the pack, and you can lay it flat and not worry about it tipping over and spilling everything out.



I agree with other reviewers about the addition of external pockets or gear loops. The added pocket options on the outside would make it easier to organize your small valuables in the bag. I loose my wallet and keys in this thing all the time, but I know they are in there so not a huge issue.



I would buy this bag over and over, It does not disappoint.
Perfect rope bag.
Familiarity:

I've used it several times
This is just what I wanted when looking for a rope bag. It has everything I wanted: a ton of storage, integrated (not to mention removable) tarp, backpack straps, waist belt, looks great, super durable.



After returning the Metolius Speedster for lack of volume, I picked this pack/duffel up. Huge improvement. A bit more expensive, but worth it. It's huge inside, the full length zipper is convenient, material is burly, the backpack straps are really comfy (although not terribly padded), and the waistbelt is substantial and actually useful.



I pretty easily fit my 60m 10.2 rope, 10 draws, chalk bag, two 30m accessory cords, harness with biners and other crap, some webbing, helmet, and shoes. There was still room for some other small odds and ends, although nothing big would fit in. I could also clip my helmet and/or shoes to the duffel handles on the outside to free up some space. The pack carries extremely well, the shoulder straps are comfortable, the back framesheet is nice to have for support, and the waistbelt is actually nice and quite useful.



The only things I feel this bag lacks is a small accessory pocket on the OUTSIDE of the bag. There's a decent sized one inside, but a bit awkward to get at if the bag is full. Would also be nice to have a daisy chain or gear loops on the outside to clip helmet, shoes, etc. to. Not enough to deduct a star, but just a bit to be desired.




Great Gear Bag
Familiarity:

I've put it through the wringer
Awesome bag. Fits my 70M rope, two pairs of shoes, two harnesses, bunch of slings with room to spare. Heavy duty material holds up well (for two seasons so far anyway). Definitely recommended.
I really appreciated previous reviews and glad that I purchased this rope bag. It works great for 9.8mm x 70m rope with extra gear (harness, helmet, shoes, water bottle, food, clothes) for individuals that I am guiding. I have only used it a couple of times, but the quality and durability seem bomber.
A bargain
Familiarity:

I've used it several times
A good and cheap cragging daypack. Fits 70m 9.8mm lead rope stacked in a tarp, 2 sets of cams .4" to 4", set of nuts and nut tool, harness, climbing shoes, various draws, slings and binners, insulated vest or jacket, headlamp and guidebook. I hang my helmet on duffel handles and let my climbing partner to carry my water, snacks and sunscreen.



After a season of intensive use there are initial sings of wear. Think it should last for at least three seasons.
Great Crag bag! I can fit my 60m rope, 2 harnesses and 2 sets of shoes, 20' of static rope, 30 m of webbing, various slings, an assortment of carabiners, belay devices, etc.

Has a rope tart that is a good size. Comfortable straps.

pocket for wallet and keys.

Great crag pack to carry all of your gear.
I dont think I have ever had such a versatile bag. From weeklong business trips to carrying climbing gear to the crag, this is what I reach for. It has a semi stiff bottom that lets the bag "flop" open for easy access, and it carries well as a back pack because of that.

Everything about the bag screams quality from the highly reinforced handles, solidly sewn fabric and well made floor. I use this bag and know that it will be with me for a while to come.
Perfect size for a weekend getaway!
This pack is the perfect size for a weekend getaway. Very comfortable to haul through an airport or jump on a train with.
Almost Great
Gender:

Male

Familiarity:

I've put it through the wringer
So close, BD. There is more than enough room for everything you could possibly need for cragging. Even with gear hanging out of the thing, it is more comfortable than I expected in spite of the unpadded waist belt and uninspiring frame sheet. The removable rope tarp is water resistant and is comfortably large enough to flake your rope on. Nice.



Most importantly it is tough. It has been through well over a year of scraping through rock, trees, thorns, and being chucked off 4th class sections. Against all odds, it is still in one piece. The zipper still functions and all appendages are still attached. There are really only a few pinholes in it to speak of.



The only problem is the internal pocket. It is blindingly frustrating. Stick in your wallet in the morning to find out at the end of the day they have migrated all the way to the bottom of the pack forcing you to peel the thing apart at your car and dump the contents. The internal pocket is so convenient it now only houses things I don't ever need (first aid).



One little external zippered pocket and this pack will earn that fifth star.



Update: I hate this bag. It will not die. 3 years of abuse and everything functions perfectly. Its like that annoying cousin who just will not leave you alone.

If you want a ridiculously tough no frills pack to throw all your climbing stuff in, this is it. If you like shiny new things, look elsewhere.


This bag holds everything you need for a solid day on the rocks. I have my 60 mm 10.2 rope, harness, shoes, 12 quick draws, extra carabiners and slings, and usually some lunch and a 32oz water bottle. The integrated rope tarp packs up tight or can be removed when you don't need it. Also the pack is really comfortable, even on long approaches
This thing is big. Holds my 70m rope, shoes, harness, chalk bag, 12 draws, and food. Rope tarp is a cool feature and the big side pocket on the interior is perfect for stashing things like car keys and my cellphone while I'm climbing. Bag lays flat both when put on the ground and in your crashpad on bouldering excursions. All around great bag.
Good for hauling gear to the crag, less good for longish approaches
This is a good pack for its intended use -- hauling your rope & rack to the crags or air travel with your climbing gear.

It holds my 60m 10.2mm rope, full trad rack, shoes & harness. If I carry my rope in a separate rope bag, it holds a full rack, 2 pairs of shoes, 2 harnesses & 2 helmets, plus a little room to spare for lunch, etc.

I like the full length zipper so it's easy to reach anything packed in the back. It has a full length inner pocket for guide book, wallet, windbreaker, hat/gloves, etc. The pack cloth material seems pretty durable. The framesheet prevents your climbing gear from poking you in the back.

The rope tarp is big enough to comfortably flake your rope and keep it clean -- not like some 3 ft by 3 ft tarps I've seen.

I also like how the shoulder straps and hipbelt pack away (for checked luggage, etc.)

I probably wouldn't take this pack on any approach that is steep or is more than a mile or two. It doesn't have any compression straps and the load doesn't necessarily carry close to your back, so on steep terrain it will shift your center of gravity more than a technical climbing pack.

Also, the hipbelt isn't padded and there's no chest strap, so long carries with heavy loads would be less than ideal. Finally, no outer pockets, or water bottle pockets, although you probably could hook up some internal hydration bladder, etc.

If you run out of room in this pack, it's not that easy to tie things to the top, etc.

Again, a great bag for hauling all your stuff to your next climbing project. Get something different if you're doing technical stuff with a pack or have long approaches.