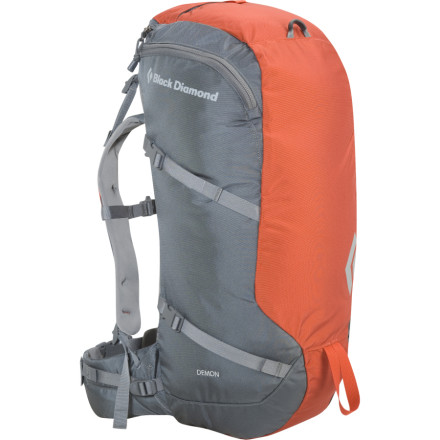 Detail Images
The classic, minimalist Black Diamond Demon Backpack comes in an expanded range of sizes to accommodate the gear you need for a day in the mountains. The Demon's heavy-duty 1260D nylon shell survives many seasons of climbing, hiking, and alpine scrambling, while the padded shoulder and hip suspension straps and back panel get you to the peak summit in comfort. Remove the 20mm aluminum stay and framesheet on lightweight missions, and drop your hydration reservoir into the dedicated compartment to keep the hydration flowing.
Minimalist design includes nothing that you don't need
Compression straps keep your load from shifting on technical terrain
Safety whistle integrated to sternum strap because, well, things happen
FANTASTIC pack
Familiarity:

I've put it through the wringer
Love it. Simple, most comfortable pack I've ever owned, and bottomless. I backpacked through Europe for four months with this puppy, and it was the wisest choice I could have made. Some are worried it can't fit trad gear. Actually, not true. Throw your gear in the pack and rope on top. Done and done. I will have this pack the rest of my life.
Perfect for cragging, canyoneering
Great pack. Burly zippers and materials make it bombproof when bashing against rocks with your heavy gear in it. The small pockets on top are great for your little things that you'll need. And the hydration sleeve on the inside makes for a perfect guidebook pocket when youre not using a bladder! Ive just taken this sport climbing, and short canyon trips so I cant say that it'll fit all your trad stuff but its definitely enough for draws, shoes, harness, water, food, extra clothing, helmet and strapping the rope to the outside is easy with the handy strap that pops out on top.



Since its only top-loading, it sometimes gets a little messy when trying to find one thing at the bottom. But because of that feature, you are getting a bombproof design. Oh, and its super comfortable!



I am completely satisfied with this pack.
She loves it and I do too
big enough crag pack that she carries some of my stuff now....and it fits, it's comfortable and it doesn't dig into her lower back. Did I mention it fits! Amen. best of all it is devoid of all the silly external bells and whistles and she can't hang her helmet on the outside and so has to put it inside where all things should go anyways. phew! nothing falls out or falls off or gets caught on bushes. It also doesn't have the gawdawful overstuffed hip belts.
Does this pack have a rope tarp like the...
Does this pack have a rope tarp like the BD demon duffel?
Unfortunately there is no rope tarp.
Great compact pack for rock and summit climbs
This pack was an excellent upgrade for me. For the past 20 years I've been (happily) using a simple and rugged MEC pack for hauling my climbing gear to the crag. This BD Demon pack holds slightly more but feels like I'm carrying about 1/3rd less weight! (I usually carry about 30 lbs of gear). This pack's design is extremely well thought out - easy access, great design for strapping on a rope, simple streamline shape, durable fabric, great suspension, great size for day use. I just hope it lasts me another 20 years.....I don't see why it won't.
Hey I am looking for a good day climbing...
Hey I am looking for a good day climbing pack. Something that will hold my trad rack, harness, shoes, etc... I now have a 55 liter but want something a little smaller being that I never seem to have the pack full. Has anyone used this pack for trad climbing? I don't have a huge rack as of yet.
, ☃bcs_badge_alumni_label☃
I just sized up from a 36 L to a 50 L to accommodate a growing trad rack (still small-medium sized, with doubles of most). I found with my 36, though ideal for sport climbing, was never quite enough to run a full rack. If packed JUST RIGHT I could fit all my gear, rope, harness and 1 pair of shoes; leaving no room for extras: helmet, additional clothing, 2nd pair of shoes, or even food & water.

Hope this helps, but I don't think I would suggest anything smaller than a 40 L.
Best Answer
I own an older model BD Demon and absolutely love it. You can fit everything you need for a day of sport climbing inside the bag, to include the rope. That being said, if you carry the rope separately (i.e. outside the pack or in a rope bag), you could use this bag for trad climbing with a small-medium rack. My next larger pack is a 50L and seems too big for most single-day activities.
Black Diamond is generally awesome. I use the BD Hollow Point for simple sport climbing days where I carry my rope in a separate bag--and the wall is not far from my jeep. The bag I use for longer treks to the wall with more gear, such as a trad rack, is the Arc'teryx Miura.

For comparison sake, the Miura is fine and easily will hold your gear but lacks an important feature BD typically integrates into their packs:

--Lots of separate small storage pockets (sometimes you need to be able to organize your knife, lip balm, headlamp, gum, camera, keys, and other small essentials)

Be sure to look at the fine details of the packs...those extra bells and whistles make organization much easier, which makes a difference in your experience outside. Peace
For a trad rack, you should be looking for a duffel with at least 40L not counting lid and side pockets, 45L if it's got the extra pockets.
Very basic, minimalist pack. It doesn't offer a lot of organization, and only one pocket as the brain makes storing smaller items a little tricky. But other than that, this pack is awesome. The suspensions is dialed and comfy. The design allows weight transfer to the hips, and the waist belt holds it all. This pack is great for daytrip summits, or really lightweight overnighters. Stuffing a rope in this isn't hard, but because of the zippered top loading design, you have to dig out almost all your gear to pull it out when you hit the crag. The stiffness of the packs material is a positive and a negative really. Positive because it is literally bombproof. Negative because it has no stretch or give to get that one odd piece of gear down deeper into the pack.