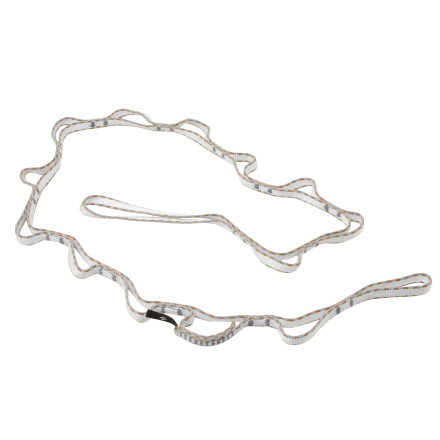 Colors

Detail Images
Description
Reduce the clutter factor with the Black Diamond 12mm Dynex Daisy Chain.
The Black Diamond 12mm Dynex Daisy Chain's low-profile design decreases the bulk that plagues aid climbers. Black Diamond makes this daisy in two lengths, so you don't have to start up a wall with anything extra.
I only use this at the indoor wall I work at when setting routes. I use it to attach to the quickdraws in order to reach places we I normally swing away from. I like how adjustable it is, but I wouldn't use it for my personal anchor system. Like Andriono said, if you load the daisy chain and one loop breaks, it'll essentially break all the loops until the daisy chain is just one big loop, discomforting.
Overnighted two of these 55"-ers for an aid climbing trip and backcountry delivered on time. They'd get 5 stars if you could differentiate between the colors a little easier, but I hear pure Dynex only comes in white. Take what you can get!
I use daisy chains a lot. What I like about this one is that is light
, ☃bcs_badge_alumni_label☃
Dynex is it for me!
Compact and durable. Dynex always seems to hold up longer than other Dyneema style runners-- I found the 115 length is perfect for you general sport cragging or trad use.
Great, but better is out there
I really like this Daisy Chain, but for use as a personal anchor I prefer the Metolius PAS (Personal Anchor System). The main drawback with the Daisy Chain is that it is very easy to clip it in a manner that could lead to a very painful fall. That, and that each loop is only rated to a strength of body weight, that means that if it is shock loaded, it will break, breaking each loop untill it meets the main loop where it could break, but would definately cause damage to yourself.

Bottom Line: Look on BD's website for proper clipping and if your planning on using this as a personal anchor, go with the Metolius PAS (much safer).
Keeping it simple and easy!
As a beginning climber (less than 1 1/2 years) I appreciate keeping things simple. The Dynex Daisy chain is perfectly suited to use for attaching to the anchor at the top of a pitch.

I have one end of the daisy chain through my harness and then can place the locker 'bnr through any of the remaining loops to make the length perfect for the anchor. When not in use, I run the 'bnr through the end and middle loop and hook to my harness loop and it is out of the way for cimbing. Sweet and simple.

Two lengths available for the tall and small (like me).

~Cindi (first lead: 7/06/09 and pretty excited about it!)
light weight, strong and not nearly as bulky as nylon. I just upgraded to this and love it.
Very light and well enginerred. works awesome for asending
Like their sling cousins, they are a great mix of lightness and durability. This compromise makes them way less bulky and heavy to drag around while aid climbing, as you already have enough stuff on you...otherwise just tie in with a clove hitch and save even more weight!
Strong and long enough to keep you comfortable at a hanging belay, but small and light enough to stay out of the way when you're desperately scrabbling for the rope to make a clip before you blow. And they're so thin, they don't get in the way on your belay loop. They live on my harness.
Would this Daisy Chain also make for a...
Would this Daisy Chain also make for a good ice axe leash? A standard mountaineering ice axe that is, not a technical ice tool.
Best Answer
No. It would be bulky and in the way, at least in my opinion. Just get some standard tubular webbing and tie something up. It will be a lot cheaper, and more efficient.In addition, the daisy's loops are far too small to fit your hand through for wrist loops. Given the cheaper price and designed functionality the Black Diamond Lockdown Leashes (http://www.backcountry.com/store/BLD1043/Black-Diamond-Lockdown-Leash.html) are a much better buy and are compatible with all ice axes.
Very versatile and useful!
If you need a way to hang at the belay, or a place to rack your gear, or a piece of webbing to swing from trees with, this is a great way to go. The daisy chain is great for aid climbing, just remember that the loops are sewn to body weight; they are not rated for falls.