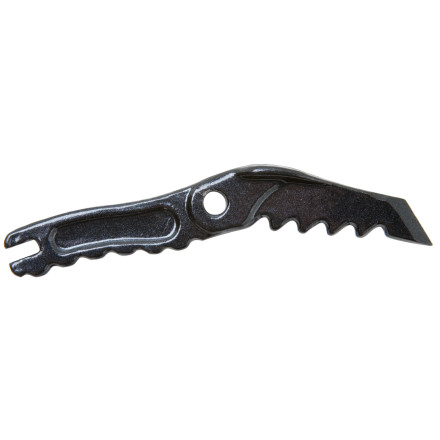 Detail Images
The Black Diamond Cyborg/Stinger Frontpoint gives your crampons a new lease on life. This razor-sharp replacement provides like-new performance when you're old frontpoint has been blunted from thin ice and mixed climbing.

Unanswered Question
Could you advise when you may get these back in stock? Also do they come in singles or pairs? Thanks
Package of 1
Familiarity:

I've put it through the wringer
So they are just as good as the stock frontpoints. Will work to replace your worn or nubbed frontpoints on old or new Cyborgs and Stingers. But it's $14.00 per frontpoint. That's about$56 for those of us who use two. Maybe this is the impetus to go monopoint - for... economical reasons.



At this cost, one should strive to keep their ger tuned and sharp. I let my front points develop a roundness akin to a Kardashian's leaving me with poor purchase on precarious pecipices.



I ordered two of these assuming they came two to a package (even though i know i have seen the packages in stores and should have known better). Was surprised to find only one per package. Seems this makes little sense givent that crampons come in pairs.



Get a bastard file and do some routine maintenance. Will go a lot further than replacing front points every couple of seasons.
Acts as a mono or half of a dual set.
Acts as a mono or half of a dual set. So these ship as a pair.
Will this point work on older BD crampon...
Will this point work on older BD crampon models? Say 15 years old.
Gregg,

This frontpoint will work on the original Cyborgs through current models, though I don't believe the Cyborgs have been in production for 15 years, since the crampons in the early 90's were the rigid cookie cutter style. I am not sure which models you have, but you can post up a photo and I can better help answer your question more exactly. Additionally though, modern crampons are significantly better and you may find that your climbing improves with a lighter more aggressive set of crampons.
Will this fit on to Grivel Crampons?
Will this fit on to Grivel Crampons?
I take it you mean Grivel crampons - no, it won't.

Fortunately, there is one store in the US which still carries Grivel frontpoints (after Grivel North American went under). It's called The Mountaineer, it's in Keene Valley NY, and they have a website.

So clutch.
Thanks for the information on a place to find those points. Here is there site http://www.mountaineer.com/