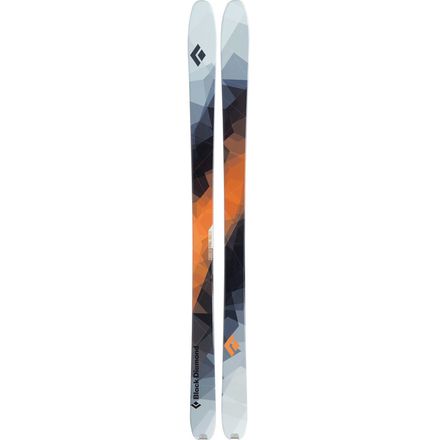 Videos

Community Images
Description
Nimbly ascends and loves downhill fun.
The Black Diamond Current Ski is a lightweight, agile touring ski that likes downhill fun as much as uphill speed. Its 86mm waist is wide enough to provide a touch of flotation in deep snow, quick edge-to-edge performance, and a stable platform for carving deep turns. Traditional camber at the waist gives you superior edge hold and turn control directly underfoot, while the rocker tip and tail chow up powder. An aggressive, directional sidecut enables deep, precise short- to medium-length turns. The Current's 3D Sandwich Layup utilizes a classic sandwich construction combined with an ABS sidewall with a tapered shape, for a ski that's more durable than a cap construction ski, and one that allows for superior edge hold and tracking, and more consistent longitudinal flex. The ski's Racing Edge is thinner and lighter weight than the Power Edge used in Black Diamond's other Freetour skis for weight savings, and includes stainless steel SkinLock tabs for easy skin management.

The Current is a narrower, lighter version of the Black Diamond Revert, and features a more playful shape than the Aspect. Black Diamond rates its ideal use as 50% powder, 50% hard snow.

Classic touring profile with rocker tip and tail
Agile 86mm underfoot width
5 mm beveled ABS sidewall with Racing Edges
Flat Sandwich with pre-preg composite construction
Paulownia wood core
SkinLock tail tabs
The tech specs say this ski comes in lengths of 157, 175 and 184, but the drop down menu for sizes has 166 instead of 175... Are these available in 175cm or is the 166 option correct?
Hey Andrew,

This ski comes in the following lengths: 157, 166, 175, 184

We currently have the 157, 166, and 184 in stock.

Ben
Hello friends, send to Chile? I need a Ski

Black Diamond Current Ski #BLD3537, thanks you!! Grettings from Chile!! 😊
Yes we do ship to Chile, you can give us a call at 1-855-485-8180 or use the chat feature on the site to place an order.



Hello from America!
For someone who primarily skis on the east coast (so variable snow with the possibility of tight turns) does anyone have any thoughts on 184 or 175? I'd be mounting with dynafit/am 5'9" 180lbs. Looking for a general touring ski, thinking this or the aspect
What do you normally ski on? I would say you could ski the 184 cm but, maybe you dont "need" all that ski. When you are backcountry skiing on the east coast its primarily tighter trees? Unless you get in higher alpine like in the Presidential Range, or some of the slides in the Adirondacks, even then you probably are not ripping those faces. If you make a lot of turns and dont need to ski really fast I recommend the 175. I am on the West Coast and I ski a 89 underfoot in a 177 length. I am 200 lbs, I just dont ski fast, and I make a lot of turns.



You can call or email me directly. 801-736-6398, or bporreca@backcountry.com
Black Diamond Current Ski
My G3 zenoxides weigh less than these and...
My G3 zenoxides weigh less than these and they're 105 underfoot. Why would you buy a skinnier ski to save weight and sacrifice downhill performance when you could have a fatter ski that does great in pow that weighs even less? I think black diamond needs to revise the weight of these.


There are probably many reasons why they are heavier.



Some people like a heavier ski because it feels more drive-able on the way down. The core materials on the black diamond might be thicker. Ski touring dosn't always involve bottomless powder so some people look for a ski that preforms better in all conditions the something that is a big soft noodle.



All in all black diamond and g3 both make well thought out skis and it just depends on what you prefer to ride.
Ehhh ...
Familiarity:

I've used it several times
The good: These things are light for what they are. To me, light gear = a bigger, longer day with more energy. And isn't that what touring is all about? These things go uphill really, really well, either on your feet or your back (duh). They ski pow well enough and do well in slush/corn/very minimal mank. If you're more uphill oriented than down and you're pretty sure that the down conditions will be optimal, this is a good ski.



The bad: These skis have no pop; they feel akin to skiing limp noodles. I remember reading in their Wild Snow review that these are "boring, predictable" skis. Is that bad, your call, but after a month and a half and about 20 days on these things, honestly, these just aren't much fun to ski. It's hard to explain exactly why, but they just aren't much fun. Also: Once conditions get even a little less than optimal, rocker or not, these are (in my opinion) really hard to ski, though that's probably predictable for a ski that's this weight in this width.



I guess the question is whether the up or the down is more important to you.
Solid, light weight ski
Familiarity:

I've used it several times
I guess perspective matters b/c these seem fairly stiff to me, esp. for a light weight ski. I would stay it's stiff for it's class, but perhaps not compared to other, heavier/beefier sticks. Overall, I think Black Diamond has done an excellent job with this ski. The modern shape and rocker tips give it greater versatility than a classic mid-80 waist ski. I've been touring with them in all conditions and they strike an excellent balance in the weight-vs-performance formula. I'm 5'10", 185 lb. and skiing on the 184 cm skis.
Do the raised tails make it substantially...
Do the raised tails make it substantially harder to jam these into firm snow for ski anchors?
No. I just got these skis. The tail rocker is very mellow/minimal.
I agree with Jason. The small amount of tail rocker does not preclude you from making solid snow anchors out of your skis (though I personally wouldn't rely on skis to create an anchor for much more than a tent stake).
Andrew McLean's Black Diamond Skis
Black Diamond Current Ski