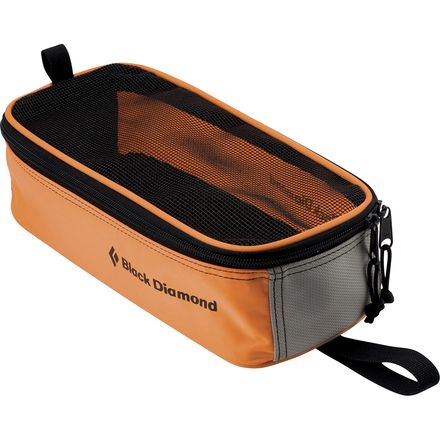 Community Images
Description
Crampons and elevators don't mix well, either.
Crampons and soft gear mix about as well as ten people in a four-person elevator. Stash your mighty 'pons in the rough-and-tough Black Diamond Crampon bag to make sure there aren't any hurt feelings, ropes, or jackets when you unpack and rack up after the approach. Vinyl-coated nylon keeps the pointy parts away from the things that, frankly, don't like to be pointed at.
does what it should
Familiarity:

I've put it through the wringer
it's a crampon bag. protects your stuff. mesh top lets your gear dry out when you get home. good construction. ain't much to it.
So far I've put sabretooths and cyborgs in there and the fit is good. The material on the floor and sides of the bag is heavy and I haven't ever had an issue with holes in them. The mesh top gets caught on the points no matter how you fit them in there, it seems. The holes in the mesh start to get cut on the points after a while. It is meant to air out your crampons but since I stuff the bag inside my pack it negates that feature. You could probably figure out a cool way to rig the bag on the outside of your pack using the daisy chain or loop but it isn't convenient for me on my particular pack and I hate the idea of having a gypsy camp swinging on my back. Anyway, I still take my crampons out of the bag when I get done for the day to dry them out and prevent/remove rust.
Great bag for Crampons. I wish I would have gotten this bag sooner. I also like the fact it has a mesh top so your crampons can dry out and not hold the moisture if they end up being left in the back of the vehicle.
Works great
Familiarity:

I've used it several times
This crampon bag is great. It fit my BD Sabretooths just fine. I like the loops on the back so that you can clip it just about anywhere. I unfortunately lost mine on my last trip and will be picking up another shortly.
Great bag, uncertain on the mesh top
This bag is very durable and tough except for the mesh top. Im guessing they did that to let the wet crampons air out but it seems like flimsy mesh that will rip easily... maybe not. I guess time will tell with that. but otherwise this is the perfect companion for my BD 'pons
Success!
Gender:

Male

Familiarity:

I've used it once or twice and have initial impressions
I was a bit skeptical but it seems to be working. At any rate, even if the bag gets poked full of holes it'll keep the points away from my pack.
Tough bag
Gender:

Female

Familiarity:

I've used it several times
My small crampons fit fine. seems to work well and looks tough enough for the job.
Big...but not for long
Gender:

Male

Familiarity:

I've used it several times
It is big for my BD Cyborg Crampon' but the flore is not to strong and it not for long use ):
My Grivels fit ok in this bag - sideways. They are fully compressed. I tried them the other way and they do not fit as well - they stick out forward and there is a lot of lateral space on both sides. I don't mind, but I can tell that one of the crampon teeth will sooner or later snag the front of the bag since it's hard to keep them perfectly matched up even with the straps wrapped around both crampons.
I bought one bag for each crampon and then someone gave me the tip to put both crampons into one bag. I was able to store them inside my backback or hang them from the outside.
Fits my Grivel G14 crampons well with room to spare.
Simple bag gets it done right. Bag it.
Best crampon bag I found for the price. Give yourself confidence when you throw these things in your pack. No more punctures, no more muddy dirty mess. I much prefer these to the carriers that you wrap around like a burrito. This is simple and easy in the snow with gloves. Done.
Cool bag that you can just store in your bag or you can attach it to your backpack in many different configurations. Has multiple loops on the back so it can fit almost any bag. The material is tough and wont easily rip from your crampons.
Good price, light weight, seems durable and holds my crampons safely... what more could I need?
You can't go wrong with this bag.
I knew that many mountaineers and RMI suggest not using crampon bags on the trail ("useless" weight), but I definitely wanted a way to pack them for the flight west and for storage that kept the spikes against each other with a netted side to dry.
Tough and easy to use. I use mine to store extra picks and my crampons. Great piece of kit for keeping sharp bits organized and easy to get to.
Perfect fit for my Black Diamond Contact w/ ABS crampons. My crampons are fitted with long bars also.
Only used 3 times but seems very durable with good quality zippers.