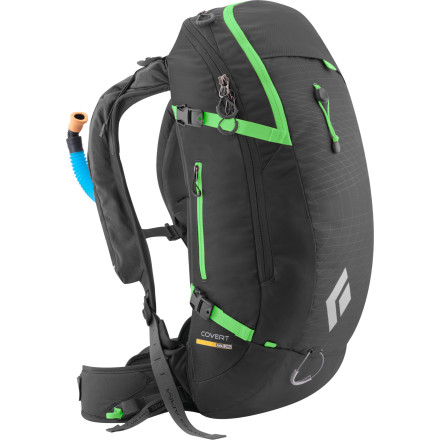 Videos

Community Images
For a quick out-and-back skin lap or fast day tour, the added protection of the Black Diamond Covert Avalung Backpack is hard to beat. The small, classic backpack design holds the minimum—your safety tools—plus a built-in Avalung system, and the cleverly engineered and insanely comfortable shoulder strap and waist-belt system keep your compact load comfortable.

Built-in Avalung system significantly extends your fresh air supply in case you're caught in an avalanche and buried beneath the snow
Fresh air is pulled from the valve box by your shoulder and through the Avalung mouthpiece, and when you exhale, CO2 is expelled from the exhaust port by your waist
Avalung mouthpiece and tubing stow away in the shoulder strap when not in use, but are easy to reach so you can extend the mouthpiece just before you drop in
Ski carry options include a diagonal ski carry cable that retracts when not in use and an A-frame carry system
Padded, adjustable SwingArm straps are linked on the bottom with a cable so they move in concert with any body movement
Padded, adjustable ergoActiv waist-belt uses a ball-joint to attach directly to the frame so it can pivot as you move and angle the weight to your legs
Hydration sleeve allows you to use a hydration bladder to stay hydrated, and the insulated design keeps your water from freezing solid
Enclosed shovel and probe organizer pocket makes it easy to find your entire avy tool kit quickly, and the enclosed design protects your essentials
Share your thoughts
What do you think of the
Black Diamond
Covert Avalung Backpack - 1465-1587cu in
? Share a...
Great All Around Tourer
Familiarity:

I've used it several times
So far, I'd say this pack is great at pretty much everything, but not really perfect overall. This is my first touring pack, (but obviously not my first backpack) and so my opinions may change as I use different packs.

Things I like

Great construction! Not worried about any of the zippers, buckles, straps, stitches, etc. breaking on me. The pack is well constructed and burly enough for outdoor mountain use.

Avy pocket is a great size. Able to fit shovel, probe, skins, and a few other small trinkets in there. Sometimes I wish the pocket was "looser" but overall I like the size.

Suspension system! It's great. I keep it unlocked most of the time, both while hiking/skinning and skiing. I've found it to be very comfortable and feel natural. Sometimes I lock it out (pull tight on the stabilizer straps) and my immediate thought is "wow.... it's much more comfortable unlocked!". It does add quite a bit of weight however.

Straps, buckles, toggles are all glove/snow friendly which makes using the pack really easy when you're out there.

Helmet holder works great in both top and bottom configuration.

Ski carry set up (both diagonal and A-frame) are super easy. Helps if you have a ski-strap or 2 with you.

Haven't had to use the Avalung system, but I'm sure it works fine.


Things I DON'T like

Wish all the zipper were longer and would travel farther down the pack. It'd be nice to be able to open the back wider to help load/unload the pack.

It'd be nicer if it was a bit lighter, but that's also the price you pay for having a feature-rich pack.

Goggle pocket is a little small, sometimes tough to fit goggles, sunnies, and phone in there.

The hydration sleeve is WAY too small. I have the big bite valve on the end of my camelbak, and it just *doesn't* want to fit in that zippered sleeve. Leads to a tube flapping around as I ski.

Overall

Great pack that does pretty much everything well but a few ticks away from being perfect.

Hit me up and let's chat!

Ben
brabinowitz@backcountry.com
801-746-7564
what is the metal wire at the bottom of the bag used for ?
Hey Hypermails!

The bottom metal wire is used for diagonal ski carry when hiking with your skis on your back.

Let me know if you have any other questions!

Ben
brabinowitz@backcountry.com
801-746-7564
i wanted to like it...
Gender:

Male

Familiarity:

I've put it through the wringer
I backcountry ski in CO almost weekly and will say that this pack both skins and skis great! However, and I might be alone on these opinions, but I think there are several design flaws in this pack that make accessing your things too difficult to really recommend this pack.

1. there is a mesh pouch near the top off the back panel. Great idea, and much needed so as not to lose some of the smaller things but it completely blocks the opening to the rest of the pack.

2. The blocked access is compounded by two other designs of the pack. the aluminum frame in the back panel is stiff and means you can't really open up the main pocket to get at your things. additionally, the front shovel pouch is stiff when you have a shovel blade in it, which wouldn't be problem if the zippers to the main pouch extended to the bottom of the pack (or at least to the bottom of the shovel pouch). as it stands now, the zippers end about an inch above the bottom of the shovel pouch so neither the front panel or the back panel can be properly opened to get inside.

3. I'd love to see a map pocket, perhaps on the inside of the shovel pocket. When skiing in a new area, I couldn't find a convenient spot for my map. I realize that the avy compartment shouldn't get too crowded with misc items but a slim pocket tha really only fits some paper would be good.

4. more minor, I'd also like to see a slightly larger goggle compartment. I almost always carry goggles in case of bad weather but wear sun glasses. My sunglasses case is not that big and it barely fits in the goggles pouch alongside the goggles. i recently found that i can store the goggles inside the helmet while the helmet is in the helmet carry which helps mitigate this issue.

5. the pack is pretty heavy but i suppose the weight is advertised.

on a positive note, as I mentioned up front, it carries really well both skinning, walking with skis strapped on it, and skiing. I also like the helmet holder.

this is my first ski-specific pack so maybe my expectations were too high but I will be looking for a new pack.
Unanswered Question
What is the length of the shovel pocket...
What is the length of the shovel pocket top to bottom. My shovel is the Voile Telepro with the D handle. Just want to make sure it will fit.
awesome all day touring pack
Familiarity:

I've used it several times
I have used this pack for three tours this season, and so far I am very impressed. First, it is comfortable. I am 5'10. 145lbs with about an 18.5" torso length and the S\M fits me just perfect. The padded shoulder straps and hip belt are very comfy and snug down very well. Second, the features are great. In terms of size, I think this backpack is abolsutely perfect for either short or long all day tours in the back country. I carry my probe, shovel (with an extra long handle for leverage), snow saw, first aid kit, mini emergency bivy, 2-3 liters or water in a hydration resevior (the insulted tube storage works great), my down puffy, skins, sunglasses, lunch, and a headlamp, and I still have a bit or room left over for anything extra that I want to bring along. The included helmet net works great and saves space in the pack. And importantly, I think that the avalung itself is well designed. The tube extends quite a bit so you can place it in an easy to reach location right next to your chin. Long story short, this is a great, comfy backpack. During the summer I think I will remove the avalung equipment and use this as my summer day hiking backpack. Lastly, the BD warranty is awesome. My pack came with a defective sternum strap, so they immediately gave me a new pack (shipped to my house within two days, exactly in time for my next tour). BD is awesome.
Is this pack able to carry a snowboard?
...
Is this pack able to carry a snowboard?

No, it's not designed to. Not to say that you couldn't somehow find a way.
The outlaw is BD's only snowboard carrying pack. Well intended to carry a snowboard anyway. Its awesome all round!
Black Diamond Covert Avalung Backpack
The BD Covert is a good size pack without a bunch of added stuff. I love the shape of the pack as a whole. If you get the right size, it will balance well when fully loaded. Ski carry options are well thought out. Has plenty of space for a shovel/probe and a little extra space in the safety pocket. The soft lined goggle/tech pocket at the top of the pack is roomy for a headlamp/goggles/ sunglasses and some other small items. The main pocket is easily accessible, with room for a packable insulation layer, water bottle(if not using a hydration reservoir), gloves, skins, lunch, and any snow study tools that you may have. The small pocket on the waist belt is handy for small items like a leatherman or knife. Well designed with durable zippers and handles. Good size for long multi-lap days int he backcountry or shorter days in side country, although a smaller pack might be better if you are looking to do side-country exclusively. The Covert offers versatility, which I like. I have had issues with my Avalung not staying bent at the right angle to face my mouth, it seems to be a little limp and won't stay put where I want it to. I am 5'9" with a shorter torso and made the mistake of going with M/L frame and had to switch to the S/M, which fits much better.