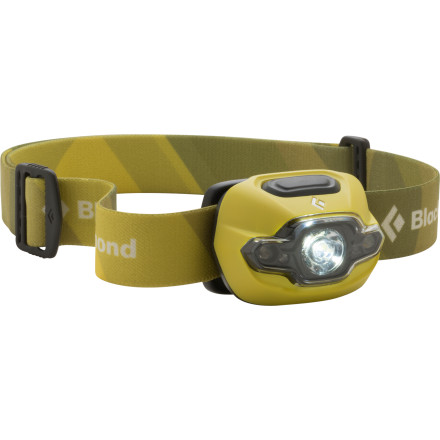 Description
Don't leave home without it.
Throw the small and powerful Black Diamond Cosmo Headlamp in your backpack, pocket, or car, and don't be caught in the dark again. DoublePower LED lights up the night for long-range viewing, and two SinglePower LEDs maximize battery power while providing proximity lighting for reading or cooking at basecamp. Compact, lightweight, and easy to operate, this little lamp is an ideal light source if you're counting ounces or need a reliable backup headlamp.
LED light source
Proximity, distance, strobe, and red night vision modes
AAA alkaline, lithium, or Black Diamond rechargeable (sold separately)
250 hour run time on lowest setting, 43 hour on highest
1 lockable button
Tilt adjustment and customizable beam
Adjustable headband
IPX 4 splash protection
Three-level power meter
Great for Camping & In the Garage
A camping must have. I store mine in the garage too and have used it on several occasions while wrenching on bikes, or, working in the yard.
Great performance/price ratio
Familiarity:

I've used it several times
This is one of the cheaper headlamps made by BD, it was just great. I don't think you need more power than this for normal travels.
Last voyage we had to find our way in the middle of the night without moon, there was only one brighter headlamp on the group, but I felt it was not necessary. With this model I had the range needed to find some remote signs of the way.
Battery life is great, I used full power for finding my way and the proximity LEDs for walking.
Remember to always block your headlamp on your pack!
I own 2
GREAT!
bright, dependable
Familiarity:

I've used it several times
Lost my old BC cosmo somewhere and liked it so much i had to by the same model. It's super bright and i love it for nighttime trial running.
Works
Familiarity:

I've used it several times
Love this headlamp. Super functional for the price. I would absolutely buy this again.
Good headlamp
Familiarity:

I've put it through the wringer
This headlamp is good for anything. It can adjust the brightness, colour, angle and frequency of the light. My only complaint is that it sometimes turns itself on in my bag, you just need to be aware of that when packing. I accidentally dropped it and now one of the side red lights doesn't work. This was not a big deal because I never use it in red mode and it was my fault.
It has great value, is comfortable and bright, although so many settings are unnecessary.
Simple yet effective.
Familiarity:

I've put it through the wringer
Nothing more to say than what else has been said. Really gets the job done, not too expensive. Weight is good, easy to use and bat life has been great so far.
dollar for dollar solid
Familiarity:

I've used it several times
For the money spent, this is a pretty fantastic product. Battery life is good and the weight is fantastic. It's not the highest end of the high end but it works great.
Does the job...well
Familiarity:

I've used it several times
I have owned a TON of headlamps. This one is possibly the most surprising for the simple dollar to performance factor. Sure I have fancy shmancy lamps that are all high tech and whatnot, but this one knocks it out of the park for getting the job done on a budget.

Red is an awesome feature too!

If you are after BANG FOR THE BUCK then stop here. For this price you wont find a better lamp.
Since I bought my orange head lamp just last week and now you have a sale do I get a refund? Please respond, Marty Brookman
Best Headlamp I've owned
Familiarity:

I've used it several times
I love this thing. It's bright, VERY bright! Light weight, comfortable and the batteries last a long time.
Lights my way.
Familiarity:

I've put it through the wringer
I got one of these to go with my half dome. At first I figured it would stay on that helmet unless I needed to change the batteries. How little I understood what a tool this really is. I initially picked the cosmos because it's more stylish and rugged than headlamps double the price. Also, my brother has a recon and i didn't need that much friend-blinding power. It works seeing my way up rock faces, and has been proving a lighter/hands free replacement to my flashlight on camping trips.
use it or bring it whenever I go camping or hiking, plenty of life and the buttons are easy enough to figure out. all the settings on it are great too. well worth the money.
A Great Value
Familiarity:

I gave it as a gift but have feedback to share
I bought this as a gift for someone needing an inexpensive headlamp that would work as intended. The single button operation is the same as BD's more $$ offerings and the performance is great. "Polite red mode" is a great touch when in close proximity to others at night. And the spot mode is more than adequate for night hiking. Fit an finish is not quite there, the plastic feels a little cheap and brittle. But it works perfectly and is a great entry level headlamp.
Great headlamp for the price
Familiarity:

I've put it through the wringer
This was my first headlamp and I take it on all trips. I even use it around the house when grilling or in the shed. What a life item.
Light the way.
Familiarity:

I've put it through the wringer
The Cosmo Headlamp is one item that I always make sure to take on any kind of adventure. I love using it for night climbing and biking and have never had any issues with it. Small and compact it isn't hard to just keep in the car or in a backpack and is easy to adjust. For the price it is a great headlamp. Always good quality with Black Diamond.
Awesome Headlamp for a Killer Price
Familiarity:

I've put it through the wringer
The Cosmo is an awesome headlamp for trail running, camping, ski touring,etc. I really like the red light feature for reading at night (so I don't blind my tent mate). The lock feature is also great for hiking during the day when your headlamp is buried at the bottom of your pack. Nothing is more frustrating than not realizing your light has been on all day and the battery is low or dead. The strobe light feature would be great for emergency situations. Being able to dim the headlamp easily with my finger is also super easy and convenient. The only reason I give this light 4 stars is that I find the light to seem a little fuzzy and out of focus at times.
Doesn't get much better for $25
Black Diamond has always been my go-to for headlamps.
When my old headlamp kicked the bucket, I knew I could count on BD as a replacement.

For the current $24 price, it's hard to beat. A red light, and two different "white" lights make it a perfect choice for any camper or climber.

I don't really need anything special out of a headlamp besides reliability, and you can definitely count on these