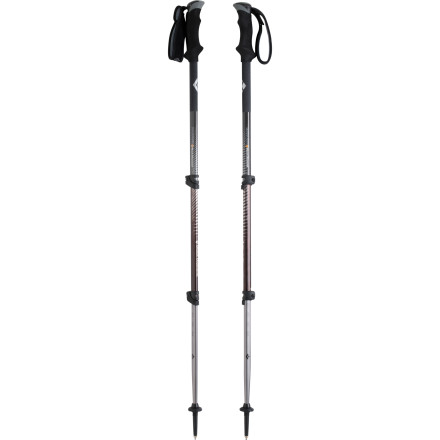 Detail Images
The Black Diamond Contour Elliptic Carbon Trekking Pole is the (insert luxury automobile brand-name here) of trekking poles. The stiff, lightweight carbon shaft absorbs shock and vibration better than aluminum, and its unique elliptical shape adds fore and aft stability for long hikes with heavy packs.
15 degree corrective angle handle reduces swing motion and adds stability
Interchangeable rubber or carbide tips allow you to adapt the pole to different environments
Easy to use and secure FlickLock clamps
Dual-density grips for added comfort and shock absorption
I've been using these poles for several months getting ready for some mountain backpacking in BC later this fall. Great support with a loaded pack. I have used other poles that would give and bend severely and never had any issues with these poles. Great for support down mountain with a heavy pack to take some stress off your knees and catch yourself if you loose your footing.
I have had these poles for about 2 months now and have used them for about 30 miles in Nebraska (I know ;-D) and Mt Washington in New Hampshire. The fit and finish of these poles is great. I like the grips and straps very much. It is very easy to reposition my palm to the top of the grip if I want to lean on the pole for support. Once I am back on the move I just open my hand and the strap guides the grip right back into my hand. Very comfortable. I have had to catch myself more than once already and place a large percentage of my 205lbs on a single pole and it didn't give a bit.

One thing that did concern me at first was that they have a little more feedback than I am used to. I am not sure if this due to the carbon/aluminum combination or the elliptical shape (which I love when they are on my pack), but I definitely noticed it. Its not jarring but present. Now however, I have grown to like the feedback. It is not harsh and in a VERY muddy hike in Indian Cave State park it let me know when the pole had found a good footing vs being lodged in 6 inches of loose mud. Based on the feedback you can tell what kind of footing you have.

On the pricey end of things for me but I'd purchase them again for sure. Great poles.


I believe the upper shaft is carbon and...
I believe the upper shaft is carbon and the lower shaft is aluminum, is this correct?
Get the Black Diamond Alpine Carbon Cork. They are fully carbon fiber. I've snapped high quality aluminum - twice....but never the carbon fiber. The latest version has better Flicklocks as well...and $15 cheaper at $159 (Which is far too high for a couple of friggin' walking sticks...but what you must pay for the best)
If you can only get one set, get these.
Gender:

Male

Familiarity:

I've used it several times
These are the first hiking poles I have ever used, and owned. I have been turned off from poles for a long time because it seems that 95% of the people that I ever see using them don't need them or use them for their intended purpose. I got over it, gave these a chance, and love them.



FlickLock system is easy to use and very secure. I purchased a pair of MSR poles that used an internal compression system to lock the poles and immediately returned them (Backcountry made the process simple and painless!). No issues with thiese Black Diamond poles, even with gloves easy to use.



Light-weight: You don't notice them in your hands, or in your pack. They also pack down very well.



Grips are very comfortable, even after many miles in the rain no blisters or discomfort. They look like they will last a long time.



So, if you are looking for a great trekking pole this is the one. It is very comfy and well constructed. It isn't cheap, but you get what you pay for.
I got mine in KTM before trekking in Nepal scratch and dent. They are great 4 season use, flintlock style stoppers, and no moving parts. I'm not sold on the spring system to absorb shock in other models for me less parts the better. I felt that these were much nicer than Leiki or even Exped's poles.
it says trekking "pole" in the description,...
it says trekking "pole" in the description, does that mean it only comes with one?
these are a pair off poles.