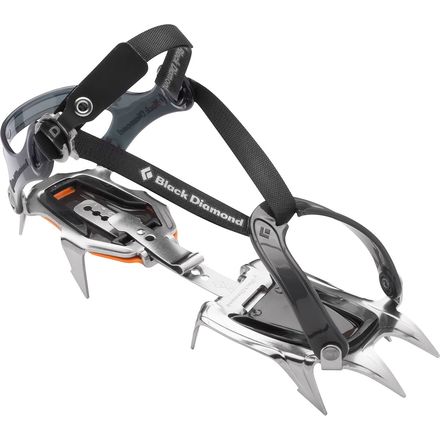 Community Images
For general mountaineering, icy bootpacks, or mountain treks that include snow or glacier travel, the Black Diamond Contact Strap Crampon gives you durable, lightweight dependability. Black Diamond designed the Contact with stainless steel for low weight and to ward off rusting.
Horizontal front points provide more security in steep snow
Full-strap attachment system works with any boots or even shoes
Anti-balling plates keep snow from sticking
Will these crampons fit a small foot? Size 36
Will these fit a pair of La Sportive Trango S evo gtx?
Yup they sure will. You could even get a pair of crampons with the heel being a wire bail, little more secure.



You can call or email me directly. 801-736-6398, or bporreca@backcountry.com
Unanswered Question
will these fit on Scott (formerly Garmont) Excursion tele-boots with classic 75mm duckbill? Or is the duckbill too wide for the front strap
flexible
Familiarity:

I've used it several times
ever tried to use a stiff crampon with flexible hiking boots or snowboard boots? it sucks. feels like you're Achilles tendon is being stretched with every step. this crampon flexes in the middle - perfect for strapping to flexible boots or snowboard boots. used them for shasta. light and grippy.
is this crampon going to fit size 8 1/2...
is this crampon going to fit size 8 1/2 US ? All comments seem to be size 11 or 12. I know the length adjust. But, isn't the boot going to shift and move around between the side post on a smaller size boot? Especially when put under the intense stress of climbing.




Hello bob,



This crampon will fit your 8 1/2 US size shoe. The size of the regular bar ranges from EU 36-46. You will just need to play around with it till you get the perfect fit for the boots you will be using. I hope this helps.



http://blackdiamondequipment.com/en/climbing%2Fcrampons/contact-crampon-BD4000690000ALL1.html
is this crampon going to fit a size 14...
is this crampon going to fit a size 14 (US) boot?
Jay,

This crampon will fit up to a size 46 euro or 12 US boot. It will work with the Black Diamond long center bar, which you'll find at http://www.backcountry.com/black-diamond-long-center-bars



If I can help set you up with these and or other mountaineering needs please give me a call at 1-800-409-4502 ext 4405 or email me at ssowle@backcountry.com
Will they fit on http://www.garmontusa.c...
Will they fit on http://www.garmontusa.com/garmont/outdoor/footwear/zenith-hike-gtx.html?___SID=U ????

or which crampons would you recommend for general use to walk on ice or to climb up to 60 degrees???
Hi Antonis,



Those crampons will fit perfectly on the Garmont Zenith. My on;y concern is that your boot may not be supportive enough for you to use if you end up needing to front point for long periods of time. For general snow travel, that set up will be fine, but on ice, you'll wish you had a stiffer boot (to allow for kicking and frontpointing).
Great All Round Crampon
Familiarity:

I've put it through the wringer
I've had the Contact for the past 3 years and they make a great all round pair of crampons for use with all boots. Great for boots that don't have stiff soles and welts to accommodate auto or semi-automatic style. Never had problems with these coming loose.

I've since upgraded to another Black Diamond semi-auto crampon for AT gear and new boots so these are now being used for others who want to try out the mountaineering scene.
Great all around crampons!
Familiarity:

I've put it through the wringer
I've used these on several snow climbs up to 60 degrees in colorado. These are excellent! Super durable when walking over rock, stick very well into hard snow, and are easy to adjust and stay tight! I would definitely recommend these to anyone!
I bought these for my brother in law who does a lot of early summer hiking. He wears them with a pair of waterproof merrells and loves them. He said they work great on different surfaces of snow from slushy to hard pack. Easy to attach and stay on very well.
Hi, I'm going to summit Mt. Shasta via...
Hi,



I'm going to summit Mt. Shasta via the standard Avalanche Gulch route this weekend and am wondering if these are the correct crampons to buy (I have these lightweight mountaineering boots: http://www.sierratradingpost.com/asolo-lothar-gore-tex-light-mountaineering-boots-waterproof-for-women~p~3236w/)



I summited via the standard route 2yrs ago, but I rented all my gear at the time and don't recall what type of crampons I used.



Thanks!
Best Answer
These crampons will fit on just about any footwear. The Asolos will be fine with the crampons. for a more aggressive boot with a heel welp the "clip" crampons will be better suited for.

Enjoy Shasta!
I'll second Reid's comments. These will work well, but it looks like the Lothars have enough of a heel welt to accept the bail on the BD Sabretooth clips. That's the better choice for a solid and secure crampon.
Thanks so much, Reid and Phil! So although these crampons are versatile, should I go with the BD Sabretooth ones instead?
Hey Daphne,

Doing a little more research to make sure the heel welt was in fact big enough and the sole stiff enough, based on what I've found, I would have to say yes, with the Lothars being able to accept a hybrid crampon, the Sabretooth clips are the way to go. You'll get in faster and have a more secure fit.
And I second Phil on this one, I've since moved on to the sabretooth clip, not as versatile but solid fit on boots with heel welt. The additional points help with stability and can be used to climb ice. You'll feel much more secure! Contacts are nice for light glacier travel
Bought for the Haute Route
Bought these guys for the Haute route after hearing they fit on snowboard boots. They almost fit on snowboard boots, but not larger sizes. They are great in other instances, but not for my particular use, if you're looking for a snowboard boot crampoon go for a Grivel.
Great Price point/ Great product
These crampons are great..Easy to put on, easy to take off, and do what they are supposed to...Hold you on the ice.. I have made two approaches in these over 5000 ft gain in various ice conditions, in some very unusually mild temps. they hold up to everything..



I have a size 11 boot, and the standard size is almost maxed, so if you have larger boots/feet. Plan on getting the extension bars.
Looking to be able to strap a pair of...
Looking to be able to strap a pair of crampons to my T1 (teleboots) in addition to my Asolo TPS (leather hikers). Wondering if these make more sense than the Sabertooths?
Best Answer
Yes - I don't believe that the TPS boots accept a heel bail, so the sabretooth would not fit those, while a strap fitting would work with either boot.
I want to purchase crampons for general...
I want to purchase crampons for general mountaineering. I would appreciate some help knowing what differentiates between the BD Contacts and the Sabretooths. For example, what type of conditions would the BD Contacts be superior to the Sabretooths? and vise versa..
For light mountaineering and glacier travel I'd go with the Contact. The points are less agressive and it works with any boot. For forays onto vertical ice look to the Sabretooth but only if you have a boot with a heel welt as the crampon attachment will need one.
great for walking in all boots
Not the most tecnical "pon but they fit well on all my boots
really like these for general snow walking, I just got back from a trip up timpanogus, and they worked awesome.plus they fit awesome on all these boots
BD Quadrant A/T boot
La sportiva glacier mountaineering boot
La sortiva pamir hiking boot
Burton Ruler snowboard boot