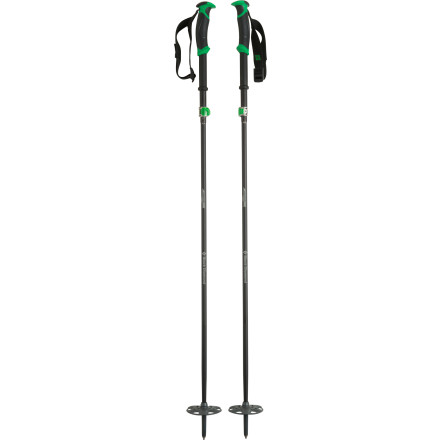 Colors

Detail Images

Videos

Community Images
Description
Reach the perfect pow spot with this packable pole.
If you like working for your turns and need to pack small and light to get to your perfect pow spot, the Black Diamond Compactor Ski Pole works like a charm. With the push of a little release button, the pole folds down into three compact pieces that stay connected with a flexible cord, making it very easy to stow. It just as quickly locks back together with reinforcement at the joints and is easily adjustable with Black Diamond's secure FlickLock Pro clamp. Thanks to its­ simple and effective design, you can save your battles for the terrain at hand and focus on getting to the fun part.
Z-Pole collapsible pole design folds down into Black Diamond's shortest ski pole collapsed length
Speed cone technology guides pole sections together for quick deployment and provides reinforcement at joints when pole is locked in place
20 cm range of adjustability secured by low-profile, durable stainless steel FlickLock Pro clamp with increased clamping leverage thanks to dual-axle design
Lightweight touring grip with an integrated extension for quick choke-ups when traversing steep terrain
Wrist strap hangs open for easy access
Lengthened strap adjustment tab allows for easy manipulation with gloves on
Perfect for small packs
Familiarity:

I've put it through the wringer
These poles are killer for the splitboarder, they fold up very small and compact so you can easily throw them in your pack without much effort. As well as they assemble and break down quick and easy. I'm very impressed and satisfied with these poles!
Not the lightest but ...
Familiarity:

I've used it once or twice and have initial impressions
Not the lightest set of poles but they have some good features that I like. I had the earlier model and bent both of them in a fall but liked the that they pack down so small so I purchased another pair. For touring I also like that the baskets are big but with a cut out which is more comfortable against the snow. The strap design is also nicer than most being that it is a tad easier to insert a gloved hand that a strap that is one piece that goes in a loop with both ends at the handle. I was previously using poles that screw lock to adjust the length and they kept collapsing on me unintentionally which drove me crazy. The only peeve I have is that the cool basket design swivels around from the pole twisting (not the basket) - maybe tightening of the set up will rectify this. I used the earlier model extensively but this newer one just once. I don't see any major design differences between the 2 - maybe these newer ones are a little heavier.
This poles are great!
Familiarity:

I've used it several times
I don't really use them to hike, I just bought them because of their great colorway and folding features. I've ski'd with them about 4 times and their great. Very strong, no need to worry about them being lose, or flimsy.
Im wondering, are these poles good for trekking/hiking as well???
Raffy, these would work great as a hiking or trekking pole. The only thing to consider is some National Parks require you to use a rubber tip on the end to not trash the pristine rock. Not many places require that though, if you did need them BD sells them direct. http://blackdiamondequipment.com/en/trekking-poles/trekking-pole-tip-protector-BD1120690000ALL1.html



If you have anymore questions feel free to send me an email or call!



Bill Porreca

bporreca@backcountry.com

801-736-6398
Great for splitboarding! some caveats.
Familiarity:

I've put it through the wringer
The packable collapsed pole make them great for splitboarding despite minor drawbacks. If you're a skier who never needs to pack away your poles, simpler poles may be more bomber.

One of my poles has become more difficult to collapse because a top section is bent slightly. You have to push one section into another to create slack for the "z" cable ,and a bent section causes resistance. If the top doesn't collapse completely first, it can cause a lot of tension on the cable because of insufficient slack. If the cable snaps, you lose the tension that holds the pole together. (That hasn't happened to me so far.)

Sometimes freezing makes the bottom sections hard to separate.

Despite these drawbacks, I still recommend the poles to splitboarders. They pack up small!
Splitboard Perfection!!!
Familiarity:

I've used it once or twice and have initial impressions
These are a great trekking pole for splitboarders. They fold up nice and small so you can stash them in your pack when your making some powder turns.

They are really easy to build and tear down. So far so good. they do feel like they might break if you put a ton of pressure on them but as of now they are pretty awesome.
good not great
Familiarity:

I've put it through the wringer
I used these heavily for a few seasons. I really enjoyed them for the most part.

Pros-

good grip, nice basket and the z folding system is fast and rad.

cons-

really flexible always felt like I was going to snap one, and I did.

Once the pole snapped(lower section) there was not fast way to repair and when bushwhacking at 3:30am in the Tetons I was not a happy camper, or overly excited about having to MacGyver a fix for the upcoming 5,000 vertical feet I still had to climb.



great until shit hits the fan.
really really good poles although...
Gender:

Male

Familiarity:

I've used it several times
Poles are great, have been designed, developed and tested seems to be.

So, the z shape concept which scarred me first, they look like are very tuff and durable. Ive studied industrial design and product design and analized them over and over.

Ill add the opinion of which should be improved to help somebody hopefully, either you buyers or some product developer or reviewer.

I think the top part of the grip where you tend to put your palm shouldnt have any edges as it has and be more rounded to increase its ergonomy of usage when you grab it from there. you can check many leki ergonomic poles to see what i mean with that, they are very more comfortable.

On the other side, i would reduce the width of the wrist strap, sometimes to take em off and on with or without gloves it doesnt come off quickly.

I would try to reduce the size of the plastic buckles of the handswrists as well, think they are too big unnecesarily and bother a little bit to carry the pole with your wrists with or without gloves.

Finally maybe other details i would add, which ive seen in many black diamond products is that night reflecting paint or stamp they use when using them at night.



Thats all!
Splitboarding Goodness
Familiarity:

I've put it through the wringer
These little puppies back right down to fit in any sized pack even a little heli pro for half day trippers. So light and love how easy you can adjust height for various slopes will climbing. Everything I want from a pole and more!
Great poles.
Familiarity:

I've put it through the wringer
I'm a splitboarder and I love these things. They break down small enough to fit in my pack. Strong enough to handle man plants or even the occasional sword fight. I have not had any issue with the push button freezing. I like the adjustable length. Shorter lengths on steeper boot packs, longer length on flats. I have not had any issues with the powder baskets pulling off. Just do not strip the grooves and your set.
Recommend for splitters
Familiarity:

I've put it through the wringer
Lightweight and super compatible. great for skinning up then storing in a pack discretely. The handles flip up risers really easily Not meant for skiing in my opinion as the need for compactability isn't there and they aren't extremely sturdy, but could be great to keep as a spare if you are guiding a large group? Be aware that my 2013's used griptape like material instead of low profile handles (for sidehilling) like the BD expeditions. It still worked really well.
Compact but not quite bomber
Familiarity:

I've put it through the wringer
I really like these poles since they fit in my BCA Float 22 airbag pack (which doesn't have any good straps for lashing it on the outside). I like my backpack as small as possible, without things dangling off of it so these were perfect in that respect.



After a dozen or so days on these they broke when they got caught in some alders I was bushwacking through. It was definitely harsh conditions but I think my BD Expedition poles wouldn't have had this problem. No metal actually sheared or bent, just one factory press fit tube came out of another and the whole pole collapsed and became useless. Due to the Z-link system, you really can't duct tape or splint the pole together as a temporary repair. I fixed it at home with some JB Weld, but it came apart again after a few tours.



I'm gonna buy another pair of these since I can't find anything better (and I have a spare pole now), but if you're going on multiday outings I would consider a beefier pole that can be repaired more easily.




Unanswered Question
any other collapsible poles offered from...
any other collapsible poles offered from you all?


Black Diamond Compactor Backcountry Ski
Splitboarders rejoice!
Familiarity:

I've put it through the wringer
These are really great for splitboarding. I put mine to the test this past winter in the Wasatch and they did well. As advertised, they pack up small and neatly fit into my pack for the downhill. At the end of the day, I disconnect them and dangle them in my closet to let them fully dry out. Otherwise, they start to rust on the inside and become cruddy. The only complaint I have is when the release button gets cold and is stubborn to be pushed. This is especially annoying when it's cold and you have to take off your glove to press it. Luckily this doesn't happen too often.
Have last years
Familiarity:

I've put it through the wringer
All my friends are jealous, on how these go right into my bag (burton paradise 15L) With nothing sticking out. They collapse easy and unable to loose pieces as their all attached to each other. The strength of them as well is outstanding, they have never collapsed or bent while touring. I've had them for a year and not a issue. Though I don't have the new baskets they still pack up easy but did just order the new baskets so they clip into each other.