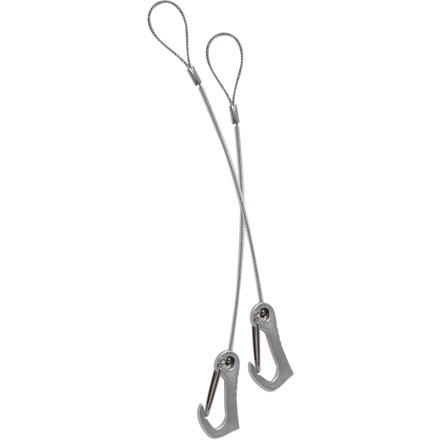 Description
Stop chasing your skis.
The Black Diamond Clipwire Ski Leash is way, way, way cheaper than a new ski if you should blow out of your bindings. For that matter, remembering to put it on is way easier than skiing on one foot trying to catch up to the other ski. It's easy to get on and off, durable to the point of absurdity and leashes are required at most resorts. These leashes are factory seconds, meaning they work perfectly, but may have some cosmetic imperfections. That just means you save some cash for cold ones after your tour.
what is the length of these leashes? Also would it be better to get longer or shorter?
The Black Diamond ClipWire Ski Leashes are 9 inches and only come in one length. I use these on my Black Diamond tele boots and they are an ideal length.



Feel free to contact me with any questions about telemark gear:

klivingston@backcountry.com

801-736-4337
Simple, light. A little hard to unclip with one hand, especially gloved. Haven't had any fraying issues after 2 seasons of use.
No hassle, solid ski leash
These things are kinda spendy unless you find them on sale, but if on sale for $15 or less they're totally worth it. They're no fiddle, strong, hold tight, neat...just work without a fuss. What's not to like?
Simple. The work. Not expensive. Easy on and off. They come in a pair.
Wire frays/breaks from day-to-day skiing (no binding releases). I would give the BD leashes three stars if they were as durable as the $3 nylon leashes I've had for 6 years. But they aren't.

The clips are not well designed for grabbing the tiny D-ring on most tele boots. They are more difficult to operate than the standard G3 or snowboard-style leashes. The head is way too big and it gets caught on the boot in awkward ways which just compounds the difficulty of operation. This isn't such a big deal since, ideally, you aren't fussing with them that much but it is annoying and something this simple shouldn't be annoying. Really, this is a poor re-design which is more difficult to use (with gloves), overpriced, and not durable. A normal, small carabiner would work better. Do yourself a favor and buy two cheap snowboard leashes.
The clip is great never lets loose if clipping in the right right direction (bottom to top so contuous tension due to wire leash. Like others have said the leash freyed. After skiing in subzero temperatures the wire broke. Actually bought a new one because i am such a fan of the clip.
Make your own leashes for under 10 bucks! Just go to the local hardware store and get 2' (so you have plenty to work with) of 1/16 stainless cable, and two 1/16 aluminum cable ferials. Put the ferials in your bench vise, mark with a sharpie ½ way and cut with your hacksaw. This way you now have 4 which is need and they aren't too big or too weighty. Loop the binding end just big enough for a key ring loop and the boot end loop so you can install a typical G3 type clip or smaller grasp clip. I personally think the G3 clips is ridiculously too large and heavy and I opt of the small carabineer type clips you find on the aluminum water bottles. Crimp your ferials and you are done. Just clip the key ring loop to the binding and the other to your boot "D" ring. Clip facing inward for safety. As for longevity or failing, don't know yet haven't skied them long enough. Hope to ski the local wilderness till May at least and then I'll know. Plus at under 10 bucks, you can always have more in your pack with all your extra binding parts, skin parts, safety gear; why not we always carry enough for any situation or we wouldn't be out there anyhoo.
worked great until they freyed
does what their supposed to do, after 2 seasons mine frayed where they were attached to the binding, not a big deal but for 20 bucks for such a simple item it shouldn't do that
Unanswered Question
Love these leashes, but one of the cables...
Love these leashes, but one of the cables broke at the end of last season. Any way I can buy just one??
It's a wire with a hook, dude
These are what they are... I've never had them come undone (I'm guessing you could tell it would happen ahead of time if the wire gate looses its springyness or gets bent), but the stranded wire does fray if you hack into it with your edges - I've had a few little red drops of blood appear on my forefinger from that. The little plastic sleeve over the wire helps a little, I guess, although mine cracked in a few places in cold weather, exposing segments of wire. Still beats other leash types I've tried. Used 2 hard seasons and the wires are pretty much toast, although the hooks are still rockin'. My big gripe is the price. Wonder what it costs BD in materials...
Come undone once in a while
They are easy to hook/unhook with gloves on, but they seem to unhook on their own quite a bit. I notice it happens quite a bit in deep powder, and I'd hate to loose a ski over it.
Recently got these for Christmas and am lovin em. easy to put on and take off with gloves and i have only had one instance so far where i couldn't get them open due to ice clumping inside the clip. Other than that i plan to have these on my tele skis for a long time.
This is the easiest to attach and most secure clip I've ever used. The square edges on the back of the biner make it easy to grip with gloved fingers. When I'm not clipped in, I can easily attach these to the binding wires to keep them from flopping around. Ski safe and use these clips.
black diamond does it again. great little accessory for keeping the skis attached to you. i was very skeptical these would work. the leashes that come with dynafit bindings are terrible. they get in the way, are tough to dial in the length, etc. these are super simple but i needed the dynafit attahment to get them on the toe piece just right. so i've attached them to the girth hitched ring that come with dynafit.

the best part ~ they are super easy to get on and off with gloves. that is HUGE!
why does the description say these are...
why does the description say these are cosmetic seconds and we are getting a break on the price if they are listed as the same MSRP on BD's website...? I don't see the savings....
Thanks for the heads up, something's not right here.
I love the light weight-ness, and the simple design. I'm curious to see how the plastic covering holds up. Wish they were BD orange instead of silver ;)
I have used a lot of different leashes (e.g., G3, Garmont, etc.) and these are hands down the best leashes around. They do not ice up (or do not ice up to make them unusable) and can be put on and removed easily with one hand and with gloves on. I have over 150 days on my BDs and never experienced any fraying...although the plastic that surrounds my wire has cracked off. I don't use them (or any leashes) in the backcountry so I cannot comment on Gee's comment below. The Black Diamond ClipWire is highly recommended.
When people have said this comes undone they mean the clip lets go of the D ring while you are skiing. I liked the length since it didn't have a lot of excess but I think the stiffness of the wire is what managed to 'push' the D ring through the edge of the spring loaded gate. This clip is light and easy to use but I would rather use something that is heavier and stays on
warm hands and no lost skis
Simple wire-gate clip design is easy to use with your gloves on. Huge plus. I use them with O1's and O2's with Scarpa T1 boots and the length is just right. The leashes don't get in the way. However, The plastic coating has gotten brittle and come off the cable on one of them, but this doesn't affect how well they work.
Been using these for a while now. Nothing negative to say about them, they're easy to get on and off never had any problems with icing and also stay out of the way. Not much more you can say or ask for in a cable leash. Taken some brutal falls on them as well and no problems at all.