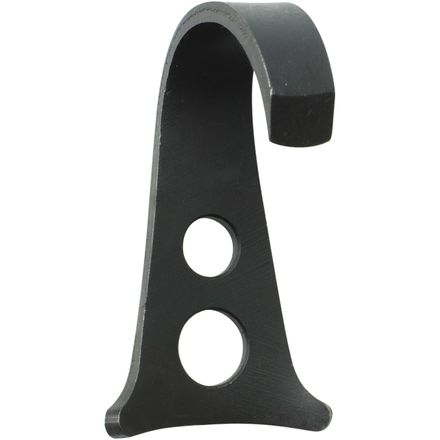 Community Images
Description
Hook up with the Cliffhanger.
The Black Diamond Cliffhanger hook is a staple for big wall climbing. It's designed for use on small to medium edges and holes. The Cliffhanger is the original hook from the Golden Age of climbing. The shape of the hook with its chiseled point and flat tip is a time-tested, proven design, making the Cliffhanger a standard hook hanging from today's aid climber's rack. Its bipod base prevents rotation and enhances stability. –Vendor
How To: Hook Out Of A Pothole in Imlay Canyon
Here is a little video I put together from doing Imlay Canyon in Zion National Park in Southern Utah. There is not a lot of Hooking videos on YouTube so I decided to make one. This was my first time hooking out of a pothole and I thought it was the funnest part of the canyon!
Imlay Canyon - Zion NP, UT 6-16-2012
Me hooking out of a Keeper Pothole in Imlay Canyon starts about 5 minutes into the video.
I bought 1 of these for use as a retrievable anchor and for hooking while canyoneering. I haven't had the opportunity to use it yet, but it's nice to have ready for when that time comes when there are no bolts and nothing to sling. Just attach it to a hard lip and rap on down. This is a lot heavier than I expected (it's made of steel), and is very sharp. If anyone knows of a good way to haul hoods around without the sharp end cutting up your webbing and whatnot let me know! :)
could you girth hitch a short sling to...
could you girth hitch a short sling to this?
yes, but commonly people tie off supertape or similar small flat webbing in a way that helps pull the hook down and into the rock.
I dont know anyone that "loves" hooking on lead, but when you have to do it, pull a couple of these out. It is the most secure hook I have ever used. The bipod base actually does what it is intended to do. Overall a great tool to have in the box.