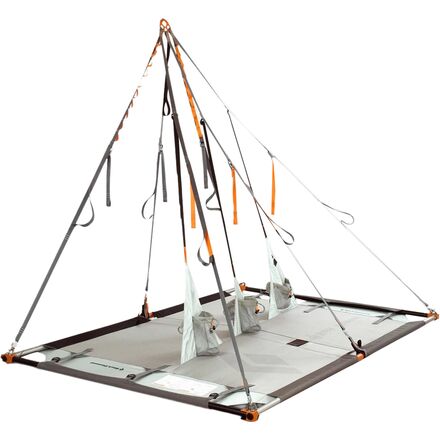 The Black Diamond Cliff Cabana Double Portaledge comfortably sleeps you and one other tired, beat-up, worn-out aid climber so you'll be rested and ready for another day of big wall climbing. An incredibly strong single-point attachment combined with quick-set slotted corners and a cam-lock leveling system ensures a fast, easy, and solid setup when it's time to turn in, unless you want more work after a day of hauling bags. Stash this ledge in the included haul sack, clip it to the bottom of the pig, and enjoy another day on the big stone.
One anchor point, tensioning and adjustment straps, and slotted corners for the frame tubing allow for ease in assembly
Bed-tensioning system (six pull straps) and middle spreader bar eliminate sag
Quick-pull adjustment tabs with cam-lock buckles for fast and easy leveling
Six stash pockets give you a place to put small things so you don't drop your fork from 18 pitches up
Multiple daisy chains allow for organizing gear
Haul sack included
Fly sold separately
Black Diamond Cliff Cabana Double Portaledge
what size does this unit pack down to and...
what size does this unit pack down to and how heavy is this unit, how much to ship to nz, cheers
KAREN
To find out shipping add it to your cart and type in your shipping info at checkout and it will tell you
Big and bomber, a little tough to set up
Used this on the captain recently. I made the mistake of NOT setting it up on the ground before going up...but still got it together. Practice with it on the ground, so its easy while hanging on the wall. Otherwise its got lots of great features.
Hello, can anybody tell me which one is...
Hello,

can anybody tell me which one is the right "upper tent" for the Black Diamond Cliff Cabana Double Portaledge. I could not find it here!
Thanks a lot!

Regards

Michael
http://www.backcountry.com/store/BLD1027/Black-Diamond-Simple-Cliff-Cabana-Double-Fly.html