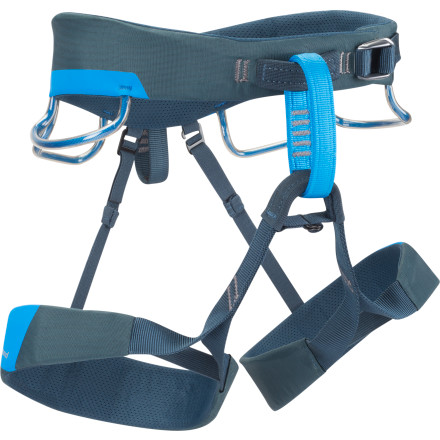 Colors

Detail Images

Videos
Description
For climbers who live on the wall.
The Black Diamond Chaos Harness blends lightweight functionality with long-lasting comfort so you can hit up difficult, multipitch routes that last all day. Its Kinetic Core Construction consists of a durable nylon shell, a breathable 3D AirMesh lining, Vectran strands that evenly distrubute your body's weight, and lightweight EVA foam inserts for added lumbar support that keeps you comfy on hanging belays. The Forged Speed Adjust buckle has a raised side rail that helps prevent abrasions against the webbing, an upturned baseplate that allows an easier lift for loosening, and a rear kick down on the top plate that eliminates any slippage while you climb.
The Chaos also features elasticized leg loops that softly secure your legs without the need of buckles, and you can either adjust or release the elastic rear riser for an ideal fit and optional drop-seat use. Four pressure-molded gear loops give you plenty of space for your cams, alpine draws, and whatever gear you need to make the ascent. And its haul loop is rated at 12 kN in order to ensure you can bring what you need to send the biggest, baddest routes out there.

Kinetic Core Construction
Forged Speed Adjust buckle
Elasticized leg loops
Adjustable, releasable elastic rear riser
EVA foam inserts
Four pressure-molded gear loops
12 kN-rated haul loop
Solid, comfortable choice
The Black Diamond Chaos Harness is a very comfortable option for all purpose sport climbing. The leg holes are a fixed size (not adjustable) so that's one less thing to deal with when taking the harness on and off. I would consider my thighs of "normal" size (not sure the diameter), and the leg holes fit comfortably. Note that if you have enormous thighs for whatever reason, this could be a problem.

The padding around the waist belt is enough to make it comfortable while hanging, but not overly bulky. Overall, the Chaos Harness is a great choice for folks interested in all round sport or trad climbing. If you either want the lightest harness possible or the biggest most padded comfortable beast, then look else where -- otherwise you won't go wrong with the Chaos.
Comfortable
Familiarity:

I've used it several times
I have used this on a few all day multipitches and it is just as comfortable as my previous harness the Petzl Adjama. I opted for this harness over the other BD harnesses because I mainly trad climb and I wanted larger front gear loops. The front gear loops are slightly larger than the other BD harnesses.

I am not a fan of the non adjustable leg loops as I prefer to have my leg loops slightly looser. Either way, this is an excellent harness, but I am not sure it is worth the extra premium in price.
I am 6'1 and 79Lbs. I got the large. I got this harness when I began projecting routs all day and needed more comfort and less weight. PROS: 1. Very light, 2. Very comfortable, 3. Excellent build--I know it will last a long time. CONS: The leg loops are not adjustable. This will not affect 90% of the people buying this harness, but for the 10% who have big legs (like me) you will have to make a choice between the large (waist too big) and the medium (legs too small). I went with the large and even with the waist adjusted all the way in there is still just a little too much room.
When will this be available in medium?
Hey Jeff,



I would check back towards the end of May / early June. We should have more in by then.
Not durable, bad buckle, hard to fit
Familiarity:

I've put it through the wringer
As far as I remeber I did not need a harness when I bought my Black Diamond Chaos harness. It was an emotional "oh gosh! It has so good reviews and 30% off today. I should try it against my cheap harness". Everybody knows this hook and still some of us are sometimes caught by this trick.

My initial impression on this harness was positive: low profile, light, comfortable, big and convenient gear loops, strong haul loop. Anyway there were something we call "a spoon of tar in a honey jar" in Russia - step-in design and speed buckle.

Speed buckle is something to fry a webbing (mine was worn off in about year and half). It is just bad - uncomfortable, hard to adjust, sometimes it sticks in the middle. Bad.

A few words about step-in design. First, it is unsafe. Sometimes you need to put your harness on without moving your feet. Clearly impossible with step-in harnesses. OK, they are not for alpine, so this argument is not valid. Not a problem, I have another stronger argument - I feel like I am putting on underpants over my pants every time I put on a harness of this kind, a ridiculously foolish feeling.

Also there are some other issues with this harness:
* The Small size is not that small. There should be at least half size smaller harness.
* It is very assymetric after tightening the buckle to the end position.
* Gear loops attachment points break easily.

In short. Pros:
+ Little bulk.
+ Comfy gear loops.
+ Strong haul loop.

Cons:
- Not durable.
- Speed buckle.
- Step-in desing.
- Gear loops break esily.
- No small size.

I can recommend it only to those who:
1. Have at least 32" in theirs waist.
2. Can afford a new harness every year (stop here! This is a waste! Please, do not trash my planet!)

Bottom line. Look for something better.
Black Diamond Chaos Harness