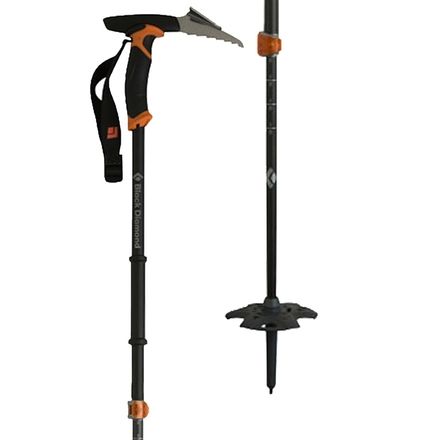 Colors

Detail Images

Videos
Description
A packable pole that stands strong when you're pushing your limits.
The Black Diamond Carbon Whippet Ski Pole is the perfect solution for fans of the time-tested Whippet who prefer their ski pole to pack down a little smaller. The Carbon Whippet is divided into three sections that quickly collapse down with easy thumb flips of two FlickLock Pro clamps. While not quite as short as the Compactor, the carbon fiber construction reduces weight while adding stiffness for those that like to push the limits of their poles.
Rugged carbon fiber lowers increase pole stiffness for more efficient power transfer
Three-section collapsible pole design for easy packability
40 cm range of adjustability for tailoring height to varying terrain
Pole sections secured by two low-profile, durable stainless steel FlickLock Pro clamps with increased clamping leverage thanks to dual-axle design
Lightweight touring grip with an integrated extension for quick choke-ups when traversing steep terrain
Wrist strap hangs open for easy access
Lengthened strap adjustment tab allows for easy manipulation with gloves on
Sold individually
Whippet Great ?!?
Familiarity:

I've used it several times
This updated version of the classic whippet is great! I've used it now for several months and definitely am enjoying having a whippet that collapses down like my other ski pole, if for now other reason than just transporting it to and fro. BD's flick lock system continue to get better over time as well as their wrist straps. I think this tool will be in my kit for years to come!
Not Fully Collapsable
Familiarity:

I've used it once or twice and have initial impressions
All in all, the Carbon Whippet is a great product, although there are is one small issue...

When the poles are fully collapsed, the locking mechanism does not fully lock, meaning the pole will slide out until the lock 'catches.' The point it catches is roughly 4-6 inches for the lower portion and 1-2 inches for the upper portion. This also means that when the poles are 'locked' for shorter applications, the locking mechanism will sometimes fail unexpectedly... not awesome if you are resting your weight on the pole.

While not a deal breaker, this issue is annoying while trying to use the poles for shorter applications. That being said, when extended the poles are excellent and exactly what I would expect!
Punch it, Send it, Defend it
Familiarity:

I've put it through the wringer
Same deathly whippet tip, but lighter -



Keep yourself above that ever present cliff face while skiing those gnar bar lines with this puppy. I can't even explain just the mental security that this thing provides when dropping into a "no(ish) fall zone"



Send errrr!
Is that a Whippet in your pocket?
Familiarity:

I've used it several times
I've wanted one of these for years, if for nothing else than to terrify gapers in the resort. But, sadly, Vail has added some terms and conditions to my Epic Pass specifically preventing me from doing that. So, I guess I'll have to take it into the backcountry instead.



Why is the carbon Whippet so much better than the regular one?



Well, in some ways, it's not. It weighs more! But, the fact that BD was able to get the weight of a three-piece pole within 2 oz of a two-piece pole is pretty impressive.



But, in some ways, it totally is! The collapsed length is 70mm which puts it right in line with some of the longer mountaineering axes out there. That means you can actually handle it like an axe. It won't get you up any ice, but it's a heck of a lot less ungainly.



The pick design makes for some decent self-arresting. The funky bend in the pick that looks like it would get in the way actually fits your hand quite nicely in the arrest position. BD designed the top of the pick to be equally comfortable in both the American and Euro piolet grips, so you're covered there.



A carbon Whippet, a Raven, and a Traverse pole. Set for anything.
Skiing the Sliver Couloir w the Whippet
Grand Teton National Park
Black Diamond Carbon Whippet Ski Pole
Finally a 3-piece Whippet!!
Familiarity:

I've used it once or twice and have initial impressions
I have been waiting for a 3-piece Whippet for a little while now. While I haven't actually used this on-snow yet, it seems like a great upgrade. I have the BD Expedition from a couple years ago and this model has the updated FlickLock (much easier than the first version). Super light, bomber construction, and compresses to a smaller size more suitable for splitboarding.
Pumped and tempted
Familiarity:

I've used it once or twice and have initial impressions
I'll be honest I don't own this model; I have the blue style from last year, but I am PSYCHED that BD came out with a 3-piece version. This will make the collapsed pole much more similar to a proper trekking axe, and strengthen the shaft when using it in this mode. The shorter length will actually be USEFUL on steep snow (which is what you're getting it for, right??). I'm really pumped about this new model although bummed because now I'm gonna have to shell out for a new whippet.



Again, don't own this one but the standard aluminum two-piece model is great. This seems like a well-placed upgrade.