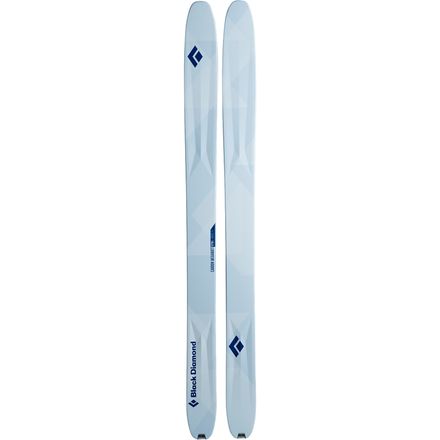 Description
Girth without weight.
Black Diamond's Carbon Megawatt Ski is something of an anomaly in the world of touring-specific skis. Toting all the features of a big mountain powder ski, the Carbon Megawatt sports full ABS sidewalls, a 147mm shovel, and a girthy 120mm waist, but still weighs under eight pounds. This means you can log in huge vert on the deepest days, without compromising skiability.
The Megawatt has been the go-to powder ski within Black Diamond's line for quite a few seasons now, but never at this weight. Weighing a full 240 grams less than last year's carbon model, Black Diamond went with an ultralight engineered wood core to save on weight for this year's Megawatt. They also pulled the edges back from the tip to lighten them up a bit, and then used their Formula One 3D Light Sandwich pre-preg carbon construction to bring the weight down even further for true skin track competency. The SkinLock tail tab gives your climbing skin's tail attachment a non-slip home, while the rockered tip makes braking trail a whole lot easier, while also providing that smeary feel in the deep stuff. So, when the snow's as deep as the skin track is long look no further than the Carbon Megawatt.

Rockered tip and tail, camber underfoot
Formula One 3D Light Sandwich pre-preg carbon construction
Ultralight engineered wood core
120mm waist width
8lb in 188cm length
SkinLock tail tabs
I am 5'11 and 175 lbs. . What would be the best size in the Carbon Megawatt?
Hey David,



Depending on where you ski primarily and your height, weight and experience level the BD Megawatts might work for you in either size. I am 6'1" 185 lbs. and I ski the Megawatts in the 188 cm. Feel free to contact me directly to discuss which size would work best for you.



Kyle

Expert Gearhead

klivingston@backcountry.com

801-736-4337
I'm 6'6", 210 lbs. 188s too small?
Best Answer
I wouldnt say the 188cm is too small, unless you only ski on skis that have a >200cm length. With a ski like this meant for touring, a little less length is actually a good thing, easier to maneuver while touring, especially if you put them on your pack.



If you have anymore questions feel free to send me an email or call!



Bill Porreca

bporreca@backcountry.com

801-736-6398
I was wondering about what size to get these skis in if I am 6 feet tall and weight 180 pounds.
If you are an advanced/expert skier, I would recommend the Carbon Megawatts in the 188 cm. With the rockered tip & tail they will ski a little shorter than their true length. I am 6'1", 185 lbs and have an older pair of these skis (non-carbon) in the 188 cm. They have been my backcountry stalwarts for years.



Feel free to contact me with any questions about Black Diamond skis or if you are interested in a new ski set-up:

klivingston@backcountry.com

801-736-4337
First Day Review
Familiarity:

I've used it once or twice and have initial impressions
Bought 188s a few weeks ago, mounted them with 01s and got them out yesterday on Berthoud Pass with about 10-15" new on top of boiler plate. I'm 6'4" 190 with T Race boots. I ski a pretty fair amount. Point of reference: Prior setup was all the same except the ski was 195 Rossi Super 7s from 2012. I was tempted into the purchase to shed weight but maintain a fat rocker/camber ski. So, no surprise, the first and most obvious comparison is the weight. With the exact same binding, I shed nearly 6 lbs compared to the old rig. That made skinning up feel like going up an escalator by comparison. More interestingly was that I'd been cautioned that carbon wouldn't be damp at all. My experience yesterday was they do give a bit more feedback in terms of springiness, but none of it was bad even on the more scoured spots where the boilerplate was close to the surface. Given avy conditions this early, I couldn't take them on favorite steeps yet, but on the couple of good fall line stretches over 35degrees that were safe they drove down the fall line beautifully. I'm not sure if its the weight or shape or both, but they pulled right into the next turn beautifully. The only thing I noticed is the edges start 12" back from the tips. I understand this was a weight savings measure. However, if I ding a rock right in front of where the edge begins (particularly skiing backcountry early season like your clever reviewer) I worry I'd tear the edge out rather then compress it. But I'll take my chances. As my buddy say: You spend that much, of course you're going to "love it." I can, however, honestly (really) say: If someone gave them to me to use once, I'd buy them to use them again.
Unanswered Question
do you know the length from the center of the side cut to midsole? especially 178cm.
What's the recommended tour binding to use? I have the Fischer Vacuum Hybrid 12+ boots. (http://www.fischersports.com/en/Alpine/Products/Boots/VACUUM-FIT/7820-Hybrid-12Plus-Vacuum)
Best Answer
I have tried them all and for ease of use..especially getting in and out quickly.. G3 ion is hands down winner..
How is the 2015 version different from the 2014?
Black Diamond redesigned the carbon construction so this year's model is even lighter!