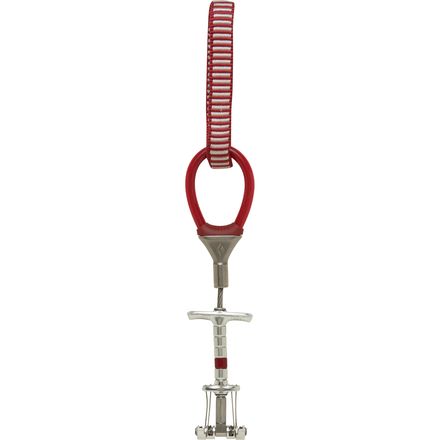 Colors

Videos

Community Images
Description
The largest expansion range of any small cam on the market.
If you're looking to add some small cam sizes to your rack, the new Black Diamond Camalot X4 is the way to go. The 4-lobed device utilizes embedded cam springs to create a narrow head width while the stacked and double axle technology provides the largest expansion range of any small cam available, ultimately providing more placement options than ever before. Plus, aluminum protection beads on the stem increase durability without compromising flexibility.
Stacked axle technology (sizes .1, .2, .3) and double axle technology (sizes .4, .5, .75) allows for a huge expansion range
Cam springs embedded in the lobes create a narrower head width than the original Camalot, allowing for wider range of placement options
Aluminum protection beads around the cable increase durability without limiting flexibility
Hot-forged trigger and the symmetric swage improve handling characteristics
Slung with color-coded Dyneema slings for easy size identification
Share your thoughts
What do you think of the
Black Diamond
Camalot X4
? Share a...
Confidence inspiring cam
Familiarity:

I've used it several times
Great little cam, always looking for ways to use my X4s. They feel super sturdy, especially with the aluminum triggers. Aside from price, I'm not sure why you'd get a C4 in the same size, since these are narrower, and will fit more placements, and just seem super robust. I've got 0.2 -> 0.5, and love them all. I am glad that the size ranges correspond to the same ranges for C4, since it makes it easier to grab the right cam (unlike the C3s, which have a totally different numbering scheme). Only X4 I'm not sure I'll pick up is the 0.75 (green), as it seems a little floppy compared to the C4 version.
#.3 is not double axle like the C4
Gender:

Male

Familiarity:

I've put it through the wringer
I love these cams and totally agree that they deserve the praise. However, I just wanted to point out that the #.3 size does not have the a double axle and thus the same extension range as the #.3 (blue) C4 or DMM Dragon. This creates a bit of a gap between the #.2 yellow X4 and #.3 X4.

~ @Frazier_Far_Out
The flexible stem inspires extra confidence in weird placements, but they're still easy to place, even up to the 0.75. Simply great.

Haven't placed the 0.1 yet, but the 0.2 and up get used on the regular. The 0.2 goes in solidly surprisingly often when nuts just don't seem like they're gonna do it...
Great service from BD
Familiarity:

I've put it through the wringer
All my cams are BD so I can't really comment on how these compare to other brands, but I did want to share my positive experience with BD's customer service. I sheared a trigger wire off my yellow x4 after falling off a traverse and penduluming on the cam placed in a horizontal crack. Totally my fault, but BD replaced the trigger wire for free (I only paid for shipping to salt lake) and I had my cam back within a week all clean and springy with the trigger wire repaired.

Props to BD for great warranty service.
best small cams ever
Familiarity:

I've put it through the wringer
for some reason, TCUs never did it for me - they never inspired confidence, they seemed weak, and kinda hard to place (could just be my ineptitude). when these came around, everything changed! These cams are barely wider than a TCU, but just feel great when placing them, and hold up to more abuse than I expected. BD also thought through the design very well - with cable shielding that's color coded, and holes in the triggers that seem to fit the hook part of a nut tool perfectly (I don't know if that was the purpose, but it sure seems perfect for it) for when your buddy decides to sink your favorite .3 so far you can only see the webbing :(.
Black Diamond X4, the Best Small Cam!
Gender:

Male

Familiarity:

I've put it through the wringer
I bought Black Diamond X4s this spring when I got a wicked deal on them, and I'm thrilled with the performance the cams give every time they're placed. During a three month trip we took this summer, me and my friends put them to the test on rock of all kind and in a wide range of weather conditions.
Hail, rain, and thunderstorms while in South Dakota and Wyoming. Dry sand and mud brick at Grand Junction, Moab, and City of Rocks. And Yosemite's hot, humid summer. Through that, all the funky placements and falls, the X4 cams held excellent in varieties of granite and sandstone. The cam lobes, Dyneema slings, and springs, basically every part of the cams, proved very durable through all that wear and tear.

Some of the features that really impressed me:
-The double and stacked axles give a very broad range, because of this, I'm less likely to make a sizing error.
-The larger X4's (.4, .5, and .75) head is 20% narrower then the C4. The smaller X4's (.1, .2, and .3) internal cam spring technology keeps the heads narrow, making pin scar placements possible.
-Aluminum beaded armor protects the single stem over sharp edges, horizontal placements, etc. without losing their great flexibility.
-Kevlar trigger wires on the lager sizes add to make these exceptionally durable cams.
-Dyneema sling are lightweight, tough, and brightly colored. Color code matches the C4's .3 through .75.

Aid climbing can really jank protection up. Being on 3 big walls, yes, they're a little bent but not more then expected from Clean Aid climbing. The X4s have been excellent, the lobes are very durable and the plastic around the clip-in point is nice and beefy.

Overall X4s place great in weird cracks, pods, pin scars, and even quite well in flared cracks. Black Diamond did a phenomenal job making a tough, sleek, easy to place cam. They also added easy to identify colors on the armored stem beads. Everything about the X4 is very complete and well made, not to mention just even looking awesome!
The X4's narrow head fits into many more crack positions and pin scars. Such a bomber cam, whether for free climbing or clean aid, it does the job so dang well. Also something not mentioned in above review. The Black Diamond Camalot X4 has awards from Climbing Magazine - 2013 Editor's Choice and Rock and Ice - 2014 Best In Gear
X4: The Missing Link in the Camalot Fam
Black Diamond Camalot X4 & X4 Offset
They have their place in the BD line-up
Familiarity:

I've put it through the wringer
BD's addition of the X4 to their active pro line-up is a natural progression. These cams are lighter in weight, narrow in the profile head, and have more flexible stems for those tricky placements. They perform well in pin scars and supplement well with the C4's. The sleek design keeps things organized on the rack.

That being said, a few minor faults have kept me from reaching for them more than they deserve.

The cables will kink. Especially if you like to push your limits a bit of a ways above your piece and subsequently whip onto them. They can be manipulated back into a seemingly normal shape, but they will never be that "fresh out the box" look.

The C4 variety of the .5 and .75 also have a higher strength rating. Unlikely you will be producing these limits, it is nice to have that peace of mind.

I don't know why BD did this, but the BLUE .3 X4 does not match the range of the .3 C4 - I have reached for the blue X4 to slot it in - Where I know that the .3 Camalot would fit perfectly - to find that the cam is too small.

This is the same for the .2 yellow X4 and the Yellow C3 - As well as the .1 red X4 and the Red C3 - The sizing isn't congruent but the color is - which slightly baffles me.

For BD sizing comparison -

Red (.1) X4 - roughly the range of the PURPLE 00 C3! (o.O)
Yellow (.2) X4 - roughly the range of the GREEN 0 C3
Blue (.3)X4 - roughly the range of the RED 1 C3
-- There is no .3 C4 size in the X4, it jumps to Grey C4/X4 --
Grey C4/X4 - same range
Purple C4/X4 - same range
Green C4/X4 - same range
Can't get enough of them!
Familiarity:

I've put it through the wringer
I love these cams. I think they're perfect for just about any crack or fissure, and they're easier to clean and set than you'd think. They're superlight and give my harness a cleaner organization. The smaller ones have shorter shafts, which was a mistake in my opinion, but overall I believe these might be the best on the market, either these or Metolius anyway.
Really nice small cams
Familiarity:

I've used it several times
I'm writing this because I disagree with a number of comments that other people are making. The small (.1-.3) sizes really aren't single-axle cams. The axle-centers for opposing lobes are offset in the same way as for double-axle cams (just not completely separated), which allows for a greater expansion range for a given cam angle. The difference is noticeable- the yellow .2 actually retracts to be as narrow as (officially a bit narrower than) the purple mastercam.
As far as I can tell, the only significant and objective differences between these and the mastercams are the greater expansion range and stem flexibility (especialy for horizontal placements) of the X4s. The head width for the X4s is marginally greater. The cable guards seem like a good idea. I don't know about the steel wire vs kevlar cord; it probably doesn't matter much.
go with metolius
Familiarity:

I've put it through the wringer
These do the job ... but not quite like the metolius master cam. They completely copied the MMC with the X4's design ( just compare them side to side) Stick with the MMCs in the smaller ranges and you won't be disappointed.
Stick with Metolius
Familiarity:

I've used it several times
I have the Yellow, same as a blue Metolius. So far Ive noticed the metolius is beefier, easier to clean-place and I trust the metolius more. Ill stick with my metolius if I could return this one for a metolius power cam I would.

The flexibility is a con and a pro it makes getting the cam in and out of tight placements harder but I can see it helping with it remaining in place once set.

Knock offs of the mastercam and they cost more than a master and arent as good.

My .02
Pros: slightly longer stem, cam lobes widen near tip, dyneema feels really strong, protection beads make placements less worrisome

Cons: aluminum triggers don't feel as grippy as plastic on c4s, sizes smaller than .3 seem like they have a good chance of getting stuck in tight placements (I could be wrong, but at $70/pc I don't wanna find out.)

All that being said I really like them and feel that they compliment my c4 cams well. I highly recommend.