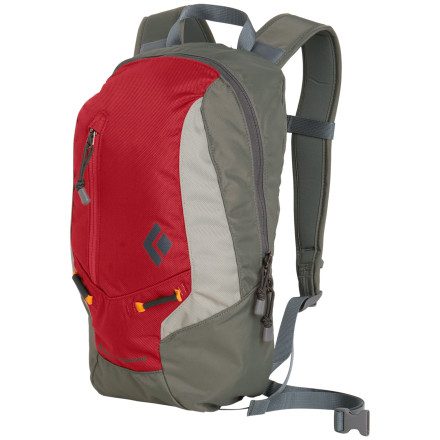 Detail Images

Community Images
The Black Diamond Bullet Backpack holds all the essentials when you launch on a long multi-pitch trad route or blitz your local ice line. Ultra-tough and simplistic construction was chosen whith rock climbing in mind, so you know the Bullet will handle the harshness of sandstone, granite, and limestone without a word of complaint. Its top haul loop provides a place to clip in at anchors, and it rides high on your back to keep from interfering with your harness or chalk bag. The Black Diamond Bullet Backpack is just the right size for your jacket, approach shoes, and some grub—it should join you every time you leave the ground for more than a pitch.
Sleek and simple
Familiarity:

I've put it through the wringer
This pack is great for our trad climbing trips, are day trips to the crag, as a carry-on, schlepping around for the day, and just everything. This is probably one of my most used packs. If you cannot fit in this pack then you probably don't need to take wit with you.
great climbing pack!
Familiarity:

I've used it several times
Devin with his Bullet filled with extra gear, water, food and shoes. Carrying this pack up Half Dome with us was super nice. It's lightweight and small but can carry a lot! The outside pocket alone carried a headlamp, puffy, topo, knife, TP, and other small things. Being hydration pouch compatible was also a huge plus, it cuts big time off a wall when you don't have to unzip and pull things out to get to water. The belt wasn't the most comfortable when super loaded, but it did a great job overall and I'm stoked we had it for the climb! (picture) Devin leading pitch 7 on the NW Face of Half Dome.
The manliest back purse around!
This pack is perfect for stashing water, bars, and a layer for fast and light day missions. One day we were using it to climb long routes in the valley and the next we were loading it up with beers to walk around the park.
Holy Grail Daypack for the Minimalist
This pack is so well designed it's ridiculous. No frills, hydration-compatible, great construction, and the perfect amount of space for a single day hike if you loathe lugging around unnecessary gear. I took this pack on an 8 mile hike through Little Wild Horse and Bell's Canyons down in Southern Utah a couple of weeks ago and was blown away at how well it functioned. I've got an Osprey 3 L reservoir stuffed into mine and still have room for an extra layer and snacks for two.
She replaced purse for Bullet bag
Familiarity:

I gave it as a gift but have feedback to share
Gave this bag to my wife as gift, she was going hiking in various places in Colorado. According to her, It's a great bag!" I love this bag!" It's small and perfect for her size (she's 5'0). She loves how light and comfortable it is, yet she manages to put everything in that bag, rain jacket, sweater, bottle of water, camera etc...she loves it so much that after she came back from her trip she replaced her purse for this bag! She uses it to go anywhere and everywhere.
is it hydration compatible? i usually...
is it hydration compatible? i usually carry a 2l reservoir


Checked the official Black Diamond website and it says it is.
This pack is not hydration compatible. It has one main compartment and that's it.
Technically yes in that it has a hydration port. There is no dedicated sleeve for a bladder. As Eric S. said, the interior is one single compartment.
Great Little Daypack
Familiarity:

I've put it through the wringer
Perfect size for day trip items; water, towel, extra layers, food, etc. It's light and compact-able, too, making it an excellent bag to stuff inside your larger pack.
This thing does it all pretty darn well. Everything from day hikes, trail running, longer rock routes, and school stuff. I use this thing for everything and it hasn't disappointed me yet. I would definitely suggest this pack to anyone looking for a small pack to add to their quiver.
This thing keeps my shoes, a wind shirt, some snack, a headlamp, and some water at the ready when I'm up and off the deck. The construction is pretty burly for this little guy and he has done well being dragged up alpine granite, through chimneys, and over ridges. No complaints.
I use this for everything from school, to the gym, to the crag, to trad.
What I carry in it:
--COLLEGE:
• 13" Mackbook Pro
• 1" three ring binder
• Small notebook
• Pens, pencils, eraser
• Bike lights, keys

--GYM:
• 2 pairs of climbing shoes
• Chalk bucket
• Brotein shaker bottle
• Nano Puff

--CRAG:
• Shoes
• Harness
• Chalk bag
• Biners/grigri
• Snacks
• Water bottle

--TRAD:
• Water bottles
• Descent shoes
• Hand warmers
• Emergency blanket
• Nano Puff
• Rain shell
• Cliff bars

Yeah, this thing does it all! It's pretty small, but it's perfect for my needs. It's super durable (I had to drag it up a slabby chimney on pretty rough terrain, and it's hardly even scratched), the gear loops are bomber, and it's super comfortable/lightweight. My only complaint is that the pocket is shaped kinda weirdly, but it's not a big deal.
And conversely.. How does this compare...
And conversely..
How does this compare to the Black Diamond Hollowpoint?
Can it handle a 13 inch macbook pro?

I'm looking to use it for school/cragging.

Thoughts? Suggestions?
It problably won't handle school very well...you can try....

As far as this goes as a cragging pack, it should suit you fine.
This thing is great. I tried a few of the other "stuffable" packs and this is by far the best for me(as long as you don't need axe loops). The shoulder straps actually have padding and it rides quite well on the back (20.5" torso here). Very lightweight for what you are getting here. Just shove this in your bigger pack and you have a great little pack for dayhikes and summit scrambles. Built like a brick ____house.
does it have a soft back or does it have...
does it have a soft back or does it have a rigid back
, ☃bcs_badge_alumni_label☃
The back panel is non-rigid.
this pack is so simple, but has everything i need for daytrips and day to day use (as a student)

there are no pockets or dividers inside of this, just one big spot to stash your gear (plus the small zippered area on the outside) but theres plenty of room for a hydration system, and some food or small gear. The hydration compatibility is nice, theres even a little clip on one of the straps for securing the hydration system hose/tube part

overall, great pack!
The Bullet pack has the bomber construction and attention to detail you can expect from BD. Unfortunately it just didn't fit my frame/shoulders well (5'10"/190) The pack is designed to ride high to stay of out a of a harness's way so keep that in mind. Fully loaded the shoulder straps were always slipping off if they weren't snugged tight and clipped. So if you want a pack to day trip with and kick it around town or run errands with this probably inst it. I've swapped this for an REI Flash 25...which is the best minimalist day pack out there.
Ideal basic hydration compatible pack
I was looking for something with a little more carrying space than my camelback lobo, but still wanted something hydration compatible. The bullet fits the bill perfectly. Construction is good, fabric seems really durable. I use it mostly for hiking and it carries lunch, compass, extra layer, snacks, water, headlamp, knife, water filter, binoculars... all the things that wouldn't fit before. Love it.