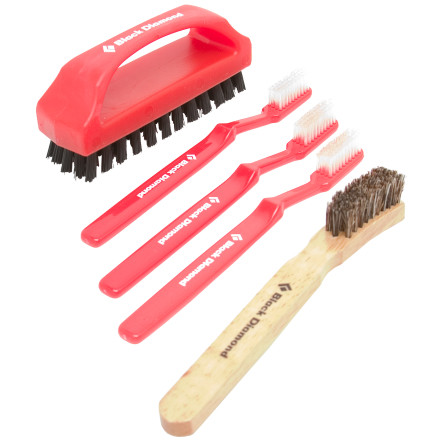 Detail Images
Description
Too much chalk caked on your project's holds? Good thing you have the Black Diamond Brush Set to clean them.
The Black Diamond Brush Set includes five bouldering brushes to thoroughly clean your project. Whether you need to pull on tiny crimpers or massive slopers, the Brush Set includes the tools you need to get rid of the funk and bring some friction back to the holds for your send.
Agree with below
Familiarity:

I've used it several times
Great brushes but def not worth the price & nothing too special
Always with me
Familiarity:

I've put it through the wringer
Whether I'm outside at the crag, at the boulder field, or at the gym, I always have this brush set with me. Having bristles of varying stiffness and multiples of the little brushes is just so convenient. It may be a tad bit pricey, but I've had it for a year and not going to be replacing it anytime soon so I'm calling it a good investment.
Why are these rated so highly?
Familiarity:

I've used it several times
They work, but definitely over-priced.
Like it. Love it. & Gotta have it!
Familiarity:

I've used it several times
these brushes are aMUST if you wish to climb outdoor or if your indoor gym doesnt have sufficent brushes. Each brush is a different course-ness and the small one, and most course comes in a quantity of 3 so you know they are going to last!
Great brushes!
Familiarity:

I've put it through the wringer
For the cost of this set you can't really go wrong. I would complain about the lack of boars hair in these, but then black diamond went and included one of those too!



Great set and they have lasted thus far.



Well worth the cost on this set. You can pay this much for one brush almost anywhere, so why not get the extras and order from BC.



Thank you!
Brush it all!
Gender:

Female

Familiarity:

I've put it through the wringer
I love this set. It has everything you will need for any type of rock cleaning emergency. If you are looking for a on site for a problem but all the holds are chalked up no worries! This brush set has all you need for that! I love how versatile this set is. Not to mention the fact that you get multiples of the red brushes so you don't have to keep buying a replacement. Also the variety of stiff brushes and soft brushes really makes it so you have the right brush for the right situation. BD has always made amazing climbing equipment and their accessories are not exception.
Everything you need!
Familiarity:

I've used it several times
I love the variety that this brush set has to offer and at such a low price. Great for indoor and outdoor climbing. Great quality product and they will probably last me a long time.
Great brushes
Familiarity:

I've used it several times
Big one is stiff and great for slopers. The hair brush is great for use in the gym and on any rock that polishes easy (read: quartzite). The small brushes are sweet to stash in your boulder pack, on your chalk bag, etc. so you never forget. Great kit.
Good brushes for climbing
Familiarity:

I've used it several times
Do you use chalk when you climb?

Then please do us all a favor and purchase yourself a proper set of brushes!



Brush off caked on chalk with ease. Big brush is super handy for big holds, while the smaller brushes are nice and stiff for getting in all the nooks and crannies.



These should definitely be part of any climber's pack!

Help keep the rock looking clean!
Every brush you could ever need plus a couple extras! Quality brushed at a cheap price, you can go wrong with this set.
The big brush is awesome for scrubbing off slopers, the little brushes are super stiff and awesome for getting into those hard to reach places, and the other brush is alright.
As much as I love going on a hike and seeing chalk marks on problems and going "hell yeah!" I can see why some people don't like them, so this set is awesome! I don't use a bag for mine, so l drilled a hole in the bottom of each one and put a piece of assesory cord through them. Keeps them together and makes you look hiphoppapotamous! Come on people! clean your rock! and your friend's rock with this awesome brush set!

Tip: Take a drill and put holes in the brushes, then run some accessory cord through them, makes it easier to keep track of the damn things.
, ☃bcs_badge_alumni_label☃
Keep your rock clean!
Any one who likes to use lots of chalk and use tick marks needs to invest in one of these sets! I see way to many marks on the rock that could be easily cleaned up, but that is where these come in handy. It is a great brush set and does the job when it comes to cleaning up after others.
This 5 piece brush set is great because there is a brush for anything you'd need it for. The 3 toothbrush's are perfect for getting in small cracks or getting those small, chalky edges. The bigger brush is perfect for the larger areas that need brushing, all to aid you in getting the most friction possible while you send that new 5.15 you've been working on!!