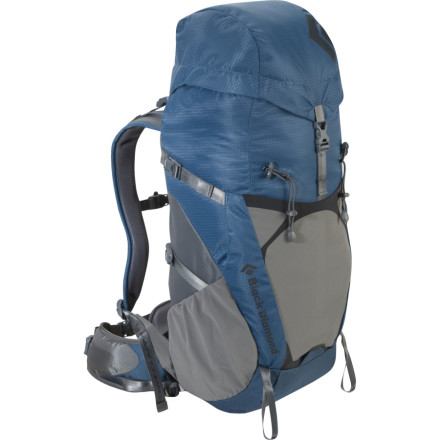 Detail Images
With enough cargo space for either two cases of beer or an entire extended family of marmots, the Black Diamond Boost Backpack lets you carry furry friends or chilled beverages all the way to the summit. (You could also carry your climbing stuff or overnight backpacking stuff.)
Black Diamond's ergoACTIV hip belt suspension lets the belt swivel with your hips as you hike, without shifting the pack's weight back and forth
OpenAir back panel and padded mesh straps let perspiration evaporate away
Hip belt stash pocket and side stretch pockets keep smaller items within easy reach, and a front compression stretch pocket stashes your rain shell in case the clouds build up
Hydration sleeve stows your water reservoir
Trekking pole/ice axe loops keep your gear safely organized
Share your thoughts
What do you think of the
Black Diamond
Boost Backpack - 1950-2075cu in
? Share a...
Great suspension, but not built to last.
I was super stoked when I got this pack in the mail. I promptly loaded my rope and gear into it and walked around the house, bending over to see how the waist belt moved with me. I loved it.

Over the course of 5 months, I XC skied with it (awesome) and ice climbed with it (also awesome, allowed great movement). I don't feel that I put it through anything harder or tougher than what I was designed for. Yet here I am, putting it in a box and sending it back, wondering what the good folks at BD were thinking.

The nylon the the main portion of the pack is built from is fine, a bit thin maybe, but it'll do. My main issue is the light weight, grey stretchy fabric that makes the side and back pockets. It gets caught on everything, and new holes opened up on it right away. Out for a weekend XC sk, I found I actually had to check that the snow I was putting my pack down on was soft enough to not tear this material. It also would get caught on any spruce, willow or alder that was near the trail. And the ice tool loops? You'd think that they would have had the forsight to put a bit of a beefier material near where they intend for you to strap on sharp metal objects.

Maybe Alaska is too rugged for this pack. Maybe I'm not gentle enough with my packs (I really dont think I treated it poorly at all). But I can go out and get a custom made pack for less money than this pack costs. One that will stand up to snow, ice and ice tools.

The suspension system is good though. Maybe the 2nd or 3rd generation of this pack will have some modifications that will make it better. Right now though, I recommend spending your money on a different pack.
Believe the hype about BD's new series of packs. The suspension system is really that great and the packs are absolutely the most comfortable I have ever worn. I love the simplistic and utilitarian design. Two comments.

I had the Octane previously before I had this pack. I took it back and got this one instead. They are nearly the same price. For only $24 more, this pack is 4 liters bigger and comes with ice axe attachments at the top, which the Octane suspiciously does not. Not sure why they have both of these packs in the series; they are so close it is negligible, except for the fact that this has added functionality for some reason.

I have one complaint about this pack. The ventilation system sucks. I recently did a massive day hike in 85 degree heat and soaked the back of the pack in sweat - really soaked it. This is unfortunate, but everything else is so bomber I'm willing to look past it.
Black Diamond Launch and Enduro Series Packs ? Pack Fitting
Correct fit is paramount to realizing the performance benefits of Active Form Design. Determine your pack size at a retailer using Black Diamonds Pack Fit Tool or have a friend measure your torso length. Confused? Watch our pack fit video to learn the proper way to determine your pack size and then fine-tune your fit.
2010 Black Diamond Active Form Design Packs - Research and Development
20 years in the making. Black Diamond's experience with climbing hardware design, from carabiners to crampons, gives us a unique perspective from which to approach pack design. Watch our Behind-the-Scenes video to get the inside beta on the R&D process from our pack designers—all the way from concept sketches to field-testing.