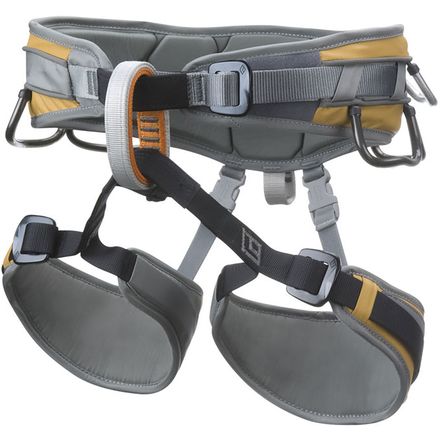 Colors

Community Images
Description
Gear up for the big rigs, starting with the Big Gun.
Black Diamond created the Big Gun Harness to give you every comfort and convenience when you start up a 20+ pitch big-wall climb. This harness includes seven gear loops to hold a massive aid rack, and two belay loops to help organize the tangle of ropes and daisy chains when you're leading. Black Diamond also loaded the Big Gun Harness with enough padding to keep you comfortable at a multi-hour hanging belay while your partner does battle above you.
Seven gear loops to hold everything you need for an A4 pitch
Full-strength haul loop for your tag line
Extra-wide everything for improved comfort at hanging belays
Share your thoughts
What do you think of the
Black Diamond
Big Gun Harness
? Share a...
Unanswered Question
Are there any built in Ice Clipper slots on this harness?
Great harness, but hot
Familiarity:

I've used it several times
Size up if you're a short-waisted woman. I have a 28" waist (so I ordered a small) but because I'm hourglass shaped and the waist belt is so wide, it didn't fit and I had to go up to a medium.
Love just about everything about this harness except for two things:
1. The padding is awesome and makes it more comfortable, but if you're in a warm place you will sweat a TON under this harness- and I am not a sweaty person.
2. I wish they made a women's version because the width of the waist belt and leg loops are disproportional to my 5'2" frame. Girls need big wall harnesses too!
Super Comfortable
Familiarity:

I've put it through the wringer
Absolutely awesome harness. I use it for my all day trad harness at the Gunks. Super comfortable to hang in and for rapping. I can fit my entire rack on it, with space to spare, and makes organizing things a breeze. 2 belay loops are awesome for at the Gunks, allows you to keep your belay organized. Everything is super padded on this harness, so even at long hanging belays I'm able to prevent losing feeling in my legs, which is a bonus!
Very comfortable
Familiarity:

I've put it through the wringer
Solid harness that I don't mind being in for an entire day. Only problem for me is the position of the gear loops, when you have the harness completely loaded it can become a pain to get to what you need. The double belay loops makes transferring a belay very quick.
Does this model of harness require that the leg/waist loops be doubled back when being tightened?
YES! See photos. Wast and leg loops must be doubled back for this harness!!
Am I wearing a harness or pillows?
Familiarity:

I've used it several times
This is the most comfortable harness I have every worn. I can, and have, hang in them all day. The number of gear loops is great for all your pieces and whatever else you want to bring. I also find myself using this harness while I'm setting at my local gym, which I find to be a wonderful decision. No more blood loss/tingling in the legs!
7 gears loops
Familiarity:

I've used it several times
This puppy has 7 gear loops. I can put so much gear on here that I end up wearing my whole rack up routes just because I can. Whether that's a good thing or a bad thing is up for debate. But this thing is comfortable. I can hang in this thing all day. I often will spend an hour or more top belaying several people up routes just to try and save time, which wouldn't have been possible in my old Petzl Corax. This baby supplies all day comfort.
Fallen, bashed, and wore for many hours
Familiarity:

I've put it through the wringer
I love this harness. I've fallen on it, abrasively moved it against rock, and sat in snow, dirt, and various elements without any problems. It's comfortable as all can be and the gear loops make for an easy management of whatever you may have.
Do the seven gear loops ever seem like to...
Do the seven gear loops ever seem like to much or do they really make rack organizing and use that much better?
Best Answer
Organization will vary from person to person, but I use about 2-4 of the 7 loops at a time it seems and I am really not hampered by the remaining gear loops. They can be convenient at times when you have someone else's gear randomly on--or some last minute "Oh I just need some extra webbing here" kind of thing. The loops are definitely not impeding.
Fantastic Harness - beginner to pro
Familiarity:

I've used it several times
I bought this harness as an entry level rappelling harness. The fit is excellent and the harness is easy to put on. It has MORE than adequate gear loops and is very comfortable to wear on long pitches and big descents.
Great Harness
Familiarity:

I've used it several times
comfortable, easy wearing, carries lots of gear with ease and i barely felt the weight of the rack
Like memory foam
Familiarity:

I've put it through the wringer
I bought this harness when I was a pretty new climber. I haven't regretted that decision. This harness is unbelievably comfortable! I always tell people that my harness is made from Swedish Memory Foam that was developed by NASA (probably not true, but you get the point).
My friend is a route setter at the local gym, and he says this is the only harness that he can hang in for hours at a time without his legs going numb.
Also, the plethora of gear loops is fantastic!
Another cool feature, is the double belay loops. When I first bought the harness, I didn't really understand why there are two belay loops. But the first time I used them, I really appreciated their value! They come in handy more than I would have ever guessed.
Great Harness!
Familiarity:

I've used it several times
I wore this harness all day long while bolting routes in Colorado. The wide leg straps were especially nice while hanging on a rope for long periods of time. In addition to it's comfort and light weight, the seven gear loops were great keeping all my equipment organized.

I highly recommend this harness for climbing on long pitches, trade climbing, and route setting.
Great price at Backcountry and worthwhile if you plan on hanging around with extra weight for any significant amount of time. IE: Technical Aid Climbing, hauling, bolting or routesetting, or hanging belays on long aid pitches. If you'll be on the wall for multiple days, you'll be happy to have a Big Gun
Hello everyone, I was just curious as to...
Hello everyone, I was just curious as to how i should go about picking a size for myself with this particular harness? I'm a tall, skinny guy and have a 29" waist and was wondering if this harness would even adjust down that low on the small size. Thanks :)
Best Answer
I'd go with the small. I am 5'10 with a 28" waist and the small fits well.