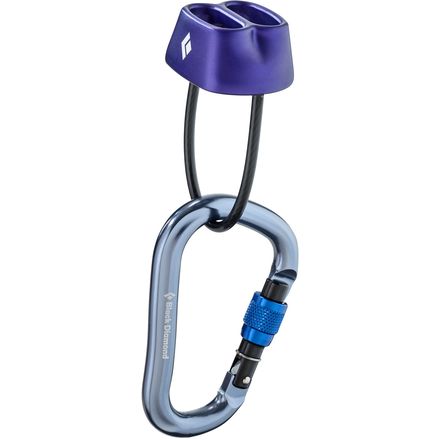 Community Images
Description
Whether you're just starting out, or replacing gear, the Big Air package is the best way to get what you need.
The Black Diamond Big Air package is a quick and easy way to get a new belay set-up. Whether you're new to the sport, or replacing old gear, the Big Air package is a great way to get the gear you need. You get a Black Diamond ATC belay device, which is one of the most popular and easy-to-use devices on the market. And because you need to use a locking carabiner to attach the ATC to your harness, the package also includes an Airlock2 Screwgate locking 'biner. *Comes in assorted colors.
Great first belay
Familiarity:

I've used it several times
i ve used this several times in single-pitch sport climbing with a lot of different ropes and i'm quite pleased with it! im thinking to by a reverso for multipitch climbing but this is a great product and i will continue to use for future visits to the crag
First belay device
Familiarity:

I've used it once or twice and have initial impressions
This is my first belay device and it is exactly what it says it will be. It's simple, colorful, and durable. It's a piece of gear in my collection that I love the weight of and will keep around for awhile with no intention of replacing with something more expensive or complicated.
Great set up for single pitch.
This belay setup is the way to learn. The ATC is an industry standard and (in my opinion) is the best way for a new climber to learn to belay safely. Eventually if you take to leading and multi pitch you will want to upgrade to an ATC guide or Grigri or equivalent but you will always carry this in your crag bag as a backup. The Screwgate is a great locker and though it is bigger than necessary, it is a good design.
All you really need
Familiarity:

I've put it through the wringer
I use this thing all the time during my free time at the rock climbing gym I work at. We provide free gri-gris and reverso ATCs to use but I still prefer this thing a lot of the time when I am not working. I like the lightweight screw-lock carabineer that this one comes with as compared to the heavy auto locking carabineers we use here. The simpler the design the less that can go wrong, just a good thing to always have.
Simple, but awesome
Familiarity:

I've put it through the wringer
I have had this combo for yearsnow. Super simple belay device gets the job done. This is perfect for beginners and experts a like.
I usually use my brothers but I decided to get my own because I loved his so much. I wish I could use it more but I already know its great. I do recommend it.
The big air package gives you all you really need for climbing and rappelling all in one. The simple design makes for easy use and it fits easily in a pack pocket.
Awsome belay. Would normally use an 8 but i picked one of these up to try out and it performed great. Great braking and the oversized biner in the package is lightweight and useful even with my 8. Now i carry both in my bag. The 8 gets me speed and this ATC gives me time to rap with minimal effort. It also works great when you have to belay your buddies from the bottom or overhead, very smooth. For a beginner this is the first piece of equipment i would recommend, but you'll keep it forever.
No, this isn't the best belay device, but it is solid and should always be carried outside as a backup, especially on long multipitch climbs just in case you drop your primary device. A nice, reasonable package too.
This is a great starter set for anyone getting into climbing. Awesome for top roping or gym climbing!
Black Diamond Big Air Package
Black Diamond Big Air Package is a great starter package. The The Black Diamond ATC Belay Device is still the standard for tube style devices. Every manufacture tries to copy this device but still haven't made one better. You can get extra friction by adding a biner under the device.
I would NOT recommend this product being bought from Backcountry. No disrespect from them, but I had alot of problems with this. I originally ordered one and it came in a timely manner, but with not locking biner. So I talked to there customer service (which were really nice and understanding) and I got another one shipped. So, I'm opening it and I look at it and there is no biner. Now I am a litter mad. One missing is fine, not stressed. But two? Thats aggravating. So they ship a third one, telling me it is on there. They were right, I finally got one with a locking biner. If you really want climbing gear, pay the extra and get it straigh from the company when you know that they have it instead of going through two companies. Other than that mishap, It works great. No problems, performs well.
ideal for beginners to expert
2 years of use and still going strong. couple marks on it from use..but nothing that is makes me question its strength. Works well for belaying and repelling. I have used it many of times without any flaws. TY BD for another superior product.
This is a pretty decent little belay device. Doesn't cost very many dollars, works fairly well and doesn't weigh too much. The beaner is of standard quality, wide enough to help provide appropriate friction. Find a better combo for $27 and I'll be impressed.
Being new to the climbing scene, I needed something that was easy to use and wouldn't break the bank. This combo served both purposes admirably. The BD-esque ATC/biner combo is pretty much the standard for recreational climbers. Owning one allowed me to not only be familiar with my own setup but by learning on this combo I have been able to belay for friends, family, neighbors and strangers who more often that not own a similar belay device. Saying that, I would strongly encourage new climbers to invest in one. Only small gripe is that it is a bit of a slow rappel with burly gym ropes if you weigh less than 140lbs.
Each individual piece is great, and as a package, it's solid. The ATC is basically the standard of modern belay/rappel devices and the simplicity of it shows you why. The AirLock2 'biner is stellar, a wide mouth to swallow up messy belay stations, and a smooth gate sleeve action to make sure it opens and closes when you are getting pumped. I do have one thing to say about it though, it tends to, in my personal experience, cross-load during a rappel. I think it is due to the shape, the whole 'biner loads almost angular, but is not a problem if you pay attention to your system.
Good gear at a great price.
The device is simple enough - that it's hard to make mistakes with (no need to remember which way to thread the rope etc) - and the carabiner is a good, large one - that is perfect for tying a Munter knot on in a pinch.