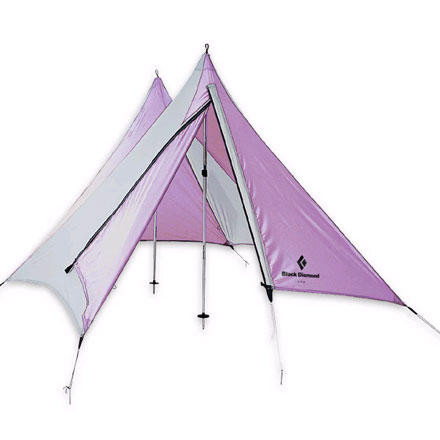 Community Images
The versatile Black Diamond Betamid is a favorite shelter for a wide range of users from ultralight backpackers to expedition mountaineers. Though it weighs only 2lb 4oz, the Betamid gives you a massive 34.7sq feet of floor space. If you're camping on snow, dig out the snow under the Betamid to make a nice plush kitchen or meeting area in base camp. A waterproof polyurethane-coated ripstop nylon material makes this Black Diamond shelter tough enough to hold off both rain and snow on your local trails or in some distant mountains.
I love this tarp tent. It works really well when i put the footprint form my firstlight and set this up over it with the sleeping arangement o n the footprint. Then i can cook but not sleep in the dirt. pairs really well with Bd compactor poles or BD ficklock Z-poles
I like the Betamid as a shelter for conditions where I don't expect continuous rain. If you seal the seams it's plenty waterproof, and a decent pitch will keep the splashes at bay. We tend to use ours for early-season trips, so insects have not been an issue. Condensation can be an issue if the 'mid is pitched close to the ground, as you might do if the weather is cold and/or blustery. The alternative is a fair amount of breeze leaking under the bottom if it's pitched higher. I"ve learned to take a warmer bag or a silnylon bag cover if we're using the Betamid. The shelter itself is surprisingly wind-shedding, even without adding extra guylines, if you face one end into the wind. For added peace of mind, attach a guyline to the loop at the top of the upwind pole, and set an extra guypoint upwind. Rock solid.

I should note that ours is not a stock Betamid. My wife has sewed 3 useful modifications to the shelter: a 10" skirt of bug netting around the perimeter, a pull-out loop at the bottom of the back panel, and a tunnel vent in the peak opposite the door. The netting will probably help with insects, though we've seen few on our trips so far. The extra guy point helps to stabilize the rear panel if it's facing into the wind. And the tunnel vent is supposed to help with condensation. It may have worked - we had no condensation last trip - but we also had rather breezy nights so it's hard to know. On a $99 shelter you don't feel bad about experimenting in ways you might decline on an expensive tent.

As for the negatives listed by others, I wouldn't argue with any of them. I will point out that this is a shelter, a shaped tarp really. Comparing it to a tent that costs a lot more and is likely heavier as well isn't entirely fair. Also, I have run into both condensation and wind issues with tents as well. Air movement is key to condensation avoidance; without that both tents and shelters are going to condense. And many of the light, mesh-bodied tents aren't any better at keeping the wind out; wind comes in under the fly and through the mesh. Actually you can get clever and pitch the Betamid with the back into the wind and close to the ground, but extend the down-wind pole a little higher to get the downwind part up off the ground a little. As for slow to dry, no different from a wet rainfly. Hosing the outside with a DWR (we use the Nikwax stuff, but I've heard good things about Revivex too) will minimize the wetting. Finally, comparing the weight to Silnylon shelters like the Nighthaven isn't a fair comparison. Spend the extra $80 on a Beta Light and then make the weight comparison.

Not that I don't find the Betamid annoying at times. It's basically an A-frame, with a peak-and-valley skyline to boot, so headroom is a bit hard to come by if you're used to arch-pole shelters. The supporting poles are inside the tent with you, so maneuvering is a bit of a pain. But these are inherent in the form. We've found the Betamid to be a versatile shelter, better than I expected actually. Small in the pack, reasonably light, and uses poles you might well be carrying anyway (your trekking poles). Weight, even with the bathtub floor, is competitive with tents of the same space. Seems to handle the weather just fine. You can go lighter, but for this price you'll be hard put to find a better shelter.
I'm a big fan of the Betamid as a cooking tent and place to chill. I've never slept in it and don't know that I would trust it i high winds or severe weather. But for a super light outing in fair weather or an additional shelter for winter camping, this thing is great. You can dig out the snow to create the living quarters you would like. I always throw snow around the edges to seal it tight and use guy lines to keep it sturdy. You really should seam seal before you go and I think it's a much better tent for snow than rain.
Skiing basecamp for a week and a half deep in the Chugach Range of Alaska.
Too Many Seams, Too Little Time
Took the shelter on series of trails around Colorado. It rained several times. I must have missed sealing some seams in the peaks of the tent, because beads of water were streaming down the inside, and a steady drip was soaking my down bag. This was on the third consecutive night of rain, and it was coming down pretty hard. I found ventilation was poor, and it took an hour to dry the tent out in the sun. Also, the ground clearance permits water to splash under the tent. Ground clearance is adjustable but limits internal volume, significantly, the lower you go. The Betamid might be cheap, but you have to seal the seams yourself, there are much lighter tarp tents, and there are tarp tents that breath better due to vents at the top so you don't have to dry it as long or store it as wet. The MSR Twin Peaks is super light and its seams are factory sealed. The OR Night Haven is heavier, but has some sweet features - compared to the Betamid, the adjustable buckles feature is a great idea; proper tension on the Betamid is hard to come by.
High-tech tarp, low-tech tent
Pros: spacious space-to-weight ratio (roomy fit for 2 plus gear),lightweight, sturdy in high wind, fast and easy setup, clever dual use of trekking poles.
Cons: heavy condensation occurs inside even in relatively dry alpine climate and only 1 person inside! must seal many long seams yourself (sealant not provided) or will leak badly, drafty (wind blows under the walls without floor), must add weight of floor/ground cover if you want this, no bug protection
Great Lightweight Shelter
I am very impressed with the quality of the Betamid. The Betamid's design has several advantages over the a tarp. It appears sturdy enough to work well even as a four season shelter. It allows you to pitch it low to the ground in harsh conditions or off the ground for mild weather.