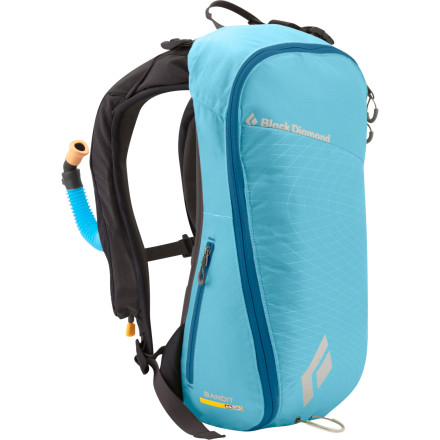 Videos
Description
Carries your safety gear when you're on top of the snow and helps you breathe in case you're buried beneath it.
The Bandit Avalung Backpack is Black Diamond's smallest and lightest backcountry skiing backpack equipped with the Avalung system. Ideal for just-outside-the-gate resort laps, cat or heli skiing, or quick trips from a hut, this backpack holds your shovel, probe, and small essentials. Should you trigger an avalanche and find yourself en route to burial, the built-in Avalung system improves your ability to breathe beneath the snow so your potential survival time is extended. Every second counts, and this pack could give you the extra few seconds you need when disaster strikes.
Built-in Avalung system significantly extends your fresh air supply in case you're caught in an avalanche and buried beneath the snow
Fresh air is pulled from the valve box by your shoulder and through the Avalung mouthpiece, and when you exhale, CO2 is expelled from the exhaust port by your waist
Avalung mouthpiece and tubing stow away in the shoulder strap when not in use, but are easy to reach so you can extend the mouthpiece just before you drop in
Redesigned diagonal ski carry cable extends when you need it and stays retracted when not in use
Minimalist suspension design uses lightweight straps and webbing waist-belt that carry light loads comfortably and allow for ample adjustability
Hydration sleeve allows you to use a hydration bladder to stay hydrated, and the insulated design keeps your water from freezing solid
Enclosed shovel and probe organizer pocket makes it easy to find your entire avy tool kit quickly, and the enclosed design protects your essentials
Yellow color is the Seth Morrison pro model pack
Too small for day touring
Familiarity:

I've put it through the wringer
While pack is nicely organized and fits all my avy gear, there is not sufficient room for rest of my backcountry needs. I recommend the larger avalung pack.
Any idea on what size hydration pack you'd use?
Great Pack.
Familiarity:

I've put it through the wringer
This pack hold everything you need for a good day in the elements. (shovel, probe) You can fit a couple of extra layers.

In the chance you get buried this thing will extend the livable time to nearly an hour. If your looking for the economical solution to an air-pack this is the way to go.
Sweet Day Pack....a little small
Familiarity:

I've put it through the wringer
This pack is awesome for days riding the the resort or dipping under the rope lines and snagging a few pow turns out of bounds. Lightweight and super compact, I barely even notice it. However, don't expect to fit more than an extra pair of gloves and maybe some spare goggles along with your probe and shovel. Not alot of extra room in this guy. Also having the ava-lung is a nice safety perk for those excursions into the backcountry.
Black Diamond Bandit Avalung Backpack