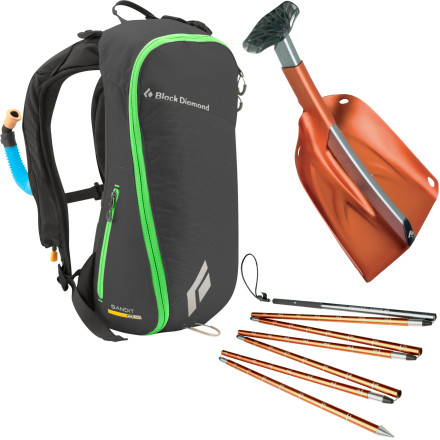 All the best powder lies beyond the ropes, but that's where you'll find avalanches too. Take the Black Diamond AvaLung Package with you and you'll be prepared with a backpack, shovel, and probe to help handle the hazards of the backcountry. The pack features AvaLung technology to help you breathe clean, carbon-dioxide-free oxygen in the event that you're buried in a slide, the shovel has an integrated handle that deploys at a moment's notice, and the probe has a small footprint and powerful capability to pierce through dense snowpack. Just remember that these tools are only the beginning, because good judgement, training, and a beacon are all absolutely essential too.
Avalung breathing tube stores in a zip compartment on the shoulder strap so you can easily pull it out, adjust it, and pop it in your mouth before dropping into your line
In the event of a burial, the integrated AvaLung allows you to draw fresh oxygen from the surrounding snow, and it deposits the noxious C02 you exhale behind your back
Backpack contains a zippered front panel and internal probe and shovel storage compartments for easy access to your tools
Insulated hydration sleeve helps prevent your beverage from freezing during your tour
Diagonal ski comes in handy when you have to bootpack
Probe Rapid Deployment stuffsack integrates with the one-pull deployment system so all you have to do is grab the probe, toss it out, and pull the cord to deploy
Probe features an oversized tip so you can quickly and easily pierce through dense debris and snow
Quick-deploying shovel has an integrated handle that slides down to nest against the blade for easy storage and then slides out to engage in less than a second
Large-volume aluminum blade has a crowned edge to make it easier to chop through ice and debris quickly
I've found out the hard way that putting the avalung back into the sleve is A LOT harder than removing it. Taking it out was quite simple but trying to thread it back through the left strap was a real pain in the arse. I definitly wouldn't try it again. I highly discourage removing the avalung if you have the option.
Efficient, small package
Familiarity:

I've put it through the wringer
I've used this pack for day trips and filled it FULL. I use it for split boarding so put my telescopic poles in the horizontal ski carry. It works acceptably well. It has also held my board in split mode (roughly same size as 2 extra fat powder skis)

The shovel it comes with seems very small but when worrying about carrying extra grams you have to stay small. The probe is excellent, top of the line. the bottom of the bag tapers to a very narrow point which is not depicted well in the stock photo. It has a whistle on the chest but it's not that good so I strongly recommend not relying on it and getting a nice one for the chest pocket.

In the summer I remove the avalung and use it for hiking in BC. It was quite easy to get out my first try. It took about 5 minutes to figure out. I'm sure it would only take 1 minute from now on.

I feel like the best use for this bag would be to pack it into a multi day bag and then pull it out when climbing above camp, leaving your multi day bag and unneeded equipment at camp.
Great backpack
Gender:

Male

Familiarity:

I've put it through the wringer
Nice and small backpack, but there is still room for a camelback and extra jacket and/or a few layers.

It feels good on the back and is stiff enough so I feel like my backplate isn't necessary.

Sitting in the ski lift it can feel bulky if you got it packed with stuff, other than that there is no issues.

Have yet to use the shovel and probe (sort of a good thing, hehe) , but I have tested it.

The shovel snaps in place fast and easy, same goes for putting it back when finished. It feels sturdy and was helpful when I got the car stuck in the snow.

The probe deploys fast and easy, the locking also is easy and smart. When done, it's also easy to take apart. There is also easy to read markings to check for dept.



I'm the one in the red jacket in the picture and you sort of see how small this backpack is.
Is there room inside the main compartment...
Is there room inside the main compartment to store additional items such as water bottle, lunch, jacket?
Yes. I have first aid, rope, goggles, layer, lunch and the thing is chockablock. It is a small pack.
It says here that this pack can carry a...
It says here that this pack can carry a snowboard horizontally, but I can't seem to figure out how you do that from the photo. Can someone confirm that you can strap a snowboard to this? Or is it strictly for skis and splitboard only?

Thanks
I believe (from looking at my friend's while skiing the other day) that there is a horizontal snowboard carry feature, it just fits in between your back and the backpack itself.
There is a wire on the bottom of the backpack and nylon straps on the top to fasten skis/snowboard to it. Very easy to figure out when you see it up close.
I've found that the wire on the bottom of the pack does not come out long enough to get a snowboard tail through it... Have you tried Henry? I always put my splitboard through in split mode.