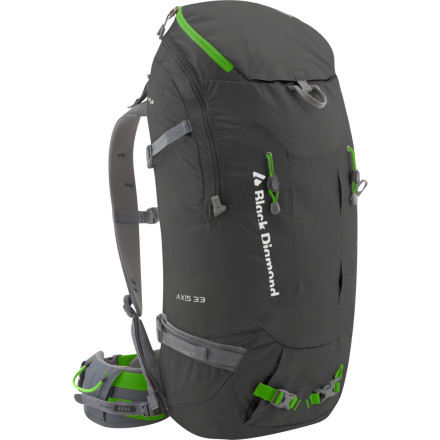 Detail Images

Community Images
Climb like the pros with the guide-style Black Diamond Axis 33 Backpack. This ice-friendly workhorse features ice tool PickPockets, a three-point haul system, and a welded crampon patch for your more metal-intensive ascents. Slip in a bladder to help stay hydrated on your more burly approaches.
ErgoActiv suspension system features an innovative free-floating hip-belt that pivots with your body's movements for improved load stability and comfort when traveling over uneven terrain
SwingArm shoulder straps link each shoulder strap to the other by cable, which allows you greater arm mobility when placing a tool and greater load stability during your approach
Thermoformed, vented back panel helps keep you comfortable when things heat up during the approach
A tuck-away helmet holder and rope strap help you stay organized during weekends in the mountains
Ice tool PickPockets and welded crampon patch help you keep your ice gear organized during the pre-ascent mess
Hydration compatibility lets you conveniently stow nourishing liquids (although not the kind that come in cans and make your head feel funny)
Unanswered Question
The pictures seem to be showing two different packs? The Cobalt, Fire Red, and Graphite seem to have some differences to the images showing the front side of the lime and black with green accents. Does Backcountry sell the version as shown in the lime and black/green packs?
Unanswered Question
Will it fit a 3L bladder?
Can't say enough good things!
Familiarity:

I've used it several times
I love this Axis pack! I have used this on several crag trips now, a climb if Seneca Rocks in WV, and recently even a trip to Glacier National Park, where we did a glacier traverse, and tried to summit Chief Mountain.
No matter what you need this pick for it fits the bill. The ice axe holders, and rope system work great. The helmet holder is genius! This pack absolutely swallows gear it will hold all you need for a long multi pitch day, and carries very well on those long approaches.

My only gripe would be the lack of access to the top part of the pack when the helmet, and rope are strapped on. It is something easy to deal with though.

The tech specs say no for ski carrying....
The tech specs say no for ski carrying. Is there an issue that I don't see in the picture for using the side compression straps to carry skis in an A frame?
Yes, you can easily carry skis A frame with this pack.
Everywhere Pack
Familiarity:

I've put it through the wringer
The simplicity of this pack is its best asset. I wouldn't recommend this pack for 2+ day trekking trips, but a solid single day pack for your next hike. If you're one of those people who likes to quickly zip open a pack, stuff all your needed gears, and dip out of the casa, then definitely go with this.



VERY bombproof, and the top zipper also comes with a couple accessory pockets so you can throw in some nail clippers, cliff bars, camera, your i phonr, or your wallet.



My only concern with the pack was its added bulkiness in the lower back. Theoretically the Ergoactive system does help with the free floating hip design, but it can be a slight nuscience at the same time. Overall, I love the pack, Black diamond keeps putting out the best of best!
An Amazing Pack
Familiarity:

I've used it several times
I have used this pack climbing, snowboarding, hiking, going to the beach, alpine assents and hucking stuff to work. It is truly an incredible pack it hold so much more than your eyes tell you it will. It is also the most comfortable pack I have ever owned. The weight never falls on your shoulders even with 30 pounds of gear and water in the pack.



I would highly recommend this to any of my friends.
The most uncomfortable pack I've used
Gender:

Male

Familiarity:

I've used it several times
I've gone through several bags in my lifetime, but this one is definitely the most uncomfortable. It's too bad - I was stoked to receive this. The big lower back "pad/knob" that is the centerpiece of their "ergoactiv" system is horribly uncomfortable. It just digs into your lower back, and rubs around constantly causing a lot of discomfort, soreness and chaffing. After about 30 mins of hiking it just feels like a hard knot. The shoulder straps are also very thin and barely padded. Honestly, it's a horrible design - one that I believe is providing a solution to a problem that never existed. Traditional non waist rotating backpacks are WAY more comfortable than this. I've put 30lb in this pack and taken it a total of 18 miles since I got it, and I wouldn't go another mile with this thing. In fact, I just bought (for $99 on sale locally) a Deuter Guide Lite 32+ to replace this and it is incredibly comfortable. Deuter knows comfort. Black Diamond could learn a thing or two from them. I'm sending this back this week. Do yourself a favor and avoid this bag and go with Deuter - they are unbeatable in terms of function and comfort.
Sick Climbing Pack
Gender:

Male

Familiarity:

I've put it through the wringer
This is an awesome climbing pack just big enough for all my gear. It has so many features and straps you can clip extra gear almost anywhere, it even has 2 gear loops on the hip belt for climbing. I can fit my 10.2 70M rope+rope bag, 12 draws,shoes, harness, waterbottle, snacks, guidebook, jacket, helmet in it, along with other stuff strapped on the outside if I need it. It is made of super durable material so it keeps water out and can take a beating at the crag. The hip belt and swing arms are very comfy for hiking or climbing. Love it! Not to mention it looks sweet
Im looking For A tough durable pack for...
Im looking For A tough durable pack for hiking and other outdoor activites i want to use it as a daypack or one night pack and im trying to figure out if ishould choose this pack the epic 35 or the hollow point
Best Answer
Hey again Josh,



For just a simple everyday daypack, the Hollow Point will do it for you effectively and at a lower cost, although it might be kind of small and too limited in its capacity for over nighters. For the over nighters, this is a better choice for the simple reasons that it has more capacity, has more features that help you organize and carry your gear, and it has a waist-belt and not just a waist strap, which will be much more comfortable with a load in it.
Hey guys, I was wondering if you are able...
Hey guys,

I was wondering if you are able to access the

main compartment with rope on top, or do you have to take the rope off to get to the inside?

-Jay
You have to take the rope off to get inside. One of my many minor gripes about this pack. Also, the rope retention system is really hard to operate with gloves on, so try to plan ahead and put what you might need in your pockets instead of in the top pouch or main compartment.
Best Answer
Perhaps the model has changed slightly now since this question was asked but just today I wondered the same thing about the rope being in the way. So I loaded up my pack and checked. The way the strap fastens across the top does hinder access to the top pocket given the rope lays over the top of the bag. However, you very much can access a loaded pack with the rope on top, but it has to do with how you fasten the rope strap. There is a haul loop on the front of the bag. If you web the rope strap through this, forget getting into your pack. However, if you simply wind the rope strap tightly, twice around the center of your rope and rope it back to the attachment point, omitting going through the haul loop, you very much can move the rope out of the way and access the bag. As long as you have the ends of the rope, which lay along the sides of the bags, on the inside of the compression straps, your rope isn't going to be moving around, and access to your bag is possible. That being said, there is no way (that I have discovered, that you can access your bag compartment with the helmet strap fastened. This pack is actually amazingly versatile. Just today, I loaded it up with a 70M 10.2mm (in it), 14 draws, first aid kit/fairly large survival knife, rock climbing shoes (stowed them in the crampon pouch on the exterior of the pack, a waterproof pack cover, trekker thermarest, a 2 L bladder, harness, tent footprint (used as a rope tarp), helmet, gri-gri/runners/ATC, and a second 70M 9.5mm rope (teaching others how to climb, side by side), a 11 oz rain jacket, and an arcteryx Atom LT hoody. I still had room for a few extras (small...food items I mean). Pack weight...probably at the upper limit, but it all fit. I also could have strapped a solo tent to the side. And with this weight, the pack is actually pretty comfortable. The extra rope on the sides did hinder arm swing a bit when scrambling.
P.S. I checked out the BD Speed 40, Epic 40 and Epic 35, and this. Settled with this pack. Didn't care for the overly large lid on the Epics, nor the single lid tie down....a helmet under the lid easily slides out the sides (at least the way I had it situated...perhaps incorrectly?). The Speed 40 was great for a stripped down weight (different back rest/suspension system but still flows well with your movement...but you cannot close the lid in a drybag style in which is was intended if you get higher than the upper part of the pack. Made things move way too much for my likings..though I would have gone Speed 40 over the Epics for what I needed. Just saying but I'm no expert at all.
looking for a pack to be my go to for...
looking for a pack to be my go to for weekend sport climbing trips. Can anyone compare this to the BD Epic 35? thanks
Best Answer
They're very similar, but I prefer the epic, as it stores a rope more securely thanks to the lid (which this lacks).
Probably my new favorite climbing pack!! I love how the belt moves with you, makes scrambling so much easier. The only down side is there are no gear loops inside so you just have to sort through everything in there and organize it when u get to your destination. not so bad if all is attached to a sling.
Anyone have any comments on this pack vs...
Anyone have any comments on this pack vs the Osprey Variant 37 and the First Ascent Alchemist 40L? I want a pack that can do alpine hiking, but be useable for other hikes as well.
If you are more of a minimalist go for the axis, (i personally love this pack) but if you carry more go for the alchemist...can't tell you about the varient...They all work for what you are describing....also check out the osprey stratos 36/34 these are going to be more vented than the packs you listed.
I do like the Varient very much. Both of these packs are on the same level, straight forward alpine climbing packs. I've found in warmer weather it does not vent well, and with no zippered access to the main compartment you have to pack smart. From what you describe the uses you're looking for I would suggest the osprey kestrel or stratos as Hayden mentioned.
In few words i had to buy quickly a sack because my bright new dynafit baltoro was uselles. So two persons with the same backpack we had to stop the first day of our skitour at Haute Route and go back at Chamonix and find new gear,hopefully we bought the axis 33 and at the end of the route after 6 days i have to say that is very good and i highly recommended it.
I was a bit worried when I got it that the Axis might not be big enough for what I bought it for. Having loaded it up for a day of ice cragging (tools, crampons, screws, rope, extra clothes, lunch, first-aid kit, helmet, harness), I can say that not only does it carry it all, it carries without a hitch. Its loaded with lots of little things, like the helmet pouch and the rope strap, that aren't quite perfect yet, but I fully expect BD to correct those in the future. For instance, I'd prefer that the helmet get strapped down on top of the rope, not the other way around, and the buckles to secure the helmet pouch are hard to find and operate. I'd really like to see a winterized version with an insulated sleeve for a drinking tube as well. Those are, however, for the next generation.

I was also a bit skeptical about using a panel loader (all of my climbing packs have had top pouches aka "brains", and in principle it simplifies rope retention). The absence of such, however, definitely gives the pack a lower profile, so the whole thing climbs a lot better.