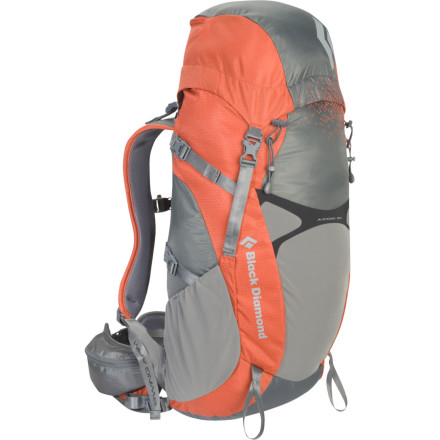 Detail Images

Community Images
If you're a light-and-fast hiker who won't settle for the stuff-sack-with-straps breed of ultralight packs, the Black Diamond Axiom 20 Backpack is your ticket to comfortable big-mileage days. The Axiom features a roll-top closure with a removable lid for additional streamlining, and plenty of pockets, loops, and straps accommodate all the extra gear you'll need for long outings in the mountains.
For those who need comfortable support under moderate loads
Customizable V-Lite aluminum frame adds flexibility to the pack's suspension
OpenAir back panel keeps your back cooler on summer hikes
reACTIV hip-belt features floating, pass-through design for flexible comfort
Webbing loops attach trekking poles, ice axes, and other gear
Mesh stretch pockets accommodate small items
Hydration-compatible, but bladder is not included
Best Backpack I've Ever Had
I love this backpack. It can be small or surprisingly big when you want it to be. It fits great. Black Diamond really put some thought into this pack. All of the features are simply convenient. I mostly use this pack to carry around my climbing stuff. It works well for back packing too. I would not, however, recommend it if you are going for a long trip. One or two nights is all a minimalist could handle with this pack. It is simply not big enough.
This is a good lightweight pack. It meets airline carry-on requirements. It just went with us to our trip to Jamaica, it held enough clothes for a week. My only complaint is the top loader and no additional pockets, it's annoying to access anything unless you pull everything out. Other than that, really lightweight, durable, and did the job.
Black Diamond Axiom 30 Backpack
The Black Diamond Axiom 30 Backpack is exactly what I want in a technical daypack - it gets small when I don't need space but easily holds enough for a light 1-2 night trip. The back venting works well as I took this on a hike from 45 degrees and raining to 80 and humid and didn't end up with a wet back. On the same hike my gear stayed totally dry inside the pack. The shoulder strap system on the pack really becomes noticable when you load it up past ~20 lbs and adds comfort to the pack. The only qualm is that the lid attachment system is very tricky to take on and off of the pack.

The feature that sold the pack for me is the strech pockets which can hold a ton of stuff for quick access. I was glad to have them for rain shell storage - a much better solution than my usual draping the hood of my shell over the lid of the pack and having a long train to deal with. Bottom line is this pack will do it all and can get very small or surprisingly large when you need it to.
Black Diamond Launch and Enduro Series Packs ? Pack Fitting
Correct fit is paramount to realizing the performance benefits of Active Form Design. Determine your pack size at a retailer using Black Diamonds Pack Fit Tool or have a friend measure your torso length. Confused? Watch our pack fit video to learn the proper way to determine your pack size and then fine-tune your fit.
2010 Black Diamond Active Form Design Packs - Research and Development
20 years in the making. Black Diamond's experience with climbing hardware design, from carabiners to crampons, gives us a unique perspective from which to approach pack design. Watch our Behind-the-Scenes video to get the inside beta on the R&D process from our pack designers—all the way from concept sketches to field-testing.
Black Diamond Axiom 30 Backpack - 2440-2563cu in
BD is on the ball with their new reACTIV suspension system. It allows the pack to stay snug on your back but still allows free movement of the shoulders. This will reduce the amount of shoulder fatigue and won't make you feel like you have a piece of plywood strapped to your back.The pack is super comfortable and the openair back panel keeps your back from getting all sweaty.This pack also comes in a 40L. Item# BLD1171 and a women's version. Item# BLD1175