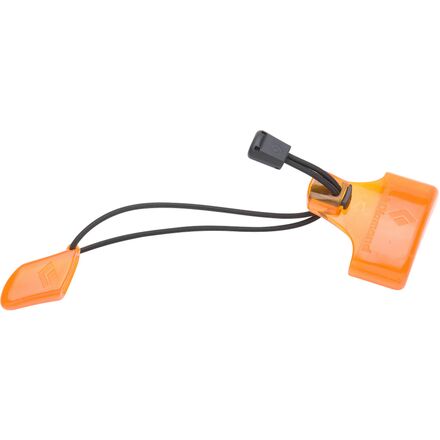 Community Images
Black Diamond's Axe Protector covers the pick and adze on your ice axe or ice tool, so you don't open your gear duffel to find your down jacket shredded to bits. The Axe Protector fits nearly any ice axe, and it's a lot cheaper than a new jacket.
will this work on a petzl sumtec?
What i had in mind was the adze version of the sumtec. Will this fit?
It will fit over almost any ice axe and protect the pick. Though it will fit with the Sumtec it just wont protect the adze.
Will this work on a Grivel G1 axe?


mic4554050,



Yes it will - I use one on my Grivel G1+ SA which has a very similar pick and adze to the G1, and it fits great.
Keep your gear tear-free
Familiarity:

I've used it several times
Purchase these to use on my ice tools, even though they are intended for axes. The adze protector is shaped for axe-adzes, but still fit over tool-adzes. Now that I've switched over to hammers I removed the adze protectors, which is easy to do if you're careful.

These guys are light, brightly colored (so you won't lose them), and fit my tools just perfect. It's a small investment to protect against a big bummer of shredded gear.

Ben
brabinowitz@backcountry.com
801-746-7564
Does what it should
Familiarity:

I've used it once or twice and have initial impressions
Gives me peace of mind knowing I'm not going to accidentally poke holes in my gear while this protector is on my axe. Worth the money to have that peace of mind.
Works as listed
Familiarity:

I've used it once or twice and have initial impressions
Stays on, easy to remove. The price of protectors is easily worth the cost of repairing or replacing gear...
Almost Perfect
Familiarity:

I've used it several times
Well, for $10, it's amazing.



For my Black Diamond Raven Pro I bought it for, it doesn't quite fit the profile of the pick (no noticeable) and there is plenty of room for a wider adze. So it's not purpose build for the Raven Pro - but that's probably a better thing.
There is not much to say about this other than if you have an ice axe you will want these to protect both your axe and your gear
Always use protection
Familiarity:

I've put it through the wringer
As many have said these are great for protecting against accidental tears in your gear or scrapes on your legs or arms from your axe when you forget its on your pack. I also like these a lot for when I am flying with my gear as protection when I toss these inside a gear bag.
Good Axessory
Familiarity:

I've used it several times
See what I did there? Seriously, the plastic is tough, flexible, and resistant to cracking and dry rot. The bungees look like they will hold up even after excessive stretching. Crucially, they are orange so that it is easily identifiable when you drop it in the snow. These should come with the BD Raven. All it takes is one hole in your mountaineering pack or goretex jacket from an ax tip and you will be sold on this product.
The essential accessory for my BD axe
This is exactly what you need when you throw the axe in your trunk or strap it on to your pack. cheap but very effective. I didnt buy the spike protector (thought it was superfluous) but this is 100% necessary if you have an axe. BD should just raise the axe price 5 bucks and have it come with this.
These will fit any axe and are the best quality of the axe/pick/spike protectors out there.

Other brands are one piece rubber, and they tend to dry out and crack, making them useless. The bungees on BD's protectors last years, and the rubber scabbards don't get strained and crack over time.



Buy these once, or the others a few times over.
Have tried others and this is the best one so far. Good product and I like the service.
...and no holes in my gear. I have a Raven ice axe wearing it presently. She likes it, my garb likes it, my rig likes it. And I like them all just so.
works perfectly with a Raven pro ice axe
works perfectly with a Raven pro ice axe
Why would you not have this. It protects your precious gear from the edges of your axe. I have it on my Black Diamond Raven and it fits perfectly. Buy it, for 10 bucks you could save yourself one Helluva headache when your axe shreds your gear.
will this protector fit the Petzl Summit...
will this protector fit the Petzl Summit Ice Axe?