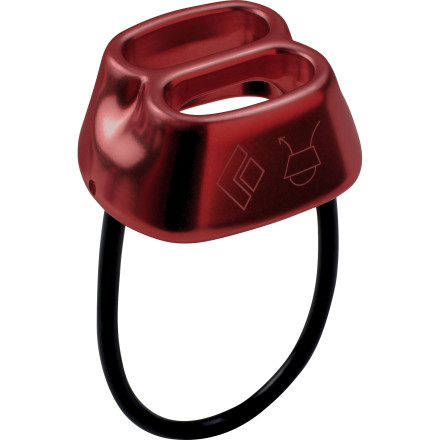 Community Images
Description
Will the real ATC please stand up?
They say imitation is the most sincere form of flattery, which is why you won't find the Black Diamond ATC griping about the wannabes. Built to handle ropes ranging in diameter from 7.7mm to 11mm, this simple but functional device handles belaying and rappelling with kink-free ease. And weighing in at a slim 60 grams, it's a must-have addition to your harness.
This is a great belay device for beginners. I got it as a spare for when friends join us.
great for beginners
Familiarity:

I've put it through the wringer
So the first thing one may well notice with this Black Diamond ATC is the absence of breaking teeth. Essentially it is the shape of this belay device that mitigates the rate of your repel. I found it to be a smooth functioning system. My wife and I both use this style of ATC and have had no desire as of yet to upgrade. As a whole I'm impressed with the solid intuitive construction of this piece of gear, have lent it out to beginners in the climbing gym and it works flawlessly with even the most bare bones instruction.
When aquiring climbing gear, this is one of the basic pieces you need in sport climbing. It is also a basic funtioning ATC, for rapelling and belaying. If you plan on getting into multipitch climbs, consider getting one that allows you to easily clip into the anchors.
Capable!
Familiarity:

I've used it several times
Just getting into sport climbing and picked this up. I appreciate the affordability, simplicity, and ease of use. Granted, its a pretty straight forward piece of gear, but its a great piece.
solid piece of hardware
Familiarity:

I've put it through the wringer
this ATC is just really simple to use in all conditions, sure it is missing the grooves that other devices have but I really do not care, it functions flawlessly and has never gave me any trouble at all. love it
Good Belay Device
Familiarity:

I've put it through the wringer
It's a great standard piece- nothing too complicated nor too expensive. It's very easy and straightforward to use, and it does what it needs to do. Belaying on it is super easy, as is setting up a rappel. It does not have the grooves as the ATC Guide, which I was originally worried about, but I haven't run into a noticeable difference yet. The rope is still easy to catch, and easy to feed through. Overall, every climber needs a good solid piece, and I would highly recommend this one!
Simple piece of gear. I have one somewhere in my box of old gear from when I was new to climbing and didn't have a lot of money. Unless you're in that boat, go ahead and upgrade yourself to the ATC-guide. Skip the ATC-XP. Its not that much more money and you will want the extra features of the guide when you get into advanced techniques. The ATC-Guide moniker doesn't mean it is used exclusively by guides. Guides are just skilled climbers that do it so much they need to make money on the side to justify to themselves or to their spouses all of the time that they spend doing it.
Great Belay Device
Familiarity:

I've put it through the wringer
This is Black Diamond's tube-style belay device.

The Good:

--Utterly simple to setup and use

--Works with any and all ropes on the market (single, double, twin, fat, skinny, etc.)

--Works as a rappel device, too

--Lightweight AND cheap

--No moving parts to service



The Bad:

--No XP grooves, which are handy for skinny ropes holding heavy climbers

--No Guide mode ring; for that you need an ATC-Guide



Every climber should have some sort of tube-style device. There's a reason that such things are almost universally known as "ATCs." It's cheap, it's reliable, and it does more for you than a Grigri. There's no excuse not to have one of these!
Great piece of equipment.
Familiarity:

I've put it through the wringer
This belay setup is the way to learn. The ATC is an industry standard and (in my opinion) is the best way for a new climber to learn to belay safely. Eventually if you take to leading and multi pitch you will want to upgrade to an ATC guide or Grigri or equivalent but you will always carry this in your crag bag as a backup.
Afternoon climb with my favorite gear
I have had several ATCs over the years and it is still my favorite piece of gear. My wife and I went climbing this afternoon in Ogden and I thought of three reasons why this is my favorite piece of gear:

1. Simple, easy to use from beginners to advanced climbers. This makes teaching beginning climbers fun and easy.

2. Affordable and durable. You don't need to pay a lot of moola for a quality belay device, this is it!

3. Fits a variety of rope sizes. I always have my ATC with me and because of its simplicity, light weight, and durability, I use it on most of my climbing outings.

If you don't have one already pick one up today, you will use it all the time and be amazed by its simplicity!
The basic, everyone should have one.
Familiarity:

I've put it through the wringer
This is the best belay/rappel device there is. It is simple, lightweight, and everyone should know how to use it and have one. It doesn't matter if you have a grigri, this does the same job at a tenth of the price. If you are just starting climbing, get one of these to practice in the gym. At my local gym they rent the grigri for free, but this is still my choice.

Just remember that when rappelling it will get hot.
Classic and simple
Gender:

Male

Familiarity:

I've put it through the wringer
I typically use a Grigri for belay; but, always have an ATC for back-up or if we set up multiple routes and need another belay device. I always use this to clean since it does so well for abseiling.



That said, the BD ATC-XP does the same plus has a friction mode. For only 3 bucks more, I recommend the XP version. If you multi-pitch, get the guide version.



Great product, everyone should have an ATC. 4 stars because at this point, unless you only rap with it, you should just pay a few more bucks and get the ATC-XP
I'm not a fan because if's you are going outdoors, why wouldn't you want an ATC-XP? I would't like to lead belay with a normal ATC. we use this guys heavily at our work and after only a few year they get really sharp along the edges of the tube (which can tear up your rope). That aside, these guys are overall a good device, simple, and sturdy never had one break on us, absolutely a solid investment. I think the one advantage this one might have over the ATC-XP is for rappelling
This is a basic atc, it's very simple and gets the job done. Very easy to feed your rope through and most ropes will fit this device. Made with great quality and is very durable. I love the color options! Super good price too!
Nice belay device, does exactly what you would want from it with a good price.
Your basic ATC. Not the best out there, but it gets the job done, and for the price you can't help but be satisfied with this handy device. I use a Grigri to belay, but I always keep one of these on my harness for short rappels and emergencies. I'd recommend it.
It's simple, it's timeless, and it's pretty unsafe for most applications besides rap. Grab the Mammut manual belay device or simply invest in a grigri. I don't use it unless I'm abseiling. It shines in that regard. 5 star rappel, 3 star belay.