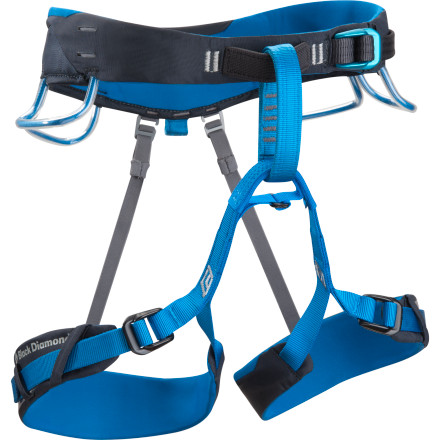 Colors

Detail Images

Videos

Community Images
Description
Climb year-round.
Climbing is a four-season sport. That's the philosophy behind Black Diamond's Aspect Harness. This year-round workhorse utilizes proprietary Dual Core XP Construction to keep weight down and comfort at a maximum. A bullhorn-shaped waistbelt keeps you snug and secure during hang sessions while you work a technical sequence.
Dual Core XP Construction utilizes an OpenAir waistbelt with separate bands of webbing and a supportive insert to combine breathability with pressure distribution
Pre-threaded Forged Speed Adjust waistbelt and leg loop buckles allow for quick adjustment and optimal fit
Four pressure-molded gear loops and 12 kN-rated haul loop complement four ice clipper slots to provide an array of racking options
Abrasion patches offer 20 times the durability of nylon for added longevity
My favorite color is blue...
Familiarity:

I've put it through the wringer
I really like this harness. It racks well, it it super versatile, and it does not break the bank. I have used it for a little over a year now, and it has stood up to abuse like a champ. My only complaint (and the reason that it gets 4 stars) is that it is not the most comfortable harness to hang around in for hours on end. Now, are you going to get a better harness for the price? Probably not. Would this be my first choice for a long, drawn out multi-pitch climb? Nope.
Not bad for the price!
Familiarity:

I've put it through the wringer
Has all the basic features you want, even slots for 4 ice clippers! I wish it packed up smaller like an arc'teryx harness. But for 60 bucks you can't go wrong!
Super versatile harness
Familiarity:

I've put it through the wringer
I have used this harness for a couple of years for gym, outdoor rock, and ice climbing. For folks who want to have one workhorse harness to do it all, this is a great option. I really like the ice clipper slots, so that you can put on up to four ice clippers for racking ice screws (or even ice tools). It also has a decent amount of padding for working routes or on hanging belays. There are certainly lighter harness out there, but it's hard to beat the versatility of this one, especially a the price point.

Photo: standing in the middle of a snowy Camp Bird Road coiling the rope after a climb. My Aspect harness is reasonably well loaded down but still feels great. Ouray, CO.
First Harness I've owned! sweet!
Familiarity:

I've put it through the wringer
So I'm no climbing pro but I was looking for something that is capable of tackling almost anything. I had only been indoor climbing for a few months before I bought it and had also done some mountaineering and ice climbing as well. I had used a gym harness and a beat up old unknown brand harness for those latter excursions and knew I wanted something that could do it all. The staff at my local gym pointed me towards this and I was super stoked to get it.
It's super comfy, fits great though that took a little bit to dial in (I was on the high end of a large and low end of xl got a large though returned it for an xl) and has held up great though it hasn't exactly seen anything traumatizing. Unfortunately, it hasn't seen ice even though I planned on it. The leg loops do slide up a bit as another reviewer mentioned but it's not too annoying, I also haven't adjusted the leg loops at all since I got it.

All in all killer first harness in my opinion. I've only ever tried this one though.
Great Fit
Familiarity:

I've used it several times
I've had trouble in the past with some harnesses not fitting properly. I always seem to have issues with the leg loops being too small. But not with this harness. It fits me almost perfectly. On top of the great fit, it's also incredibly easy to reach my gear while climbing, and the harness is comfortable on long days of climbing. I had the Petzl Adjama before this and while this seems to have less padding than the Adjama, it just feels more comfortable. I'm 6'1, 185 lbs and I wear a medium harness.
Solid, versatile
Familiarity:

I've put it through the wringer
It's hard to get too stoked on a good harness, but you can always tell when you have a bad one. The BD Aspect does great job as an all-arounder. Comfortable enough to wear all day on ice or long multi-pitch routes. Streamlined and light enough for sport climbing. I'm 5'8" 170lbs and sized up to a Large to fit over layers for alpine stuff, but easily cinched it down for sport duty while wearing a t-shirt
Use it for whatever extra gear you want to have, but out of the way. My buddy uses that spot for a chalk bag. He attaches it with a small carabiner (the kind that is only good for your keychain...not a normal climbing Biner)
Yeah, you can attached whatever you'd like there!
Gets the job done. Mountains & gym.
Familiarity:

I've put it through the wringer
Picked this up to replace an ancient (pre-belay loop) harness for sport climbing and mountaineering trips and continue to do both with it many months later. It's survived the gym (and the shoe bag), held on over outer gear in the cold and while I'm far from an expert or pro, it's light enough, solid enough and modular enough to stay on the gear shelf.



Comfortable for extended use. Folds down well for packs (I keep it in the original BD case at home) and while not the lightest harness by a long stretch, nothing over the top either.



Leg straps ride up a little on climbing use, otherwise I'd give it a solid 5.
Comfortable Harness
Familiarity:

I've used it several times
I've been using this all summer, and it's been working great. I climb a couple times a week in the gym and usually get outside a few times each summer. This was an upgrade from a pretty low-end harness that I'd had for years, and it's a much appreciated upgrade. I no longer have to worry about getting uncomfortably pinched while hanging from the rope.



The adjustments are fast, easy, and secure. I've taken in canyoneering as well as climbing both indoors and out all summer, and it is not showing much wear and tear yet.



This harness was recommended to my by a friend who climbs a ton - both sport as well as trad. He used the same harness and had a great experience with it. I would definitely recommend this to anyone looking for a comfortable, solid, all around harness.
Versatile Harness
Familiarity:

I've put it through the wringer
I use this harness mostly for ice climbing, but have also used it for rock and indoor climbing as well as glacier travel. It works well for everything. The ice clipper slots work great with the Petzl ice clippers. Great for racking screws or extra bits. Plenty of space for everything. Runs a little big. Im a 31-32 waist and got a Medium, and its JUST small enough, cant really tighten it much more. but fits well.
Black Diamond Aspect Harness
Light weight and comfortable
Familiarity:

I've used it several times
I am coming off an older Arcterx harness, which was a fairly minimalist design. This BD Aspect has been my first new harness in years, and so far so good. The waist belt has enough padding to remain comfortable all day, yet remains weight conscious. I really like having adjustable leg loops, as well. My legs are usually a bit bigger in the spring, coming off of ski season, and then go back to normal towards the middle of the summer. Also, I hope to be using this harness during the winter for some ski mountaineering missions, in which the adjustable leg loops will be quite nice. So far, this harness has been comfortable, easy to adjust, quick to get in and out of, and has kept me safe. Two thumbs up!
Will petzl clippers fit in the clipper...
Will petzl clippers fit in the clipper slots on this harness?
Best Answer
Yes they should fit without a problem.
Love this harness
Familiarity:

I've put it through the wringer
This harness is well thought out and extremely comfortable for all day climbing. Easy to adjust on the fly. A go to for a do it all harness. Feels very secure.
Versatility for my needs
Familiarity:

I've used it several times
I don't climb enough to need a specific harness for each season, so this harness really hits the sweet spot for me. I am also a fan of the new BD designs, the build quality is great.
Back problems solved.
Familiarity:

I've put it through the wringer
I used to climb in Singing Rock harnesses which ended up giving me lower back pain every time I whipped. I decided to switch companies after a while and Black Diamond does the trick with the Aspect. It's a simple design but gives you the durability and usefulness that you want out of a harness. Definitely true to size for me. Great for technical sport climbing.
well priced winter harness
Familiarity:

I've used it several times
I got this harness at the start of this ice season and I am very pleased with it. The ice clipper slots are well placed and won't rip ( like the ones on my blizzard did). I got the large and it is bottomed out, but with warm layers on it is not a problem since I have another harness for summer climbing and what-not. I don't prefer to have an "all season" harness because the needs of climbing very so much from February to August.

I bought the men's version and it works just fine for me.
This Harness truly does it all!!!
Familiarity:

I've used it several times
Being newish to climbing , this is my first harness because i was unsure what style of climbing i was going to pursue the most so i wanted something that would do it all. i wanted to avoid having to buy different harnesses for different styles of climbing, and this harness has done just that.



the ice clipper slots were what made my decision final on buying this harness. if you find yourself needing more gear loops you can purchase an ice clipper or 2 (up to 4) and increase your rack size. this is great for trad and ice climbing. then in the gym when you want a smaller rack you simply remove the ice clipper(s). i love the ice clipper because it allows you to rack gear that would otherwise need a carabiner to rack (things such as, un used belay devices, nut tools, 8 rings, exc.) i dont see the need to carry 3 extra carabiners to rack those things, plus the things can't swing around as much on an ice clipper as opposed to a carabiner on a gear loop.



i love the haul loop (i prefer to rack a chalk bag with the haul loop, its more comfortable for me)



the rear gear loop is a nice place to put items you dont need during an ascent.



i love having the ability to fully undo the waist and leg loops so its easier to put on over winter clothing on with crampons on.



the comfort is great, although this is my only harness to compare with, it fits to the body and has no pressure points that dig in over time.



overall if you are unsure of what climbing you are going to get into, i would get this because it does it all and you wont need to buy a new harness for a new style of climbing you didn't think you were going to do.