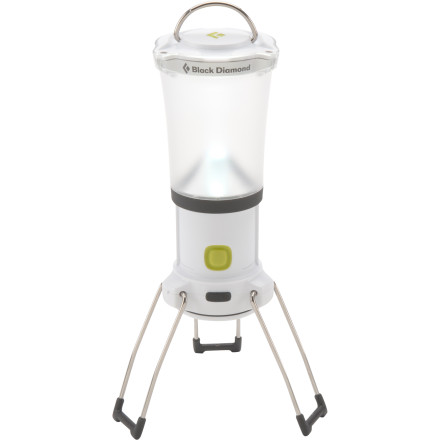 Detail Images

Community Images
Description
They didn't give it the Alpinist Mountain Standards award for nothing.
No more matches, no more hauling around gas, and no more burning your hands trying to pump air into a lantern. The Black Diamond Apollo Lantern throws out up to 80 lumens of pure light; all it needs is four AA batteries, and it can light a 30-foot radius. The top loop lets you hang it from your tent and the collapsible aluminum legs make the Apollo stable and packable.
Share your thoughts
What do you think of the
Black Diamond
Apollo Lantern
? Share a...
I have it for 2 years now, used it not more than 12 to15 times.

It worked ok until 6 months ago when it did not turn on any more. I´m 99% sure I did not hit the light. Really don´t know what happened, so I am really dissapointed. As I said before, it was a good product, light was ok, and dimmer was good also, very versatile but Im starting doubting about BD quality.
Is this the new 2015 model?
Hey there! Thanks for your question. Yes, this is the 2015 model!
Shed some light….
Familiarity:

I've put it through the wringer
Great Car Camping light, I would never uses this in a backpack setting. I do like the weird mounting hook on top that allows for easy hanging on straps/ropes/what-have-you. Okay light output, could have been a warmer temperature light, to make thinks more user friendly. I like the rechargeable battery option for this light. The batteries are basic 3.6v 2000mah cordless phone batteries you can pick up cheap. Does do great for what it is designed for.
Can I replace the internal battery holder for this lantern? I took mine out to change the batteries and noticed some battery corrosion. I scrubbed it off with a stiff brush and now the lantern no longer works. :(
Rachel,

Did you purchase this through us? If so, give us a call and we can see what options can pursue to get this taken care of for you.

Jared D.
Expert Gearhead
800.409.4502 ext 4055
jdowns@backcountry.com
Nice lantern
Familiarity:

I've used it several times
Bought the lantern for a week of camping in the desert. It was the perfect lighting accessory for our camp and offered much needed light at night for cooking and around the camp that headlamps don't offer. Easy to pack, store, and travel with.
Works fine but heavy.
Familiarity:

I've used it several times
Purchased to illuminate tent but to heavy to be considered for distance hiking. Head lamp works just as well and save lots of oz's.
Major Design Flaw - Can't recommend
Familiarity:

I've used it several times
So I would have given this a 5 star until this last camping trip. From a functionality/design/usability standpoint I would give it a 5 as others HOWEVER after opening my pack this last camping trip...I found that the bottom had blown off and exposed a SERIOUS design flaw in this lantern. Basically to get the the batteries you unscrew the bottom cap however the bottom collar that this bottom cap screws into is only held onto the lantern at three extremely flimsy screw points that have minimal plastic to hold the whole collar on. In my case it looks like the lantern took a small it (IT WAS PACKED IN MY BAG WHEN THIS HAPPENED!!!) and the whole bottom collar broke off.
IF you decide to buy one... I would STRONGLY recommend that you put a bead of crazy glue along the inside collar to also re-enforce it as the screw/contact points as they exist currently are a joke. No offence Black Diamond I love your stuff but you need to give the engineer a talking to that designed this one.

I've attached a photo so you guys can see what I mean.
Very cool little lantern
Familiarity:

I've used it once or twice and have initial impressions
I purchased this for my big list of summer adventures and so far I'm very impressed. For it's size and weight, it is quite powerful. The legs hold it up easily. The rings at the top allow it to easily hang from the ceiling of the tent and light up the whole thing. The single button for on/off and dimmer is straightforward once you know how to use it. No complaints!
Sweet little lantern
Familiarity:

I've put it through the wringer
Provides quite a bit of light, very small and lightweight. Works great for the table when cooking, eating, etc. It has a cool dimmer feature and folds up nicely. Would recommend!
Always worth packing!
Familiarity:

I've used it several times
Yeah sure this light will take up a little extra space and with a headlamp it may not be absolutely necessary in the back country, but it is so incredibly useful in any type of camping. I have used this to play cards when car camping and have used it many times in the back country to help light dinner, to see what I am cooking, at group meetings, or just add some light to a talk. Headlamps are great but when trying to talk with people at camp it is really hard to look at each other when you are just being blinded by their headlamp. This light is great for so many reasons!
I'm gonna let it shine!!!
Familiarity:

I've used it several times
This little light of mine I let it shine and it did the job perfectly!!! This sucker did a job well done on my trip down to Zion. It gets dark really fast in the southern desert and boy was I happy to have this lamp with me to cook and clean with in the dark! The fire is there but it's on the ground and I can't take it with me. This lamp is so compact, light and easy to use. It has a dimming feature as well so you don't burn your eye balls out when you turn it on. Also if you wanted to bring it on a trail with you it fits anywhere on a pack and is so light you don't really notice a difference in weight. This lamp has a great price and is so versatile that I would recommend it to backpackers and casual campers. If you have any questions about this lamp hit me up via our live chat feature and ask for Jane H.
Great Little Light...
Familiarity:

I've used it several times
... but I prefer using two "littler" lights for greater versatility when camping and for a lighter weight option when I need one.

This light is super. Check out the Black Diamond Orbit for something even super-er.
Great backcountry light
Familiarity:

I've put it through the wringer
Love this thing. Hang it/prop it up, lights a moderate area, adjustable intensity, great battery life, durable (to a point, I'm guessing), light for carrying.

Can't ask for anything better.
Light up your life?.
Familiarity:

I've used it once or twice and have initial impressions
My friend brought one of these during a 9 day trip to Joshua Tree where you get the blessing of no city lights. It was bright enough to light up our picnic table for cooking and general hanging out. If you want something that lights up a larger area, look for a larger light. The folding legs are very handy. Would be even better if it came with a solar power top to charge batteries during the day and not have to rely on throw aways that cost more and litter our landfills. I like the adjustable dimmer as well. I liked this enough to get one myself. Backcountry.com had a nice sale for under $30 so I couldn't pass it up. But one big reason I love to buy from Backcountry.com is the customer service. Twice I have called to exchange gear for sizing and they are some of the most helpful people I have talked to in a gear shop. Both on gear and on returns. Something the rest of the industry can strive for as well. Great job BC!
I love lamp...
Familiarity:

I've used it several times
This is a super functional and versatile lamp. The flip down stand makes it great for table lighting, the hook setup on the top for hanging makes for easy hanging on a tree or in a tent. The dimming function is handy and the amount of light the lamp throws off is great. Highly recommend it.