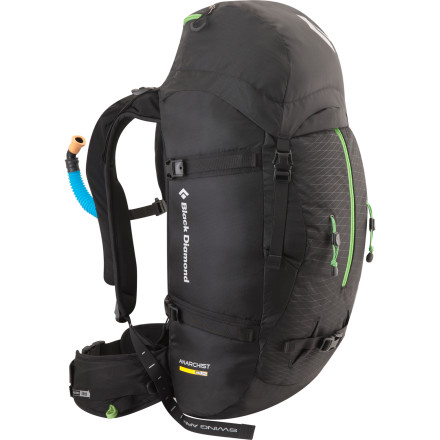 Videos

Community Images
Description
Black Diamond's largest Avalung-equipped backcountry skiing pack (guides, you're welcome).
Massive storage capacity, an articulated suspension system, and a built-in Avalalung system make the Black Diamond Anarchist Avalung Backpack the ultimate choice for ski guides or hut-hopping backcountry skiers. Weighing in at just over four pounds, this packs allows you to carry multi-day gear comfortably, and the Avalung system can potentially improve your chances of survival should you get caught and buried in an avalanche. Go further from the resort, travel comfortably, and stay just a little safer when you're bagging fresh turns.
Built-in Avalung system significantly extends your fresh air supply in case you're caught in an avalanche and buried beneath the snow
Fresh air is pulled from the valve box by your shoulder and through the Avalung mouthpiece, and when you exhale, CO2 is expelled from the exhaust port by your waist
Avalung mouthpiece and tubing stow away in the shoulder strap when not in use, but are easy to reach so you can extend the mouthpiece just before you drop in
Diagonal and A-frame ski carry options let you attach your skis based on your personal carrying preference
Padded, adjustable SwingArm straps are linked on the bottom with a cable so they move in concert with any body movement
Padded, adjustable ergoActiv waist-belt uses a ball-joint to attach directly to the frame so it can pivot as you move and angle the weight to your legs
Hydration sleeve allows you to use a hydration bladder to stay hydrated, and the insulated design keeps your water from freezing solid
Enclosed shovel and probe organizer pocket makes it easy to find your entire avy tool kit quickly, and the enclosed design protects your essentials
Ice tool PickPockets give you quick access to your mountaineering tools
Other features include a tuck-away helmet holder and strap for holding your climbing or rappelling rope
clipping the helmet to the rope strap under the lid and tightening the brain down holds it very secure and out of the way. I prefer this than a dedicated helmet carry system, which is just extra bulk and weight. And with the Anarchist already weighing close to 5 pounds I start counting the extra ounces.
Nice, Big Pack
Gender:

Male

Familiarity:

I've put it through the wringer
Picked up this to carry splitboarding when my BD Outlaw Avalung wasn't quite big enough - pretty much when carrying a longer rope with crampons, harness, and some mountaineering gear, or for overnights.



Cons:

No helmet holder like the Outlaw.



No solid board or splitboard in ride-mode carry options.



Side ski carry loops are a bit snug for a splitty. They do the job, but with some wrestlin'.



Pros:

Spacious. I'd be interested to hear what other reviewers are carrying, but 45L is pretty big for a ski touring pack, and it feels more cavernous than that. This weekend I carried a 40M rope, crampons, 2L of water, harness, some climbing gear, and the rest of my standard touring kit and everything fit well.



ErgoActiv. These are simply my favorite packs for splitboard touring and mountaineering in large part due to how comfortably they right with the ergoActiv.



Avalung. Hopefully I never have to use it but it's nice to know it's there.



Tool pocket. It's organized and easy to access and rips open quickly. It has nice sleeves for your saw, probe, and shovel handle. I carry the BCA Dozer Hoe which has a slightly larger handle and everything fits in the pocket even when I throw in my skins or snow-study kit.



Ice tool carry. Secures an axe beautifully.
Great bag
Gender:

Male

Familiarity:

I've used it several times
Light bag with convenient pockets, easy to explain each pocket to friends when they need to reach while its on your back. Awesome ava lung wiring? i guess, easy to pack away or pull out. also great top to ride with the dog over your shoulders. and waist pocket for bear bangers, didn't think about it but came in handy last weekend?
Black Diamond Anarchist Avalung Backpack
Anarchist in the USA
Gender:

Male

Familiarity:

I've used it several times
I picked this pack up as a replacement\upgrade for my BD Outlaw which I've outgrown as my adventures got more elaborate.

The key feartures I need are: An A-frame carry wide enough for a 140mm splitboard\ski. Easy access to avy tools. Back access. And compression. This pack nails it.

At first I was apprehensive about the top loading being difficult to get at the gear low in the pack but this opens very wide and also can go through the back, which I love the new design using velcro and a single pull instead of having to use the zippers. The compression straps really make the pack versatile for those days when I'm only carrying basic tools, skins, compactor poles and a layer.

The waist belt is a life saver! Its going to be hard to go back to anything else after using this pack on a few longer boot packs and tours with heavy gear.

This pack will replace my Osprey Variant for splitboard approach ice climbs.


Does not have advertised features!
Obviously, the main feature of this pack is the integrated AvaLung but the features that pushed me across the line to buy the pack were the advertised diagonal ski carry, helmet holder, and fleece goggle pocket. All websites I viewed, including BD's, claim it has these features. Even the instructions included with the pack makes this claim. It does NOT have any of these!! I contacted BD directly to ask if I was overlooking something and they said I was not, this new model does not have the diagonal ski carry, helmet holder, or fleece pocket, and they had not updated their literature from the previous model. Then, the guy goes on in an attempt to get me to sign up for the BD newsletter to learn about new products. Ha! The BD rep asked me what we could do to resolve the issue but I have not heard a response to my suggestion. I just returned from Gulmarg and, fortunately, did not have to use the AvaLung but missed the other features. The Dakine Guide pack is superior, way superior, to this pack but, of course, does not have an integrated AvaLung.



If this pack did not have the AvaLung, I would consider it a very poorly designed pack that no person looking to do multi-day ski touring would think for a second to purchase.