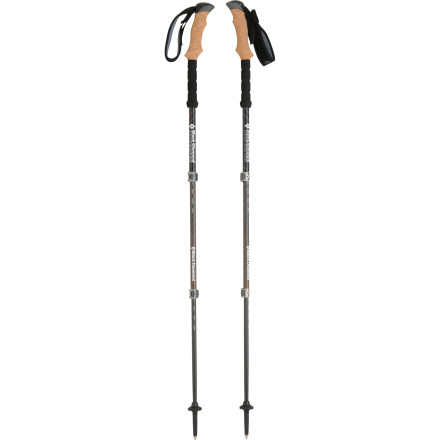 Colors

Videos

Community Images
Description
Comfort for the long haul.
For top-notch performance that doesn't skimp on comfort, grab the Black Diamond Alpine Ergo Cork Trekking Pole. The handles are tweaked 15 degrees to provide an ergonomically correct grip position, which ultimately reduces fatigue and discomfort over long distances. The natural cork grip wicks away moisture for a slip-free hold, and the fully padded strap won't cut into your wrist.
Carbon fiber construction on the middle and lower shaft with an aluminum top shaft provides a low weight of just over a pound per pair
Dual Flick Lock Pro clasps allow you to adjust the poles to the perfect length
Collapsed length of 30 inches makes for easy packing
15-degree handle angle provides an ergonomically correct grip position
Natural cork grip top is comfortable and secure, and it wicks away moisture for a slip-free hold
EVA mini-grip extension allows you to quickly choke-up on the pole on steep sections of trail
Strap is fully padded for improved comfort and support
Interchangeable carbide Tech Tip performs on a variety of terrain
Includes low-profile trekking basket
Winners
Familiarity:

I've put it through the wringer
These are the only poles that I saw go for a thru-hike of the Appalachian Trail and not break in some way. These are not a super-light pole, it a very thick burly carbon fiber. Some thinner aluminum poles rival them in weight. One time my friend fell, and caught himself with this pole. The pole bent like a bow and then was flung into the woods. It went for such a ride, 4 of us could not find it for about 10 minutes. These poles are not the lightest, but they are strong and comfortable. True all-arounders.
Comfortable and effective poles
Familiarity:

I've put it through the wringer
These are my first Black Diamond poles and I was really impressed. They took a ton of load off of my aging knees. They were effective in multiple types of terrain including loose rock.
Surprisingly amateur design flaw by B.D.
Gender:

Male

Familiarity:

I've used it several times
Light, durable, strong, ergonomic. <br>
<br>
However, when closed and stored on a pack, the bottom clamps are prone to flip open and allow the bottom stalks to fall out and partially extend. For daily through-hiking use, this is extremely annoying. <br>
<br>
These clamps rely on tension and tightness to lock in their closed position. The taper of the stalk means that when the clamps are calibrated for tightness in the poles' extended position (where the taper is thickest), the clamps are then not tight enough for when the poles are collapsed for storage. At worst, the poles bottom stalk falls out and extends to slightly less than half way. You'll notice in one of the product reviews below (Le crow's review) there is an attacked picture of the poles next to a Nalgene. Look at the bottom clamps, they're both open - I doubt that's just a coincidence.<br>
<br>
Typically, I like Black Diamond products a lot. To me, this is an easily avoidable design flaw and I'm surprised they overlooked it. The problem lies in either or perhaps both the unnecessarily steep taper of the stalks and that the clamps require tension to stay firmly in locked position. The tension can be augmented, but there is no goldilocks tension zone that is tight enough to securely keep the poles in their closed position AND not be excessively tight and difficult to close / open when clamped in their extended position. Something this fickle and fiddly on such a high end product is bewildering. <br>
<br>
I still use these poles because they're light and strong, and there aren't too many other great cork grip options. Nevertheless, this may be an annoyance worth your consideration.
stiff, strong, light
Familiarity:

I've used it several times
I've owned several different adjustable trekking poles through the years. all of them leki, of differing weight. these BD poles are the stiffest yet! I'm 5'9", 165lbs, and they feel solid-as-iraq (a rock) when carrying a 40lb pack.



two issues that kept it from getting 5 stars:

1. the three segments are slightly different lengths (by a few inches.) if BD made them all the same length, the pole could contract shorter



2. when fully contracted, the clamp on the middle segment doesn't stay closed. in order for the clamp to lock in place, it needs the tension provided from clamping on a min. diameter. the bottom segment tapers, and when the pole is fully contracted, the clamp on the middle pole is clamping around the region of the bottom segment with a small diameter, so the clamp doesn't stay closed! This is mainly an aesthetic problem, although I worry slightly that the open clamp might snag on something and break.
Made me a pole convert
Familiarity:

I've put it through the wringer
40 miles on the gear and they have made me a convert.



The lower locks keep getting caught on pants leg pocket and unlocking. Going to try to flip the locks to the outside of the poles for a fix.



Love the cork. They are showing heavy staining from dirt and sweat but no delimitation. Never liked foam grips in any tool.
Awesome trekking poles
Familiarity:

I've used it once or twice and have initial impressions
My wife and I got a pair for each of us. So far, we love them after 7 hours use.

Lightweight yet they provide confidence no matter where you are: water, rocks, mud, loose ground, etc.

I admit we're total newbies when it comes to trekking but we've tried other poles and these really rock. Hadn't we bought Black Diamond's we'd probably have gotten Leki's, though.
Which of the following accessories would...
Which of the following accessories would be compatible for the Alpine Ergo Cork poles: tech tip rubber or trekking pole tip protector?



And if both were compatible, what's the best use for each?



Thanks
Best Answer
Well, it turns out that both accessories are compatible. Tech tip rubber is the one to use for trekking and getting more "traction" on rocks.
Harsh ridged pole even with carbon fiber
I found that majority prefer No Anti-shock. But, after trying both, I like Anti-shock is more comforting to my arm. Rigid poles are harsh and give me strain on my arms each strikes. I don't feel the carbon fiber absorbing the shock either. Spring must be good one without feeling spongy though. I would go Anti-shock for next poles.
Can the straps be removed without damaging...
Can the straps be removed without damaging the poles? (One reviewer mentioned it was apparently difficult to remove the straps)
Yes, it can be done but...it will be a pain to put them back, if you ever change your mind


Extremely versatile and durable
Familiarity:

I've put it through the wringer
I love these poles! I have owned them for about 10 months so far and I'm very happy with them.



I use them for just about everything:

- Snow climbs and lower angle mountaineering

- Alpine scrambles

- Skiing



The poles feel very stiff to me when I use them on rough descents. I trust them completely when I weight them. The carbide tip gets good traction on most surfaces. I also love the snow baskets for winter conditions!



The grips are EXTREMELY comfortable. I use them in all conditions, hot and cold, and in warm weather without gloves the cork feels great on the hands. I also love the foam choke-up grip for steeper ascents.



The locking mechanisms are the best in any pole out there, bar none. Easy to operate with gloves, and bomber when weighted. I've never had a segment collapse.



The only con I would point out is surface hardness. I really beat up these poles and they're doing well, but the nature of carbon fiber dictates that there are some surface scratches and nicks in the lowest segment of the pole. I don't expect that this will be a breakage issue - it's purely cosmetic at the moment and a metal pole would show as much or more wear in my opinion.
Comfort/strength
Familiarity:

I've used it several times
I will first say I bought this with a gift certificate. Spending this much on poles seemed a little loopy, but these poles live up to the hype. The handles are amazingly comfortable, the strength and durability of the materials are great. And the do an excellent job holding up my tent.

If you have 130$ to spend on poles, look no further.
Black Diamond Alpine Ergo Cork Trekking
Great adjustability & durability
Keith Bontrager said, "Light, Strong, or Cheap, you can only pick two." With these poles you're paying the price for a durable adjustable pole with roughly twice the weight of the BD Ultra Trekking poles that weigh in at 9.3 oz. If you're also using the poles for your shelter so you need the adjustability, these are among the best poles out there for the purpose. If you're a complete weight weenie and have a shelter that one-size of a fixed length pole will work and don't mind sacrificing durability, look at the lighter options.



Overall, the grips on these are great. They absorb sweat, stay comfortable, and contour nicely to the hand in several positions. I wish the straps were more easily removable, but I know most people like straps on their poles (I consider them a bit unnecessary if I'm not using them for skiing).



The baskets are interchangeable and it comes with snow baskets, too.



The most common complaint I've heard about these is how easy the flip lock opens when you don't want it to. For one, it's adjustable with either a philips head or blade screwdriver (dual slotted), so you can tighten them up to increase the resistance. You can also turn the lower flip lock away from you, which helps a lot, since that's the one that's more vulnerable in my experience. Third, a 1" strip of electrical tape and you'll never have the problem again. Personally, I prefer the flip lock over my old twist locks since the poles are less likely to freeze at the joints.



Overall, I'd give them a solid 4.5 stars, but since I'm the first to rate them, I'll round up.