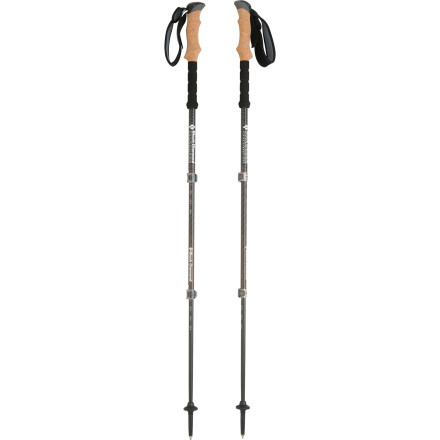 Videos

Community Images
From sun-drenched deserts to powder-filled backcountry bowls, trust the Black Diamond Alpine Carbon Cork Trekking Pole for reliable performance every season of the year. The 100% carbon fiber construction keeps the weight to a minimum, and the natural cork grip wicks away moisture for a slip-free hold on steep, exposed terrain.

100% carbon fiber construction provides a low weight of just over a pound per pair
FlickLock Pro adjustment system is fast, secure, and reliable
Natural cork grip has a dual-density top and Nubuck leather straps for a slip-free hold and all-day comfort
EVA mini-grip extension allows you to quickly choke-up on the pole on steep sections of trail
Includes Flex Tech carbide tips
Includes Trekking Baskets and Compactor Powder Baskets for summer and winter performance
Pay Extra for the Carbon
Familiarity:

I've put it through the wringer
I've bent plenty of trekking poles. Go with the carbon and don't buy them anymore. The adjustment clasps are a lot better than the standard. Highly recommend.
Advantage with trekkers.
Familiarity:

I've put it through the wringer
Bought these for our annual elk hunt. we were going to be packing in and camping in the high country. My hunting partner is my cousin's boy so he is 32 to my 59. These trekking poles helped equalize the age difference. Come the last day with our heaviest packs of 80-90 pounds and 5 miles out to vehicle, could really tell the difference. Nice being able to adjust poles. going uphill shorten them up down hill lengthen them. they were light, strong, really love them. Camera acted up so don't have any pictures to share, That was a real downer.
I ordered the wrong size trekking poles today, I need to fix it asap before they are shipped please help
call them.... this is the fastest way you can do
Great poles - until they break
Familiarity:

I've put it through the wringer
I loved these poles. Lightweight, comfortable, easy to adjust. I had for a bit longer than a year. Cork did start to wear a bit. Used them for day hikes and backpacks. I tend to go off trail a lot. Last time I used them, was crossing a talus field. Pole caught between 2 rocks and as I move forward snapped just below lower adjustment clamp. Am going with a stronger aluminum or titanium pole next time.
Worked great on the 9 day trek. Had to adjust the tension on the latch, no problems after that.
I am 6' 4". Would these poles be long enough?

I am 6'2" and when I extend both sections to 130 cm my forearms are parallel to the ground and in a comfortable position. There is approximately 1" additional extension in both sections for 2" extension over my setup. I would think these would work for you.
Are these sold individually or as a pair?
Super lightweight and comfy
Familiarity:

I've put it through the wringer
Another key product for my 6 month jaunt through South America last year! I started off the trip without poles because the airline lost my checked baggage. I went on one long, steep, treacherous, knee splitting hike to Paso del Viento en El Chalten and I knew that I needed those friggin poles! Once the airline got my bags to me I ripped the poles out of my bag and never stopped using them. Before then I'd never used poles before and now I totally appreciate how helpful they are during long hikes when you need to carry a heavy pack. They are really light too so my arms and wrists never felt weighed down. Lastly, these things can take a beating they never failed me throughout 6 months of hiking up and down rocky slopes.
Comfortable and durable poles
Familiarity:

I've put it through the wringer
Upgraded to these last year after an old pair of poles bit the dust. Am really impressed with the shock absorption and the overall comfort of the handles. I've used them on scrambles and long 20+ mile hikes. The padding below the handles is helpful if going up a steep embankment. The curve on top of the handle is also handy when using them to set up a tarp.



Only "minor" gripe is having the lower extension extended for the locking mechanism to work, but it's still a 5 star product. Really easy to close them down while on the move if needed.
Pretty good trekking poles.
Familiarity:

I've put it through the wringer
I love how they don't weigh much. The cork does well on the poles especially when sweating on the trail. No grip loss at all. The only complaint I have is the rubber tips you can buy for these poles don't stay on. I have lost two sets of the rubber feet. I guess I am going to have too glue them on next time or just not buy them anymore.
Great backcountry poles.
Familiarity:

I've used it several times
I have used these a couple times now and feel I can highly recommend. Lightweight and corked handles are great for long treks in the backcountry. My only gripe is that the lower extension can be pushed in all the way because it is too thin near the tip (you have to have the lower extension extended about 6" in order for the locking mechanisms to work. Other than that, the straps are quality and the ability to shorten the poles is money for steep up hill climbs.
bulletproof
Familiarity:

I've put it through the wringer
I have abused these things and they're all scratched up and beat up, but they don't show any signs of slowing down. I've used these for camera tripods (with the addition of a string), trekking poles, ski poles, and as the poles for my ultralight shelter (tarps, mids, and tents). Yup, there are cheaper options out there, but these are so well designed and hold up to some serious abuse. I would have thought these would have snapped several times with the stress I've put on them, but they're robust.



The carbide tips rock. From granite, sandstone, snow, ice, dirt, these tips have fantastic grip and haven't worn down despite hundreds of miles of use. I love thees trekking poles and I already bought a second pair in the unlikely event that I break mine someday.
Replacements for FL Distance model
Familiarity:

I've used it once or twice and have initial impressions
Bought a pair of these to replace a pair of Distance FL Poles that snapped during a snow-laden hike(had a love/hate relationship with those - subject of another review). Since I rarely used then in the stored configuration, I was mostly enamored with the low weight, especially the felt "swing" weight as the tips are moved around for placement. These are much sturdier, and spec'd at only a bit more - 17.2 ounces vs. 16 for the FL. Alas, disappointment on the weight - mine weighted 19 ounces (yes, I always verify weight). Corresponded with the BD folks and lo, and behold, their inventory also weighed 19 ounces. So the stated weight is indeed incorrect and verified as such by BD staff (although published specs have not changed). Keeping them, but giving up at least one star in the review for that. May not have bought them had I known. Frustrating, I must say, that at this rather lofty price one of the key parameters was misstated. So weight-conscious buyers (probably all for this product) be informed. Compensated somewhat by lengthening the bottom section and shortening the top - helps with felt "swing" weight, but not overall weight. Otherwise . . . great poles given the weight issue.
Buying a second pair .
Familiarity:

I've put it through the wringer
Had these for 3 years , and they are the best available . Someone stole them from me while hiking to half dome . The new flicklock pro looks even better than the origional , which worked very nicely . They are incredibly strong . Don't know how one poster managed to break one , I have never been able to , and I have abused them terribly !
Looking forward to playing with these
Familiarity:

I've used it once or twice and have initial impressions
I researched trekking poles and decided that the cork grip and carbon fiber combo would more than cover my usage needs. These are a great feel in my hands, and I can't wait to put them out through some more tests.
#1 Trekking poles
Familiarity:

I've put it through the wringer
These babies simply are the best. Ultra-light, durable, adjustable, and comfortable.



Cork handles are comfortable and don't induce sweaty palms. Should your hands or poles be damp, the cork still provides positive grip keeping your hands on the poles where needed. Carbon shafts are strong and durable enough to put some serious weight on should you need too. The locking adjusters are positive in locking, meaning they stay put despite leverage being placed upon them. Black Diamond really did a good job with the locking mechanism. This is what initially drew me to these poles and I haven't been let down.



Steel tip is durable, but to minimize environmental impact I'm often using the rubber tips unless I'm on ice. Optional snow skirts are nice as well and increase versatility.



Lots of miles on these and other than some scrapes/scratches they're as dependable as they were on day 1.



Great product!