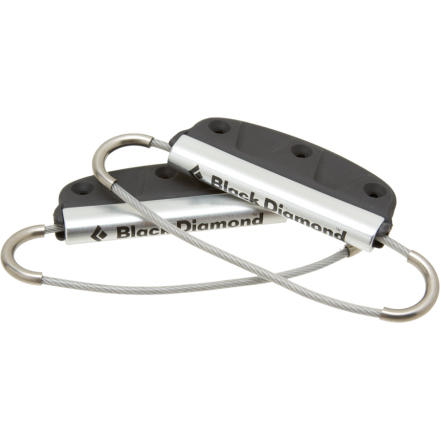 Community Images
Replace worn out or busted tip loops on your skins with the Black Diamond Adjustable Tip Loops. These easily replaceable loops fit all BD skins (except for the split skin) and conform to a wide variety of tip shapes and sizes for a secure fit. They also reduce weight by eliminating the need to fold over the skin material.
If you've got old style tip loops with a tab of skin folded over into itself to secure the loop - buy this product immediately!! Installs in 5 minutes, eliminates the bulky fold-over, and allows the tip section of skin to sit closer to the base and mitigate snow buildup between skin and base. Adjustment of the loop itself is also easy and nice, especially when swapping skins between two sets of skis with different tip profiles as I do.
better than previous version
they screw in so they no longer have to be folded over... which can come unglued. great new design.
Unanswered Question
I am looking for a skin for my Sir Francis...
I am looking for a skin for my Sir Francis Bacon (142 very round low profile tip). Would this allow me to use the BD STS skins with Sir Francis?
This is a very cool addition to your existing climbing skins that are folded over at the tip. This will shed some weight which is really nice, but more so it will keep your skins tip loops from moving around as your skins get older and the glue doesn't stick together on themselves. The only drawback is you don't have the flexibility in lengthening your skins for longer skis.
great after market addition
have some 110 BD ascensions from a few years ago before BD realized that tip loops needed to get bigger as skins got bigger. the tip loop was way too small and was always getting knocked off my ski (tip is 130). PITA. this has fixed my problems. easily fits over the 130 tip. and there is a lot more adjustment so could have gone over a much bigger tip even.

installation is easy. only tip is to make sure the screw is all the way in so that the skinnier "breakable" section clears the housing. that will make it much easier to break it off. once you look at the screw, this tip will make more sense.
Do these replacement loops include the...
Do these replacement loops include the screws too?
Will the adjustable tips loops fit moment...
Will the adjustable tips loops fit moment night trains. 140-123-135?
They should fit, but they might get knocked off the square tip or your skis. But, if they don't, you can always return them to bc.com for a refund or replacement.