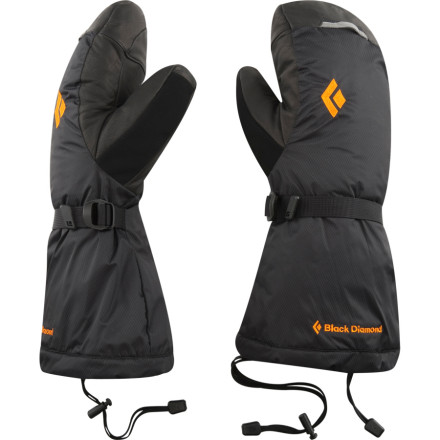 Description
Absolute protection from the world's worst mountain conditions.
The Black Diamond Absolute Mitten protects your hands from the harshest conditions on expeditions the world over. The Absoute features a removable liner with a Gore-Tex waterproof breathable insert and two kinds of synthetic insulation to ward off ungodly cold and wet conditions. The four-way stretch shell rocks a goat leather palm, KEVLAR® stitching and a reinforced thumb for incredible durability when handling fixed lines and rocky summit ridges.
Not great in cold weather.
Familiarity:

I gave it as a gift but have feedback to share

Fit:

True to size
I bought these for my teen daughter who is a ski racer in New Hampshire. She trains before the public are on the lifts so they spin the lifts at between 6 and 7 am for her group. Its super cold, at times with wind chill and can be -20. Her hand are always cold in theses mitts. They are fine in the spring but kind of bulky for spring skiing. She does use hand warmers which are no help with these mitts.



They seem pretty sturdy just not so warm in real cold weather, for extended periods of time. I should add she does do a fair bit of waiting around, waiting for the course to clear, waiting in line for her turn to start etc...
Cold hands?
Familiarity:

I've put it through the wringer

Fit:

Runs large
I love winter. I love cold. But I'm 6'6" and my hands and feet FREEZE! Enter the absolute mitt. I bought these specifically because the liner and the shell are insulated and when you remove the liner from the shell, the shell has nylon inside, not fleece. So I can wear a thinner glove while ice climbing, get to the belay and pull the insulated shells on over my climbing glove and ward off the screaming barfies. They are a bit tricky to belay with, but it can be done. And yes they are bulky in a pack, but they compress fairly well so a small stuff sack helps a lot. Also the bulk just makes them an awesome pillow when stacked on a folded up jacket and pant!
Seemingly warm, but bulky
These mitts are huge. If the name of the game is to balance dexterity with warmth, my concern is that these have gone too far in the direction of bulk. I don't doubt they'll keep your fingers toasty, but it seems to come at the expense of being able to use your hands for much of anything. If you buy them, size down! Or, alternatively, check out the Hestras.
If your looking for warmth, I have found similiar performance between the Alti mitt and these. The Alti mitt is probably a little warmer, but they suck for dexterity. The lobster finger on the BD mitt makes it a little colder, but you can deal with you gear much easier, thus not pulling you hand out of your mitten, which deeats the whole purpose. Super great for those ski expeditions when you need dexterity and warmth
I was initially torn between these and the OR Alti's - lack of the ORs in my size led me to purchasing these (in an XS). These things are beastly - the XS is about the size of my torso, no lie. They fit nicely into the nalgene mesh pocket in my pack, though.

Let me tell you, these suckers are WARM. My hands are cold hands and the temperature rating on the packaging (-20 to -40F) does not lie. In close to 0F weather, I ended up hiking about in just the liners (and some other next-to-skin liner gloves) for a time, only donning the outers on my descent when the wind picked up.

Dexterity is as you'd expect for a big pair of mitts: you won't be performing any brain surgery with these things on.

The liner that comes with the glove is insulated, has a pointer-finger lobster (good for grabbing ice axes), and is waterproof enough to roll around in armpit-deep snow for a few hours without soaking through.

The outers are even warmer, and also waterproof. I plan on treating the leather palm as soon as I start to see wear, but that has yet to happen. The insulation continues into the gauntlet, keeping wrists warm. These aren't too difficult to get on, even with stiff fingers.

In closing, I wish that they were bright orange instead of black (partially why I wanted the Altis in the first place - red!) but embodied everything I've come to expect from BD and of a pair of serious mountaineering mitts. Excellent for those brutally cold days, potentially overkill for anything above 15F.
I am really debating between these and the...
I am really debating between these and the OR Alti Mitt. Anyone have any suggestions? This glove has a Gore-Tex waterproof breathable insert, where as the shell on the Alti Mitt is Ripstop Gore-Tex. I am thinking that may end up being my deciding factor but I thought I would check to see if anyone else has an opinion. Thanks in advance.
Best Answer
Lobster glove on the inside would be the deciding factor for me - pass. But I don't like the gauntlet on the ORs ... I would like the insulation to extend the full length, so it's not difficult to get wet hands into them. Nothing's perfect.
Does anyone know if they removable liner...
Does anyone know if they removable liner is a mitten, lobster mitt, glove?

Thanks
Best Answer
Liner is a lobster mitt.