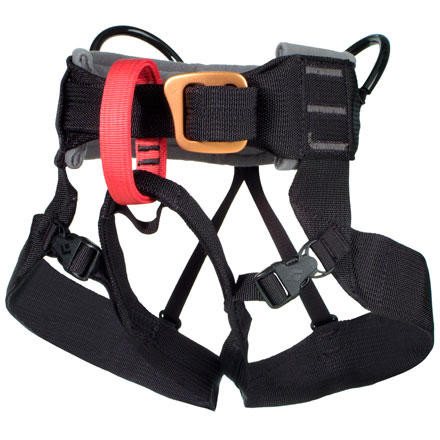 Community Images
The Black Diamond Kids' A-Bod Harness takes the adult-sized Alpine Bod harness and trims it down to fit smaller bodies from ages 8-12 (the A-Bod is sized larger than the Wiz Kid). For kids who are aggressive climbers and working routes that require cleaning gear, the A-Bod provides functionality and comfort.
Gear and belay loops let your young climber learn about carrying protection
Highly adjustable design for a custom fit as your kid grows
Easy-access buckles make getting your kiddo into the harness hassle-free
Bright red belay loop helps your kid tell the parts apart
Padded waist belt for long toprope sessions
One size fits all: Waist 22-26in (56-66cm); 35-110lb (16-50kg)
Recommended for top roping only
Great for Ski touring
Familiarity:

I've used it several times
The harness was fantastic for fitting a growing eight year old this winter both on and off Piste. Needed to use a harness to ski on the Mer de Glace as we made it down the Vallee Blanche from the Aiguille du Midi. The leg loops fit nicely over ski clothing, but also were easy on and easy off with ski boots already on her feet.

She also loves to use the harness at the climbing wall. With her lack of defined waist, the A-Bod Harness was very good giving her the comfort and hold that she needs.
Doesn't seem any larger than whiz
I bought this based on this description: "The A-Bod is sized larger than the Wiz Kid." Had to return it because seemed to be exact same size. I will probably get my boy a Small Momentum instead.
I've got 5, 8, and 10 year old kids and at first bought one then bought another one of these harness. Works great with the kids.
My son is 8 years old and the harness fits him perfectly, and with room for growth. It's just like an adult harness, and it collapses well for compact storage. It doesn't cut in on him anywhere, and with one climing day in it, so far so good in terms of comfortability.
Got this parent's confidence
Bought this for my 8-year old daughter. She's pretty tall for her age, but skinny as a beanpole. Although the leg loops are a bit loose on her, she hangs in it securely and comfortably. I took her to the crag for the first time 2 weeks ago and she loved the experience. This will work great for a safety rope on more technical hikes as well.
My 8 year old has a 21" waist and 14" legs....
My 8 year old has a 21" waist and 14" legs. Will this work? He stubbornly refuses a full body. Thanks
Well, you would't have any problems with the waist. The leg loops are a different matter. I bought this for my daughter, who is 8. The waist was ok, but the leg loops are way too wide, even if you adjust them to their tightest. I'd pick Black Diamond whiz-kid, whih is vey good for top rope.
It does the job for sport climbing in the Gym. Will be better if Black Diamond increased the swami size range. Thus kids don't outgrow it that fast, before they have to progress the adults XS size.
Best investment for parents
Many childrens lives could be saved if parents will just put this harness on the kids especially in the mountains.

The peace of mind of knowing where your child is, is well worth the investment.