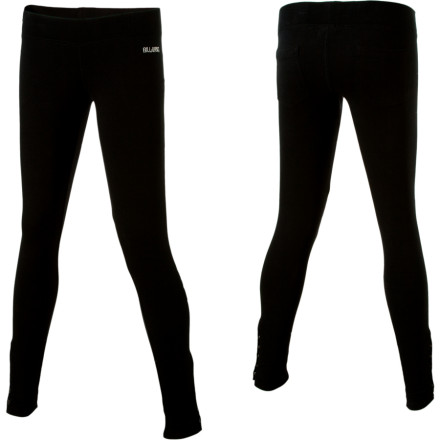 Detail Images
The Billabong Women's Snap Legging dials in the comfort whether you're heading over to your neighbor's to punch him in his face for blasting Asia on a 24-hour cycle, or you just feel like lounging with your litter of kittens casually licking your face in a quiet cadence of pure joy. Cotton rides like a purring cloud of compliments and a touch of spandex ensures you don't tear your trousers while defiling Billy Joe's Trans-Am.
What do you think about this product?
Have questions about this product?
The only thing I can say about the billabong snap leggging is.. PERFECT!!! Comfortable, great fit, not to mention gorgeous!! I wear them everywhere, including to work. They can look great in many different styles, either to go work out at the gim or go to work in the business office. You will only regret it if you don't buy yours!!!
Hands down BEST Leggings on EARTH!!!
These Billabong Snap Leggings are top of the line. They're made with top quality material, soft light-weight cotton, form fitting, and most of all - So Comfortable! Not to mention I've never seen another sole with the same pants and I always get compliments on them because of the cool row of snaps at the bottom of the legs. The waist-band is double wrapped and won't cut into your skin at all. ALSO - the 2 pockets on the back are and awesome feature! Most leggings make my butt look non-existent because there aren't any pockets to break up the uniformity. Needless to say, the addition of these simple back pockets is a prime example of how a little bit goes a Longgg way. I literally wear these 4-5 days a week, with anything and everything, boots, sneakers, flip flops, high heels even. I've purchased 2 pairs in the past 2 years - They are 100% worth every penny.