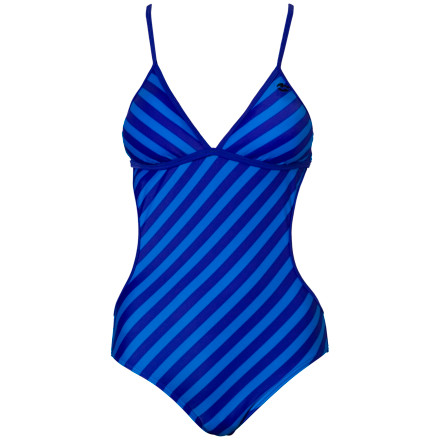 Detail Images
Fits like a glove and is exactly as described. Sexier than a full peice, and offers more coverage when you want to be playing hard in the water. Love it!
how long is the torso of this swimsuit in...
how long is the torso of this swimsuit in a small my torso is longer than most people so I need to know the length
im 5'10" and got the medium and the torso was perfect! it has taken me four months to find a one piece that works, cuz my torso is longer than all the other suits, but this one worked! In fact, it couldn't fit more perfectly! good choice for long torsos
this suit is great. fits really well overall. a little bit big where top connects to middle portion - sides a bit loose. have a long torso so medium fits well and bottoms cover nicely and sit low in back. super cute. highly recommend. love the color!
The Great Billabong Swimsuit
Sexy but practical, feminine for non-feminine swimmers, hot colors, even grandmas can wear.
best swimsuit purchase ever!
I'm 5'3"/105lbs/boyish figure and have always had a tough time finding a flattering suit. The shape of this one-piece provides a great "illusion" shape and the bottom part doesn't fit like granny panties (isn't too high in the back, like most bikinis often are. if you have a booty you might find a lack of coverage with this one though). The top is super-flattering as well. The only problem I found is that the torso is a tad long for me, but that just means I don't have to change a thing to make this suit work for me =)
How roomy is the boob area?
How roomy is the boob area?
boob area is very comfy - not too tight depending on how big you are of course. if b-c cup, should fit perfectly.
are the shoulder straps adjustable
are the shoulder straps adjustable
i got this monokini in a black/white stripes and i think it's the bestest swimsuit i've ever owned. i've always struggled with swimwear, but this cut is just more flattering than all the ones that i've seen. with mind-blowning sexiness and style that cannot be beat...looks like a bikini from the back but oh snap...it's a uni! even more kudos because it's very practical for when you want to hit the waves. no missing bikini tops here!
Really nice swimwear!! Fit true to size, and look sexy but comfy!!!