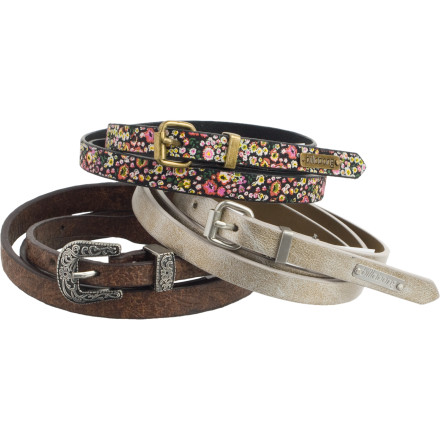 With the Billabong Women's Pack Rat Skinny Belt 3 Pack, you won't be diving into your drawers looking for something to perfect your outfit. The Pack Rat offers you a mix of fabrications and colors that makes it easy to pair with any number of outfits.
These are great colors and work well on their own or grouped together. They seem to be durable although I have only worn them a few times.
Very nice set of belts, super cute but they did come a little smaller than I had imagined. I am usually size small, I got the S/M belts and they JUST fit... I recommened getting a size larger than normal
I bought this set of belts for my 13-year old daughter, and she loves them. She does not like wearing belts and I figured if we bought these maybe she would like them since they are thin, cute and girlie. Say no more, she is now wearing belts! Nice colors, good material.
3 belts for the price of 1! amazing with your high rise cut offs!