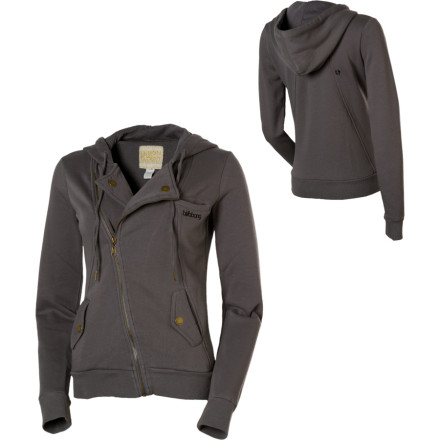 Detail Images
Runs slightly smaller than expected
I almost always wear a women's extra-small, but looking at the size chart, I decided to go up a size. So I ordered the small. I wish I had gotten the medium because the jacket fits a tiny bit tighter and shorter than would be ideal, for me (I'm 5'3.5, 116lbs). I wanted the grey color but DF was completely sold out, so I hesitantly ordered the off-white. Happily, the off-white/cream-ish color looks A LOT cuter in person that it does online :D! I'm happy with this purchase. It's warm (for days that aren't too cold and/or windy [i.e. around 60 F]), cute, stylish, and comfortably soft and supple feeling :].
Not quite what I expected
Since the description said the insulation was fleece, I assumed real, warm fleece. Instead, I think it would be best to call this a fancy sweatshirt. You know the fuzzy insides to new sweatshirts, that's what this jacket has. Don't get me wrong, I still think it is super cute and plan to keep it as the streetwear it was advertised as, but I was expecting something a bit warmer.
I love this jacket its super cute and it keeps you warm. Some Jackets you buy are so thin they are purely for style. But this one has it all. I love the double breated effect you get when you don't zip it up all the way and the A line Zipper is very cool.
One thing, it seems to run a little small but not enough to cause any real problems.
Great Jacket! I'll wear it out I'm sure. . . . . eventually!
This is like the casual version of the leather motorcycle jacket you loved this winter. It's equally as cool-looking, goes with everything, but takes it down just a tiny notch. Adorable with spring dresses and works equally well with jeans. Perfect for the transition from late winter to spring. It's also super soft!

I'm 5'2", 110 lbs, and I ordered the Small in Coastal Grey. Great neutral color and great fit!