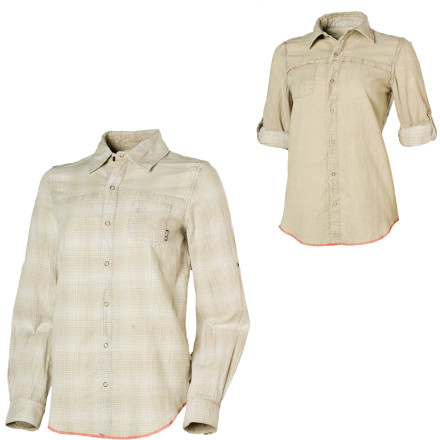 Detail Images
Switch from grunge to new wave and back again when you put on the acid-washed Billabong Grey Reversible Shirt and let your DJ skills take over the party. Mix it up between games of flip cup with this reversible cotton button-down, which is acid-washed on once side and a stripe grid pattern on the other. As you flip the Grey and attach the rolled up sleeves to integrated tabs, switch between dark, twisted tones and bright, electronic pop to match your drinking team's wins and losses.
I love this piece. I've got a couple of other Billabong tops similar to this one but they all have buttons in the back to taper them. This is the one I grab out of the closet when I want a more relaxed fit.
The powder color is very different from the picture shown above. The fit is much more loose and casual. I thought it would have a more feminine fit to it.